OFFICIAL STAR TREK LAS VEGAS CONVENTION 2009
LAS VEGAS, NV
Thursday - Sunday
August 6 - 9, 2009
Las Vegas Hilton Hotel
3000 Paradise Rd.
STAR TREK: THE VISION COMES TRUE
"The Science Track"
Each year in Las Vegas we present a series of seminars and discussions in a separate theatre that covers science and technology. We hope you'll take some time to visit!
---
DAVID A. WILLIAMS SCIENCE LECTURES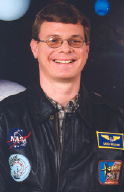 "Water, Ice, and Methane Everywhere:
Latest Results from NASA's Planetary Missions"
"Red Planet: New Insights into the Geology of Mars
from Recent Planetary Missions"
Dr. David A. Williams is currently serving as a Faculty Research Associate in the School of Earth and Space Exploration at Arizona State University. He served as a Visiting Assistant Professor at ASU in 2001-2002, in which he co-taught Physical Geology and a graduate seminar in Planetary Volcanology.
David is currently performing research in volcanology and planetary geology, with a focus on planetary mapping, geochemical, and remote sensing studies. His research has included computer modeling of seismic wave propagation through planetary interiors, visible and near-infrared spectroscopy of the lunar surface, planetary geologic mapping of the satellites of Jupiter, computer modeling of the physical and geochemical evolution of lava flows in a variety of planetary environments, and petrologic study of lava samples from Mount St Helens.
He was involved with NASA's MagellanMission to Venus andGalileoMission to Jupiter, and he is currently serving as an Associate Investigator on the European Space Agency'sMars Expressmission. David is currently the Second Vice Chair of the Planetary Geology Division of the Geological Society of America, has served on several NASA committees including the 2007Jovian System ObserverScience Definition Team, and is currently a steering committee member of the NASA Outer Planets Advisory Group.
A life-long Star Trek fan, David was inspired to pursue a career in space science from watching the original Star Trek series.
---
RONALD HELD:
AN UPDATED VIEW OF FTL TRAVEL
SUNDAY: For this presentation, lecturer Ronald Held will briefly cover three theoretical method for faster than light travel including wormholes. Mr. Held holds a Ph.D. in Astrophysics from Rensselaer Polytechnic Institute. As a private researcher influenced by Star Trek, one of his interests is in faster than light travel.