OFFICIAL 6th ANNUAL STAR TREK LAS VEGAS CONVENTION 2007
LAS VEGAS, NV
Thursday - Sunday
August 9 - 12, 2007
Las Vegas Hilton Hotel
Home of Star Trek: The Experience
3000 Paradise Rd.
GARY JONES & RICHARD SIDE in
"STAR TREK: IMPROV COMEDY SHOW"
SCHEDULED FOR THE SATURDAY NIGHT DESSERT PARTY (now sold out) Actors Gary Jones and Richard Side bring over 45 years of combined comedy improv experience to the CREATION ENTERTAINMENT stage (on Saturday) as Captain James T. Kirk and Mr. Spock. In a hilarious 40-minute show,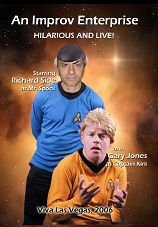 Gary and Richard will create, with the help of the audience, an impromptu episode of the beloved original STAR TREK television show. With audience suggestions ranging from "the name of the planet," the "special power of the planet's evil queen," to the "true nature of the relationship between Kirk and Spock," their show can't fail to have audience members rolling in the aisles. Their on-stage history and chemistry is undeniable and their improvised, joke-writing skills are lightening-fast and razor sharp! And, as these brilliant comedians pay homage to STAR TREK on it's 40th anniversary,don't be surprised if some of their pointed barbs also skewer every other sci-fi action adventure show while they're at it.
GARY JONES has been recurring as "Sgt. Walter Harriman" for 9 years on the smash sci-fi phenomenon, STARGATE: SG1. But, he's been a comedian since day one, touring with the famed Second city comedy theatre and even improvising at the home of Microsoft's Bill Gates!
You seen comedian and actor RICHARD SIDE on a number of Sci-Fi shows including STARGATE Sg:1, ANDROMEDA and an OUTER LIMITS episode in which he played the organizer of a UFO convention. Richard's impressive improv comedy credits include representing Vancouver and winning the first ever "JUST FOR LAUGHS" world improv tournament in Montreal.