(See reports below the photos section)
Photos by Aleida: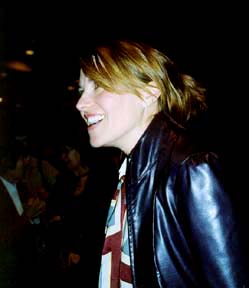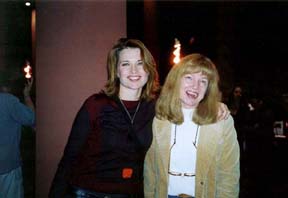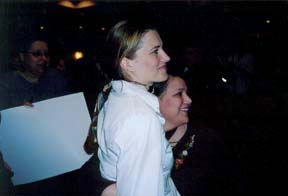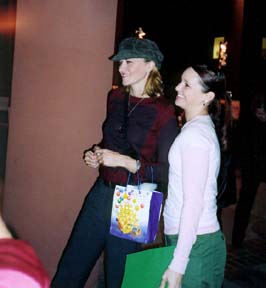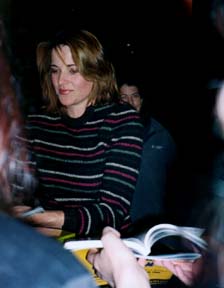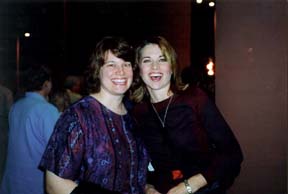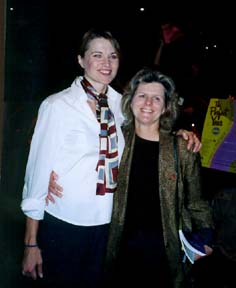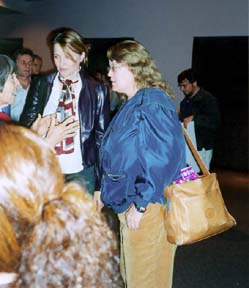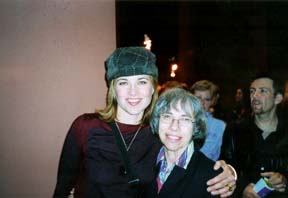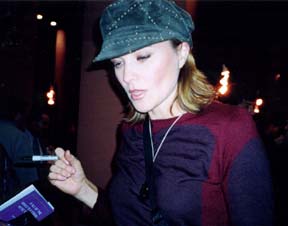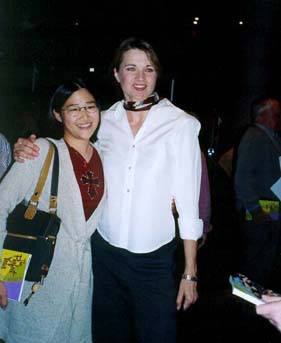 Photos by Amber: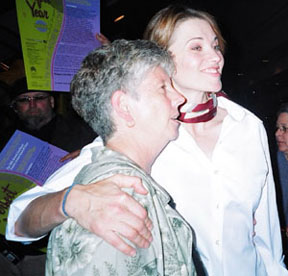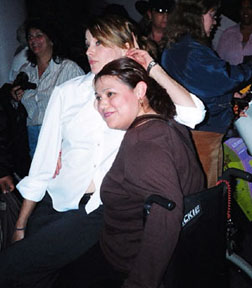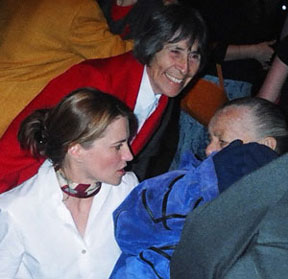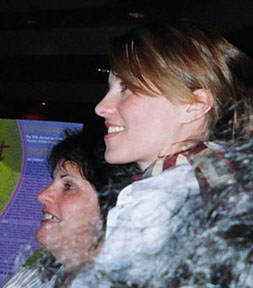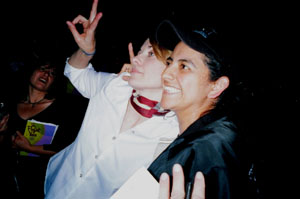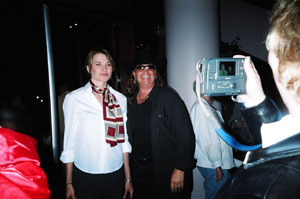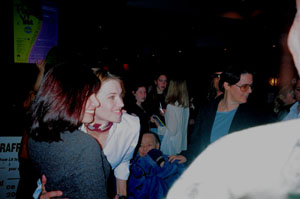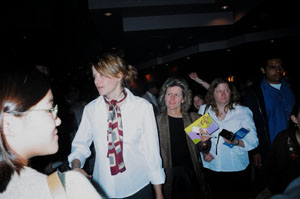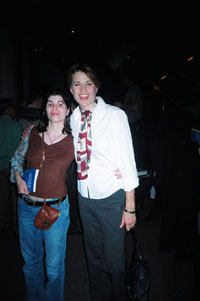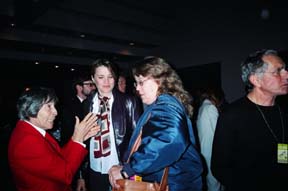 Photos by Ann: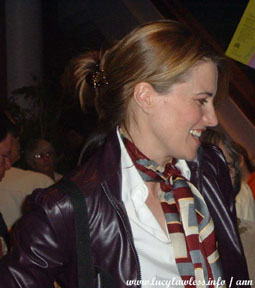 Photos by Bonni and Michelle: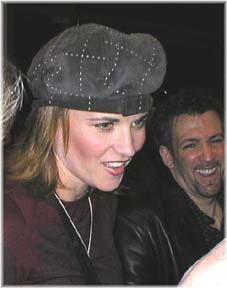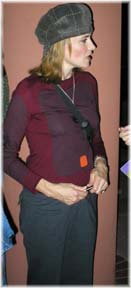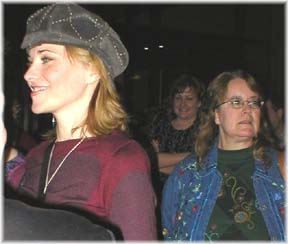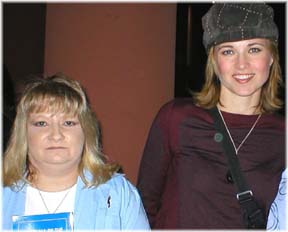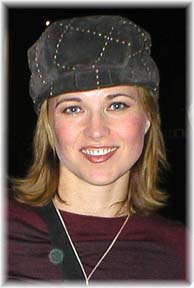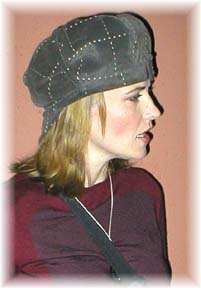 Photos by Christa
: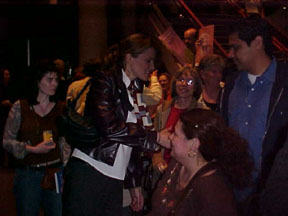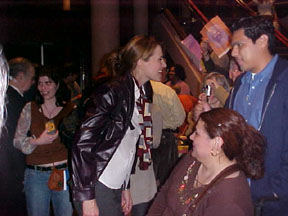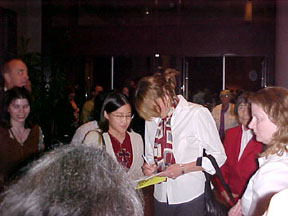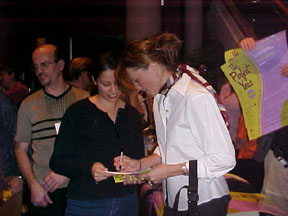 Photos by Gina: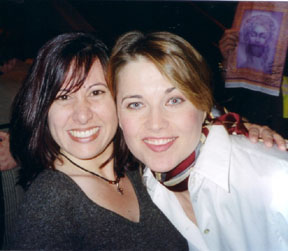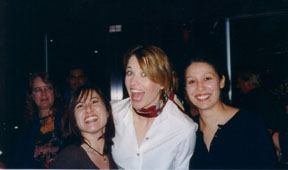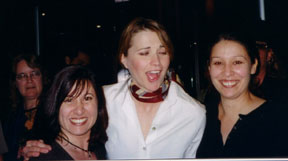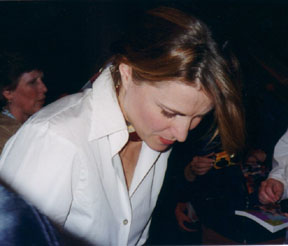 Photos by Jade: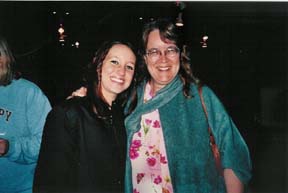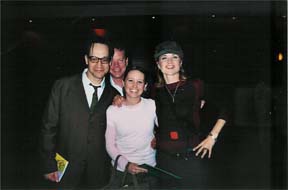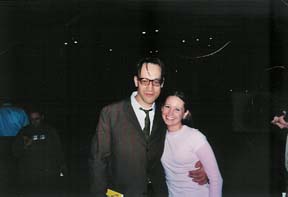 Photos by Laese: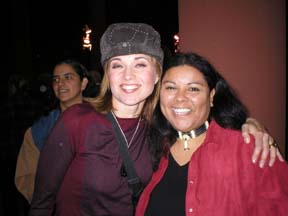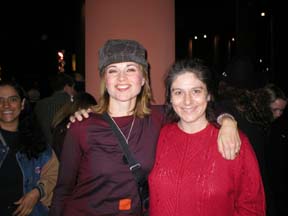 Photos by Mike: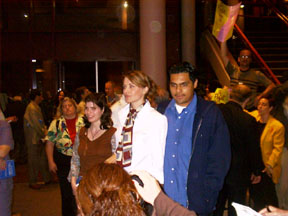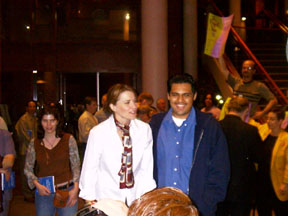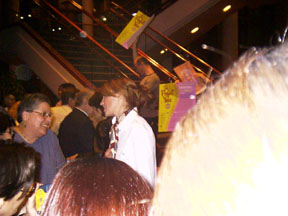 Photos by Renee: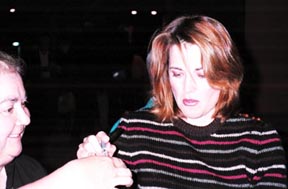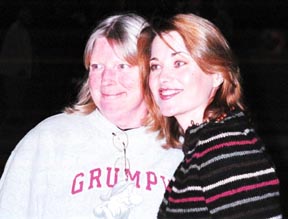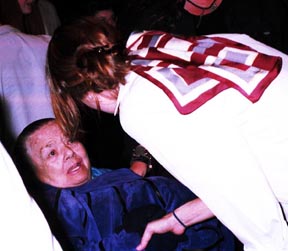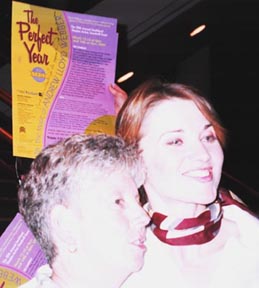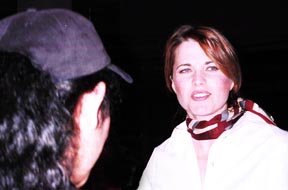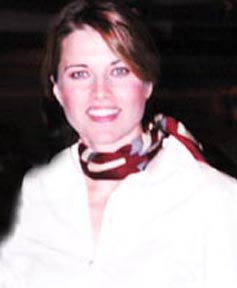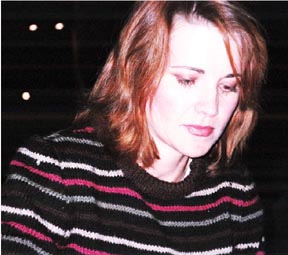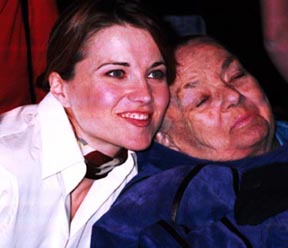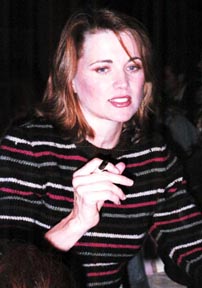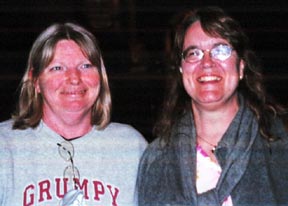 ---
Notes from those who were there
and one lucky person who joined us by phone <G>


While I traveled a long way to See Lucy on Stage, I never even contemplated getting to meet her after the event, and from what everyone had told me from the night before this was a grand likelyhood. However, I missed the brief meeting with the fans during the intermission (pee brake and all) but I still got to see her on Stage, and what a performance! It was worth the 24 hours of driving straight through to just be in the presence of such greatness. And the show alone was fabulous. And though I didn't get to meet her personally, my weekend wasn't a bust. Because I was in LA on Saturday, I was able to meet up with a gentleman I had been swapping e-mails with for the past few weeks, and was able to sign a "Deal" that, for all intents and purposes, puts my foot on the bottom rung of the ladder to my dreams. Saturday was the best day of my life so far. It was also fabulous to put a few names and faces together from the Xenaverse, and a few giggles in the balcony at the opening announcement were truly appreciated. Those who were there, and remember me, will know what I'm talking about. Many thanks to all, but especially to you Sharon for going to the lengths to let us know about the event, and to help coordinate our meeting up while there. The balloon was a great idea, and I'm impressed with all the trouble you went through to keep with the concept.
You go girl!
H.R. Crystal
AKA - Roach

I'm really glad I changed my mind about coming, only after you asked for support, because I not only got see Lucy give an outstanding performance but also got to enjoy all the rest of the show which was well worth the trip in itself. My one little regret is that I kind of froze when it came my turn to get an autograph and picture with Lucy and was lucky that I even got my name out and that only after she asked and was also thoughtful enough to ask if it was with or without and "e". I know that seems like a small thing but most people don't ask and just put the "e" on so it really struck me as special. Now because I froze I also didn't get to say the one or two things I really wanted to so I'll say them here because I know you'll pass them along. Lucy, you sounded incredible and fit right in with the other performers, I look forward to hearing you sing again in the future. I also just wanted to say thank you for giving us Xena, a feat which is even more amazing to me when I watch an episode now and compare that person to the one I just saw singing and realizing yes, they are the same person, now that's acting. Finally, I can't believe my manners also left me because I'm pretty sure I failed to say thank you for the autograph and picture so Lucy thank you for taking the time to make this weekend special, not only for me but for so many of your fans. Also, a quick thank you to Rob and Ted for being so friendly and offering their hand to say hi.
Ann

Lucy just has this "aura" of absolute goodness that pours from her. She is gracious and genuine and warmhearted and very, very generous with her time and attention. She looked into my eyes and really listened as I stuttered and fought the shaking of my knees. When we took my god-daughter, Sarina to San Pedro to see Renée O'Connor in "MacBeth", I was just too shy to meet Renée. I waited by the tree while my partner, Crow took Sarina up to say hi, and I regret that now. I'm so glad I didn't make that mistake with Lucy, even if I did have to reach way down and tap into that "Xena" we all have inside of us. ;) What a testament to her talent that she is so not Xena in "real" life! She is absolutely not intimidating - not at all; the lady is very gracious and very real. My admiration and respect for who she is apart from the powerful persona she so masterfully created onscreen has grown since meeting her in person. Lucy is also very, very funny - once I got over my nerves and picked up on some of her quips, I had to laugh. She is simply an all around beautiful human being and I feel truly blessed to have been in her presence.
Love and Blessings,
Laesë

It was great to see you again in LA. I really appreciate all you did to ensure that we got the opportunity to meet Lucy. When you sent out the "cattle call" last week, I had already decided not to make the trip; but I changed my mind when you told us of Lucy's desire to have us be there. I was glad to go just to give her my support, but the added bonus of getting a personalized autograph, a photo, and a chance to say hello and thank you was far and away the biggest thrill I've had in this fandom. Ann and I drove back to San Jose on Monday, and we just couldn't stop smiling and talking about those exciting minutes after the show. We laughed at our own giddiness. We are collectively 98 years old, and I think we both felt just like the fainting girls that met the Beatles at JFK back in 1964. Please let Lucy know how much I enjoyed her performance, and how much those minutes afterward meant to me.
Thanks very much,
Sue

What a wonderful weekend and what a wonderful event. I don't know what I was expecting, but I was truly blown away. All the performers were wonderful. Please tell Lucy she was spectacular! Not only was she wonderful up on stage, but talking with her and watching her with the fans was beautiful. I'm so glad I was able to go. It was a weekend I will never forget. I was so impressed with her generosity towards the fans. She really is a very special person. Please thank her again. And I want to thank you Sharon for keeping the fans so well informed. It means a lot to have the information so we can show our support to Lucy and Renee at events like this. I have never been apart of a fandom such as Xena, but I am truly proud of the support shown to these two wonderful women.
Thank you again,
Christa

Multitudinous quantities of thanks to you for helping those of us who could meet Lucy, and it was a wonderful event in so many ways. The program was just dynamic and Lucy was such an energetic part of it. Please pass on to Lucy again how special it is for each of us to meet her, and how the "half a moment" can mean so much.
Joy in All,
Mike

What a joy it was to meet you Sunday afternoon! It has only taken a bit over 10 years! My name is Sue Meyer, and I am the one who sat across the aisle from you, and later held Lucy's jacket. I am 54 years old, and have been teaching special education for 32 years. I love the theatre, New York, and of course, Xena and Company. The only time I have ever seen Lucy has been at the conventions and at the autograph table at the first convention. What I saw yesterday was a gentle, confident, truly happy, and grateful woman. And, the fans respond with respect, and a great deal more patience than expected from fans. It is a bit uncomfortable for me to ask for an autogragh, but when Lucy turned, asked my name, and what I did I was stunned. It has been so long since I have been at that place, and had forgotten the feel of the rush inside when someone you REALLY admire, as a woman, and an actress, gives you their time. Lucy, on stage, amazing! She has such a presence about her. I mentioned to her that she should do more of these types of thing. She agreed, and was thrilled because she had just been asked to do the Aids Project show in San Francisco, and wondered if her fans would come to see her there? All I could say was"DUH!" We both burst out laughing. The fans were great! When Lucy left, I heard no complaints, just tons of "thank yous," "see you soon," and "drive carefully!"
With warm thoughts,
Sue

I just wanted to say thanks so much for getting Lucy fans together at the benefit yesturday. We were so excited to meet her! She is so sweet and generous! It meant the world to my partner Yesenia and I to meet her because we just admire her so much. It was a day I will never ever forget.
Gina

It took me all the way home on the plane to come down from my "I can't believe I met Lucy!" high let alone get to hear her wonderful voice in song. Wow! A great song selection and she did it proud! I won't forget it. She sure is a trooper to be able to handle all that chaos. I felt a little guilty by being a part of it. Usually I just stand back, watch and admire, but I also knew this might be my one and only chance. Tell Lucy, from the bottom of my heart, a big thank you for spending some time with us fans. The whole show was wonderful and Marissa was excellent. That was the first time I've been able to see her. What a treat.
Kindest regards,
Bobbie

Just wanted to thank you again for taking such good care of us "Xena Girls" this weekend. Lucy was wonderful in concert! She was so gracious and patient with all of us star struck crazy fans. It must be disconcerting to have so many people wanting your attention at the same time, but she really handled the crowd wonderfully. I'm a little old for this star struck business and traveling all night and working all day, but meeting Lucy was worth the trip. And one more thing and I'll stop gushing and go back to work. I am the only die hard Xena fan I know, so having a chance to meet other Xena fans was great. What a nice, friendly bunch of people. I am relived to know that there are Xena people as crazy as me.
Thanks again!
Jackie

This is an evening I will always remember. Lucy was beautiful and her
performance was excellent. The whole show was more than I expected. I was disappointed that on Saturday she left early and we didn't get a chance to meet with her. I wish we had a chance to talk more with the people that were there on Saturday because I am always looking for Xena fans in my area who would like to talk and get together. Sharon thank you for all your effort to make this a special night for us fans.
Patricia

My thoughts about Lucy's performance are that she is amazing. We all know Lucy can sing but wow! All the performers there were all so good and Lucy just held her own. What a powerful voice she has. She really just belted it out. I really was so surprised she came out during intermission and signed autographs. I know her fans mean alot to her but still to take the time she did and posing for pics even. This was more than I could of wished for. It was also neat to meet Rob and Ted. They all contributed to make Xena the great show it was. It was just an amazing night. I have to especially thank you for making it all possible. You have to know how happy you have been making all of us Lucy fans. You definitely made me feel more comfortable by encouraging me and everyone else to move forward and get her autograph. I am rather shy and I could of very well missed a once and a lifetime chance by standing there like a dummy. Thank you, thank you,
Sincerely,
Bonni

I wasn't at the benefit tonight but my sister-in-law, Elaine, was. Thank you so much for telling Elaine to give the phone to Lucy! I didn't believe it was her even though I heard the accent and all but thank you, it means so much to me.
Take care,
Lanette

I was so thrilled to be at the S.T.A.G.E. benefit on to witness not only Lucy's amazing performance, but also her loving attention to her fans, including myself. She rocked the house with her beautiful, soulful rendition of Love Changes Everything... one of my favorite Webber songs! Good on ya!! I was then further overwhelmed by her eagerness to seek out all the Xena fans during intermission, giving so much of herrself to each and every one of us. Her appreciation in seeing us all there really touched me. I was so happy and honored to be there for her, supporting her work, as I will continue to do forever. It was wonderful to be able to share in her continued pursuit of new challenges and development of her many talents.
I am your fan for life,
Sarah

When Lucy walked out smiling on the stage Saturday night, she absolutely sparkled. She glowed. And when someone in the audience yelled out the Xena yell, her even greater smile acknowledged her fans in the audience.
Lucy looked fabulous. Her outfit was so cool. Lucy's sounded great. She sang one of my favorite Andrew Lloyd Webber songs. Please thank Lucy for me. She was a significant part of a most enjoyable night. It was for a very worthy cause.
THANK YOU LUCY.
Cindy

Thanks for letting us know about the charity event. The show was wonderful and all the performers really put their hearts as well as talent into each song. Lucy was really great on stage and held her own in that great line up of talent. She is truly a multi-talented individual! She was also very gracious, charming and kind in her interaction with the fans at intermission. I truly appreciated her taking the time to meet with us and the way that she made everyone feel important. Tell her "thank you". Rob Tapert and Ted Raimi were also very kind and I thank them as well for their patience. It was a great night, the show was excellent and the reason for the benefit made it all the more worthwhile!
Paula
The show was of a very high quality. I have never seen such a number of highly talented performers, even for LA! Lucy was wonderful on stage. The first day she started a little nervous, but she relaxed as the song progressed. However, Saturday and Sunday she was really belting out the song, and you could see how much more comfortable she felt. But, as great as she was on stage, it was her behavior towards her fans that made an indelible impression on me. I am proud to be her fan. Lucy has a rare quality for a person in the spotlight: She has the ability to relate to each person she meets, look the person in the eye, really listen to what the person is saying. No matter how many demands are being made for her time, for the minute or so that she is talking to someone, that person feels he or she is important to Lucy. No wonder people fly from all over the place to listen to her sing one song! When we first decided to go to the show, our intention was to support her. We did not know how gracious she was going to be about making the weekend special for her fans. She absolutely charmed all of us.
Fondly,
Aleida
---

Boy, going to the benefit is easy. Bringing the balloon is turning out to be the hard part! I hot-footed it over to my local drugstore and bought a bag of balloons. Even found one in the bag that matched my blouse -- no small feat for those of you who know how fashion-challenged I am (grin). Nearly passed out when I tried to inflate it, but gave it a second shot and poof! a balloon. Now it was only about 8" around and that was was a bit disappointing, but I figured size doesn't always count. (Don't touch that line!) Tied a string on the end and let it go only to watch it sink slowly to the floor :( I went out in the hallway and was informed by more balloon-knowledgeable people than me -- a visiting 8-year-old girl -- that only helium-inflated balloons float. So out I go again to the local party store and they tell me their balloons only last 8 hours. If I bought one during lunch, it wouldn't last until the benefit -- grrrrr! New plan -- I'll stop at the party store on the way down to the theatre. Jeez -- I should have just put up a wanted poster on this page and let everyone print it out and find me when they get there! (grin)

I told Lucy about all the fans coming to see her at the benefit and showed her the messages of support coming in from around the world from people who can't come in person. She began reading them and then sat right down and wrote this note: "Thanks so much for all your warm thoughts and encouragement. Everybody needs a little help to get up and perform under pressure so I am going to go out there and channel Xena, the way other people do. Never tried that before -- not since the end of the show! It'll be lovely to have in the audience those of you who can make it. But I'll be receiving all good vibes sent my way. God Bless, Lucy."
I took the virtual tour on the Luckman Fine Arts Complex web site where the event is taking place. The plaza has a double row of pillars and the front of the auditorium is glass. There are doors on both sides of a curved portion of the front. Directly across from the entrance there is a round sunken area. There are two steps going down into this sunken area. It doesn't look like it's meant to hold water so I don't think we'll need to bring our rubbers (grin) It would be out of the way of the crowds around the entrance doors. I just called the Luckman and they haven't paved over this sunken area and I'm definitely considering the balloon. So this is where we'll meet. Say a half hour before the show and right after.

Well, I'm hearing from lots of you that you're coming to the benefit and so is the ticket person for S.T.A.G.E. He's a very nice man named Sean and he said he was working until 8pm last night processing orders from all the Xena fans who have been calling in. I just got off the phone with Lucy and passed along this info. "Oh, my God, really!" she babbled excitedly. (grin) I think I found an area to meet in and I'm just going to call the Luckman to make sure they didn't pave over it. Then I'll send out a message. I was also thinking of bringing a balloon to hold. Think that would look a tad strange at a benefit? Ah, who cares. I want to make sure no one gets lost. (grin)


Lucy will be performing at this year's S.T.A.G.E AIDS benefit taking place at the Luckman Fine Arts Complex at California State University, Los Angeles March 12, 13 and 14. She will be at each performance -- Friday, Saturday at 8PM, Sunday at 3PM. It's like a play, they do the same show each night. For a list of other performers and ticket info check their web site at www.stagela.com. This year features all music by Andrew Lloyd Webber and I believe Lucy will be performing "Love Changes Everything" from Aspects of Love. Don't hold me to it, but I think that's the song she said she chose.

I talked with Lucy this morning and she asked if any of the fans were going to the benefit. As you know, she's singing and it's still a scary thing for her to do. She said if I could tell her there would be Xena fans there, she'd feel ever so much more comfortable singing for them. So I thought maybe we could get some groups together and I could let her know we'd be in the audience cheering her on and sending out good vibes <G> We might not all be able to sit together, but maybe we could meet after the show. I'm going all three nights and you can drop me an email at outback@creationent.com and we'll pick a spot to meet up perhaps before as well as after the show.

Ironically, I'm writing up an interview with Renee for newsletter #27 and she said something about doing the play at the convention that is in tune with how Lucy is feeling about singing at the benefit: " I really enjoyed doing the play at the convention so much more than I have any theatre I've done. I think because with this audience, their hearts were open to me. And that is because there is a relationship between myself and all the people who were there. I wanted to embrace everyone who's loved the show so much because for one, I appreciated their support over the years. And I really felt they could understand my love for the show. A lot of people in my life now have no idea some of the things I've gone through on the show because they didn't watch it. (laughing) The life experience of working on Xena was so tremendous and I just feel like everyone who really, really loved the show loved it because it changed their life in some way. That's why I wanted to address that with everyone there in my prologue. It just made sense to let them know about one of my fondest moments which was the greenstone. And I just wanted to include them as part of the family."