I received some screengrabs from the "Warrior Women" documentary from The Discovery Channel. Hope to have more from other episodes as they send them to me. Just a taste of what's in store when the show airs. Click on the photo and it will lead you to more!

************************

9/8 -- Lucy becomes an aunt by joining the cast of the WB TV series Tarzan playing Kathleen Clayton, Tarzan's aunt.

*************************

9/5 -- Popped on the cast shot from Diamonds and Guns. I believe the photos are going up for sale next week from the movie. I have to wait till Renee gets back from Europe to get the interview photos taken by Wendy approved before we can put them on sale.


Received some photos taken by October Films, the production company filming "Warrior Women," of Lucy on a horse in China. Really cool. As soon as we run them past Lucy, I'll put them up and they will be for sale as well.


*************************

9/4 -- I've added another photo from the movie and also one from the interview session. Renee is gleefully rubbing her hands together as she sets in to do my makeup and hair. The evil chuckle she emitted gave me pause, but I let her have at it (grin).


*************************

9/3 -- Newsletter #24 approved and in production. Issue #23 started shipping Aug. 8, but it goes bulk mail and can take 4-8 weeks to get to everyone around the country. If you haven't received it yet, please give it a bit more time.

Tuesday, Sept 2 -- 4:00 pm Eastern Time
Lucy did a chat promoting the season two DVDs on usatoday.com on Tuesday, Sept. 2.
You can read the chat here.


*************************

8/27 -- For those who have been asking to see what the 2004 XENA SCROLLS CALENDAR looks like, I've put up jpgs of all the months and they can be seen here. Check it out -- Gabrielle's got her own centerfold (grin)


The pages of the XENA 2004 PHOTO CALENDAR can be seen here.

The TEARAWAY and the PHOTO calendar have been approved and are in production.
Click here to order.


***************************

8/25 -- Filmed the video interview with Renee on Friday about her work on Diamonds and Guns. Now I know where the bloopers come from during the filming of TV shows and movies. I had to repeat my opening line for a two-shot of us sitting there. Having to look at Renee and repeat something we'd already done cracked me up. That gave me the giggles. And when I kept a straight face, she broke up. I think we did it nine times before we got it right. (grin) Same thing happened when she was feeding me lines off camera to get reaction shots from me. I heaved a big sigh to shake off a bad line reading and she cracked up. That started us all over again with the giggles. She was no help at all. (grin) I think we're going to have a blooper section. (grin) She had some great stories to tell especially about getting caught playing a video game when she was supposed to be getting into costume for the next scene (see photo above) and also guerilla shooting on the streets of LA. I'll have a VHS copy with time code of the footage tomorrow and start the editing. I'll be filming the video interview with Lucy about Warrior Women in September.


Someone received word from Anchor Bay that they weren't going to re-release the Xena Season One DVD set with added commentary. My information that they filmed commentary for three Season One episodes came from Rob Tapert. He participated in it and also told me which episodes they did -- see list below. I have no idea what they're going to do with this footage if they're not re-releasing Season One.


***************************

8/8 -- XENA JUNE PHOTO CLUB -- can be seen here. In production. Will be shipping shortly. XENA JULY PHOTO CLUB -- can be seen here. In production.

***************************

8/5 -- XENA SEASON TWO DVD SET -- Season Two will have commentary on three episodes. They will also be re-releasing Seaon One with commentary on three episodes. On-camera interviews were also conducted. I don't know how they will be released. Here are the episodes that will have running commentary and who will be speaking on each.


Season 1
Sins Of The Past -- Lucy, Renee
Callisto -- Lucy, Renee, Rob
Is There A Doctor -- Lucy, Renee, Rob

Season II
Return of Callisto -- Lucy, Renee
A Day In The Life -- Lucy, Renee, Rob
Destiny -- Rob


***************************

7/31 -- Yes, Lucy did the drawings of Xena and Gabrielle. You remember that little drawing she did that I had up before? I thought it would be great to have a bigger one for an upcoming newsletter. I asked her and this past Monday morning, Xena popped through the fax machine. And, lo and behold, a Gabrielle was right behind her. I added the drawings to newsletter #24 -- which just went in to the studio for approval.


***************************

7/21 -- Completed an interview with Lucy yesterday for Newsletter #24. Off the top of my head I can remember: latex hands -- blonde . . . no orange . . . no red, yeah, that was it, red hair -- busking in Prague -- waitressing in Prague! Learned more about the Boogeyman and Ugly Americans movies.


***************************


Renee will begin filming an independent feature-length film called Diamonds and Guns early this summer. It will be shot in Las Vegas and Los Angeles. Directed by Chris Dollard, with a script by Dawn Higginbotham (from a story by Dawn and Helena Beaven who are producing their first full-length film), it is a comedy about two friends -- from America and New Zealand -- who go to Las Vegas to find true love. It is being shot digitally with an eye toward film festivals and future distribution.

Renee said, "I chose this script out of all the ones I've been looking at because it was one of the funniest I'd read. It has an energy on the page which I hope translates to the screen and the audience. It came to me by way of Aaron Morton who did the lighting on "Dangerous Prey," the Xena episode I directed. Aaron did the lighting on a movie called Nemesis Game and introduced me to the guys who wrote, produced and directed that movie. They in turn introduced me to Helena. It all began with Xena."



***************************

Message from Renee to all the fans who participated in the
Burn Foundation Relay this past Saturday.
click here for more information and more of Wendy's photos.



Thanks to all the fans that came out on Saturday to support myself and the Alisa Ann Ruch Burn Foundation. And thanks also to the people who have been sending money to support their charity work. The guys at the Burn Foundation were happily overwhelmed with the response. I had such a blast being a firewoman leading a pack of 25 fire trucks for the day throughout Los Angeles. It's a little bit different sitting with the real heros. A humbling experience. I'm hoping to do more work for them in the future.
--Renee



(photo curtesy Wendy Sparks)



***************************

7/1 -- NEWSLETTER #24 -- Just lined up interviews with Melissa Blake on "Soul Possession," Paul Robert Coyle on "Send In The Clones," and Patricia Manney on "Is There A Doctor In The House?" Also tracked down RJ Stewart and I'll be starting interviews with him shortly. Want to get some of the early eps down before memory fades too far! RJ's been keeping busy. He wrote the soon-to-be released feature film starring The Rock called Rundown


***************************


5/23 -- Lucy on "V Graham Norton" UK TV show -- Here's a message I received from a producer of the show with information about when it might air in the US. "Not sure when it goes out on BBC America -- probably not for a good few months as we don't usually sell them the episodes until we've finished a series (and this series runs to the end of July)." So everyone keep an eye on their TV listings and spread the word if you see it listed.

***************************
3/26 -- Here are two notes we received from Andrew Young of Starship Hospital and Robert Bruce of the Kevin Smith Trust Fund thanking the fans for their kind generosity at the Pasadena convention charity auctions.
Thank you so much for all the money Creation and the fans raised for the Trust. Sue is so overwhelmed at the generosity as are we all! It will help so much with the schooling of the boys.
Cheers,
Robert Bruce
*************************
A huge thank you to the Creation Entertainment team and all the convention attendees who bought auction items in support of the Starship Foundation. You are all such fantastic people! We are always so grateful for the support we get from Lucy's many fans on your side of the world.

On this side of the world, I can report that our fundraising is as challenging as always and we have a huge list of goals and targets to help our sick children. Our big mission this year will be to complete our fundraising for the Starship Heart Unit, which is due to open in October. Lucy attended our Starship Charity Ball, which had a strong hearts theme late last year. Photos of her, Craig Parker and Jennifer Ward-Lealand at the ball are on our website at www.starship.org.nz in our Foundation Supporters -- Celebrities section.

Our warmest gratitude again. We are so fortunate to have Lucy on our Board of Trustees, who is both generous and dedicated to our cause. We couldn't do it without all of your help.

My best regards,
Andrew Young
Starship Foundation
***************************

Lucy and Renee at the Pasadena 2003 Convention

Lucy and Renee are a hoot when they get together, aren't they? Can't resist teasing and taunting and telling tales out of school <G> Can't wait to see the footage and catch all those remarks I missed.
Here's my favorite pic so far: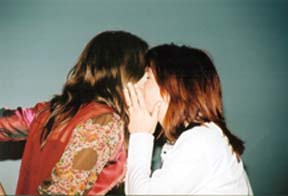 (photos by Wendy Sparks)


3/23 -- BTW, this convention photo of Lucy and Renee -- it was shot backstage. They're standing at the top of some steps right behind the screen watching the music video that was playing just before they went on. Renee had to talk into Lucy's ear so she could hear what Renee was trying to tell her.

***************************

3/14 -- PASADENA CONVENTION CHARITY FUNDRAISING -- Over $47,000 was raised for the Kevin Smith Trust Fund, Starship Hospital, the James Ellis Foundation and the Hollywood Horse Show Children's Charities. That's heaps of good deeds from all the Xena fans that attended the convention. Thanks so much for your kindness and generosity.


***************************

2/26 -- saw Lucy today and had some photo club approvals for the "bad conditions" month for her to go over. Lucy got a kick out of seeing all the strange things she and Renee had to go through over the years.


***************************

2/25 -- XENA MOVIE RUMORS -- There was a message going around from Dark Horizons that ITV reports the film will go ahead with not only a soundtrack from Joe Lo Duca, but a special Xena and Gabrielle relationship theme song called "When I Look at You" by Mariah Carey. I checked with Rob and although his answer is unprintable <G>, it boils down to there's no truth to this latest rumor.


***************************

1/16 -- XENA KIT #6 -- What we did in Coffee Talk 2 is to put the portions of the video that Lucy and Renee are looking at in a small box on the screen. So you'll be seeing what they're seeing at exactly the same time. When they giggle or poke each other, you'll know why <G> When they sit mesmerized by the campfire scene in "Callisto," you'll be sitting right there with them. And when Xena gives a small laugh during that scene, you get to see Lucy's and Renee's reactions and hear them discuss it. I think folks are going to feel this was the best idea ever.


**************************

1/9 -- XENA MOVIE RUMORS -- About the rumors of a Xena movie that have sprung up today. Rob would love to do one and has been working toward that end. But nothing definite has been set yet. It's still in the "3 or 4 years down the road" stage.


***************************

12/10 -- I'm proofreading newsletter #21 and came to a bit from Lucy's interview I thought you'd enjoy:

"Why do you think I've been doing this (newsletter interviews) all these years? I stay in touch with the fans as a compliment to them. Those tremendous people have done so much good and supported each other in ways other than financially as well. That means a lot to me. They're classy human beings."

*****************************


11/7 -- Completed the interview with Lucy this afternoon. The restaurant we were going to meet in was just a tad noisy so we moved into Lucy's car. We probably looked like a drug deal from the outside! Found out just how to put a cat among the pigeons at the NZ Fashion Show. (grin)


*****************************

COFFEE TALK 2 WITH LUCY AND RENEE

(will be part of Official Xena Fan Club Kit #6)

"We've got to tell people what we're sitting on," Lucy said to Renee, "or they're going to think we're very rude." Renee laughed just as the hot tub we had covered with a flat board, quilts and pillows let loose with this incredible gurgling noise. They both giggled.

It was a walk down memory lane starting with the first time Xena and Gabrielle appeared on screen together in "Sins Of The Past." Gabrielle is trying to convince Xena to take her away from her boring village life and dull fiance into a world of adventure. As the images came up on the TV, Renee looked over at Lucy, "Do you remember filming this?" "I do actually," Lucy said. "I remember meeting you that first week and you would look at me like . . ." "You're a goddess!" Renee finished Lucy's sentence and they both laughed. "Well, that's over," Lucy remarked wryly. "By the fifth season you were punching me in the stomach." And that set the tone for the afternoon.

Lucy thought Gabrielle came from Acidophilus and they marveled over Renee's "motivations" in "Dreamworker." There were 38 different clips of comic moments (from the list ya'll so fabulously provided <G>), fights and sensitive chats.

I remember two in particular that Lucy and Renee responded to. The first was Xena hitting Gabrielle in "The Reckoning." Lucy's hand flew to her mouth in shock when Xena hit Gabrielle. She didn't remember that happening. Renee then remembered something she had asked Lucy to do to get Gabrielle's reaction to the hit.

The second was the campfire scene from "Callisto." So many memories came back with that one including the smile in the middle of the scene. The most revealing discovery for me in the whole afternoon was when Renee asked Lucy what she was thinking during that scene. I was stunned by Lucy's response and so was Renee.

And then there was the bug that landed on Lucy's nose. Renee's solution to the "gnat on the nose" problem startled Lucy and had the crew rocking with silent laughter.

When the allotted time was up, I told them what clips still remained and they wanted to just keep going. It was a beautiful summer day, they were visiting good times and they were with each other. A perfect way to spend the afternoon.

*****************************

VIDEO INTERVIEW WITH RENEE AS LADY MACBETH




(will be part of Official Xena Fan Club Kit #6)

For all the Renee O'Connor fans who won't have a chance to see her playing Lady Macbeth, we will have a "taste of Lady M" in fan club kit #6. Yesterday we went with Renee to Pt. Fermin Park where the play is being performed and did some filming.

First was a short sit-down interview in street clothes. After that was over, Renee asked if we'd like to film some of her physical warm-up routine. She proceeded to sit down on the ground and put her foot behind her head! Turns out she does a yoga routine to warm up. She went through a series of moves for the camera.

Renee then changed into the blue costume from the play and began to recite some of Lady M's speeches. We filmed her walking along the stone fence that runs above the cliffs, delivering her lines full-out to the sea. I mentioned that one of the other actors did his rehearsing on the other side of the fence. Renee hiked up the dress and hopped over with my camera crew right behind her! With the wind making the most incredible moving sculptures of Renee and the blue gown, she put her arms out and continued to recite. She looked like Kate Winslet on the bow of the Titanic -- eyes closed, face up to the sky.

The shoot was only scheduled for 45 minutes, but Renee stayed for an hour and a half and kept asking for more things to do! And, yes, we did get the Macbeth "Undo the Curse" Rap delivered right into the camera lens in Renee's sauciest manner <G>

*****************************
6/12 -- There were some interesting notes on the recent photo approval forms I sent to Lucy and Renee that I thought you might enjoy. I sent a batch of photos from Hercules episodes where Lucy did crossovers. Next to one of the numbers was a smiley face. When I looked up the matching photo, it turned out to be the one on page 21 of newsletter #19 from "Stranger In A Strange World." It's a photo of Xena at the end of the cake fight with Aphrodite. Lucy said she just loved that shot. Sure can't accuse her of only clearing photos where she looks perfect as so often happens in Hollywood. In fact, both Lucy and Renee have never had any qualms about approving photos where they were messed up, dirty, funny-looking or screaming in battle.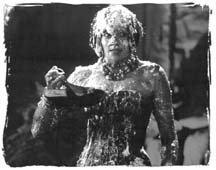 Renee wrote "Wow!" next to one from Hercules and the Lost Kingdom. It is the picture on page 12 of issue #19. She thought the composition of the photo was stunning with the castle in the background and the flowing robes of her costume.
Renee happened to be in our office when the photos for the photo club "comedies" month were ready to approve and she sat down at my desk and began to look them over. I heard her chuckling and went over to see what was going on. "When I got into this business, I never thought I'd have to make a note like this," she said, laughing and pointing at what she'd written. This is what was on the approval form, "Please crop out pasties." It was a photo of one of the naked dancing Gabrielles from "The Quill Is Mightier." If you're a member of the photo club, you can check out the pic from February 2002 and see how we did.
*****************************
MESSAGE FROM LUCY AND ROB -- May 7, 2002
With his father's urgings and his mother's anguish, Judah Miro Tapert
was born at 11:46pm local time on May 7th. Weight 8 lbs 8 oz. Everyone is fine.
*****************************
11/14/01 -- Coffee Talk 1 for Kit #5 -- The rains held off until the last person pulled out of the driveway and then the skies opened up. But for three hours, we trained our cameras on two delightful, silly, warm, loving and playful friends -- Lucy and Renee.
"Coffee Talk" was filmed at Lucy's house on Monday, November 12. I think I mentioned that we originally planned to have them sitting at a kitchen table. However, when Lucy and I were talking about the logistics of various tables in her house, she mentioned a king-sized bed in her guestroom and I pounced on the idea of a "slumber party." They didn't actually don bunny slippers, but Lucy and Renee thought that setting would be perfect and the scenario of two gossipy girls tickled their fancy. They hatched up an opening that I think you'll enjoy <G>
Lucy and Renee flipped through our new 2002 Xena calendars looking at photos and remembering things that happened during the making of the episodes. And for a grand finale, they were joined by Masters Julius Tapert, an old hand at being on camera, and Miles Muir, making his film debut! <G>
*****************************
11/1 --
XENA FAN CLUB KIT #5 -- All the usual goodies and all new video footage. One documentary will be a continuation of "The Making of Who's Gurkhan." This version covers the making of the show following the filming order. Day by day, see which scenes they filmed.
We're calling the second documentary "Coffee Talk with Lucy and Renee." Filmed the beginning of November, it's your chance to be a fly on the wall as Lucy and Renee sit around a kitchen table, looking at photos from the show and reminiscing. Also footage from the making of "Friend In Need."
For more info go to: The Xena Fan Kits Page
*****************************
12/3 -- Been getting some great feedback on the Xena kit #4 and the behind-the-scenes documentary. The most common statement is that people had no idea how much work and how many people it takes to put the show together. And, boy, doesn't Michael Hurst look great in a dress!
Here are the answers to some questions I've been getting. The young woman getting into the truck with Lucy and Renee at the end is Lucy's daughter, Daisy. As for Renee's hair -- she had just had the corn rows taken out and came bouncing over to where we were set up to film them getting into the truck pointing to her hair and laughing about how funny it looked. We wanted them to be natural and she obliged (grin) The boots you see them wearing -- soundstages are cold and have concrete floors. For those of you trying to spot me in the video -- I did an Alfred Hitchcock cameo in Lucy's sunglasses when she's talking about being splashed with water. And, no, the young man Lucy was trying to find a date for has not yet been spoken for (grin)
And the part about the video that got the biggest raves -- seeing the relationship between Lucy and Renee. The way they work and play with each other is bringing smiles to everyone's faces.
*****************************
6/2 -- If there's one item that I have received requests for since we started the Official Xena Fan Club, it is a Behind-the-Scenes video. I'm happy to say that Xena Fan Club Kit #4 contains not only the bloopers from season five, but a video on the making of the sixth season episode "Who's Gurkhan." I spent 9 days on set in New Zealand filming every aspect of the making of this episode.
It covers the first readthrough of the script; early morning makeup sessions and porridge; wardrobe; props; set design; the choreographer teaching the actors dance routines; filming on board Rob's Folly (that ship with the ubiquitous eye that has, sadly, been painted over); Tilly, Barbie, Mac and Zulu (who he?? wait and see); Adrienne Wilkinson, William Gregory Lee, and Willa O'Neill (guesting on this episode); a prosthetic eye and blood in a dixie cup; harem girls and Turkish baths; pseudo North African body decoration and Gabrielle painting by the numbers (painting who? hmmm); exotic costumes; an Amazon village, Poteidaia and a strangely haunted Amphipolis; an incredible rainstorm; Renee kicking the stuffing out of a poor defenseless pillow; Mama Lucy and her bags of chips; and, reigning over all -- Michael Hurst as director. Michael is a wonder to behold -- especially on "frock" day!
There are also interviews with Lucy, Renee, Michael, Rob Tapert and Eric Gruendemann.
Renaissance gave us total access to every department and every moment of filming. It was warm, wonderful and exciting. The amount of work and the efficiency with which it is done is mind-boggling. There were cameras perched on ladders towering over my head, a focus puller in 6-inch platform heels, early morning fog pocketing the valleys of New Zealand -- and through it all, the heart of the show -- Lucy and Renee at work and at play.
I hope this is the best behind-the-scenes video any show has ever had.
*****************************
MESSAGE FROM LUCY
Time and again you guys have given generously to charities in our names, this time on behalf of Julius. Once again, you find us "gobsmacked" (Kiwi for speechless). I don't know how to thank you. I really don't.
I guess I always feel so abundantly blessed in this life that I don't like to receive gifts, particularly as I know that every cent you all spend is money hard earned. The fact that you have stood by us through thick and thin and tuned in every week for 5 years is greater fidelity than many marriages enjoy. I cannot convey to you how deeply touched Rob and I are by your kindness in raising over $20,000 for charities around the world in the name of our son.
Whenever I feel myself on the horns of a moral dilemma, I try to remind myself of a maxim I wish to live by: "spread more Joy." It helps me choose the right direction even if, in the short term, it seems the least profitable option. This is what you have done.
At the risk of seeming repetitious, you inspire me.
God Bless HCNBs,
Yours truly,
Lucy Lawless