These messages, photos and videos are exclusive to this website. Please do not repost to any other website. Link to the page to send people to see them.
LUCY LAWLESS
LIVE AT THE CANAL ROOM
JUNE 2007

Here's a promo for Lucy's Chicago concert using
footage from the Canal Room show.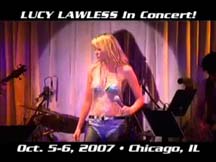 (click image for QTversion)(wmv version)
Lucy and Renee really should take this comedy routine of theirs on the road. They are such clowns with each other as you can see from the still photo from the videoclip of "What'd I Say" below. Renee is really having a good time with her cameo go-go dancer spots. But after the second night, she was aching in spots she didn't even know existed. So she was warming up when I walked into the dressing room before the show on Saturday. She was doing a backbend onto the chair behind her. To say the least, that woman is flexible! Check out "I'll Stand By You" on the Lucy Lawless Fan Club page.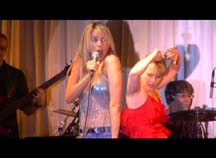 (click on image for QT, wmv version)

When I began posting Lucy's rehearsal clips with Michael Orland, "Take MyBreath Away" was grabbing alot of attention. Seems folks were dying to see Lucy do a ballad. It made the final cut and now you can have a listen. Check out "Total Eclipse Of The Heart" on the Lucy Lawless Fan Club page.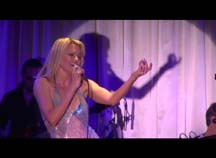 (click on image for QT, wmv version)
The line snaked around the building again as Lucy brought 18 songs to the Canal Room concert stage. Here are "True Colors" and the finale, "Delta Dawn." She was keeping that last one a secret although I didn't realize the sheet music showed up in one of the photos below. It's hard finding a closing number. The way this one came about was pure happenstance. There are photos of many of the people Michael Orland, her musical director, worked with in his recording studio. Lucy picked up one of Michael and Helen Reddy and started to sing "DeltaDawn." They both looked at each other and yelled,"Closing number!" It was perfect and the crowd loved it. Have a listen. And there are two more clips over on the Lucy Lawless Fan Club page.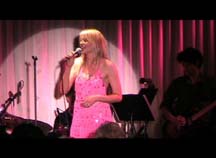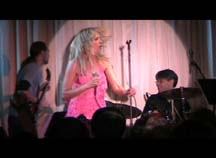 (click on images for QT, wmv to come)
If you look closely at the photo below, you'll notice an empty mic. That's Jim Breuer's chair. He was home . . . with his voice joining in the fun and games of Lucy's appearance on Jim Breuer Unleashed. One of the production crew laughingly told me the four guys that were in the studio with Lucy are usually running rampant over the guests. She'd never seen them melting under anyone's spell . . . until Lucy showed up. Lucy had a good time and will be going back to the Breuer show Friday, June 1. (click for QT version)


Lucy's been talking about the new outfit Alek Adorian made for her for the Canal concert and here it is! You should have seen the faces of the people walking by. It was great fun! More pics on the
Official Lucy Lawless Fan Club
page.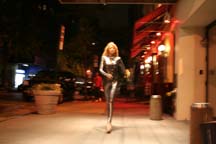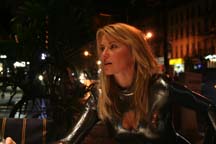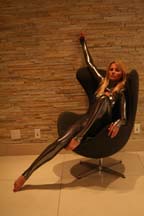 Lucy's still in her Tina mode thinking "What's Love Got To Do With It?" Check out the
Official Lucy Lawless Fan Club
page for"Shakey Ground." It's off to NYC we go tomorrow. The band will be meeting for the first time. I'm heading for the Canal Room to check out where all the parts go. We're doing another 3-camera shoot for the dvd of the concert. Can't wait to get back to my old stomping grounds.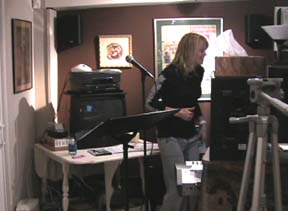 (wmv version)

I think Lucy's got a thing for TinaTurner. Michael began playing "River Deep, Mountain High"and Lucy started to fly! If this song doesn't make the Canal show, it's got to be in the next one. Checkout the
Official Lucy Lawless Fan Club
page for "To Sir With Love."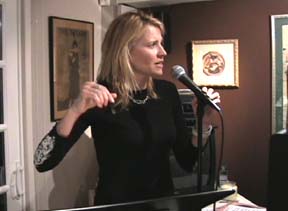 (wmv version)
Lucy and Michael Orland have been hard at work finding new songs for the Canal Room concert. They even turned to the computer looking for artists they like and lists of their hits. Cyndi Lauper's "True Colors" seemed fitting as it speaks to those who don't seem to quite fit in. Have you tried to explain to your family why you're flying across the ocean to hear Lucy sing? <G> (click image for QT version) Check out the Official Lucy Lawless Fan Club page for more clips and more songs.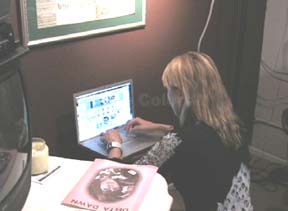 (wmv version)

There's going to be a TV ad for Lucy's NY Canal Room concert and the NYconvention with Lucy and Renee running on

Xena

on the Oxygen channel May 23 and May 24, 7-8 AM ET/PT time. Here's the commercial (click image for QT). Now I want to see everyone get up early and watch it run on the show! And if you're wandering around the city, you may see this black and white poster hanging hither and yon.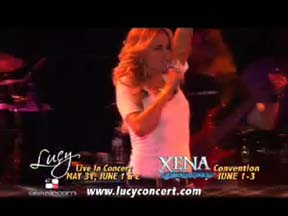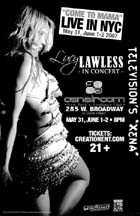 (wmv version)