Diamonds and Guns -- Updated 3/23/04
This movie is being edited. Renee hopes it will be done in about two months.
---
RENEE AT AUSTIN FILM FESTIVAL

In an article by Emily Hummel for KVUE.com, Emily writes,

"Actress Renee O'Connor of Xena Warrior Princess fame has stepped behind the scenes and into the world of digital filmmaking. The Texas native produced and stars in Diamonds and Guns, which takes full advantage of the new technology. O'Connor says the lower production cost speeds up the whole process. 'It allows a producer to tell a story without waiting for people in Hollywood to finance it,' O'Connor explained Friday at a barbecue at the Governor's Mansion. She is currently in pre-production on another digital film, Margaritaville."

I asked Renee about Margaritaville (which is the further adventures of Diamonds and Guns' Ashley and Bria in New Mexico -- actually, that's a typo, which Renee spotted <blush>, it's supposed to say just Mexico) and she wrote back, "It is in development, with a goal to begin filming late 2003 or early 2004, but the producers behind Diamonds and Guns, and myself, are currently in pre-production on another film with more details to come... Renee"
Photos below were taken during the video interview of Renee. And, as I've been practicing my mindreading skills, yes, we will be selling photos from this shoot. Standing on my boss' balconey, I asked Renee to do her Titanic imitation (grin). Photos from this interview are by Wendy Sparks © Creation Ent.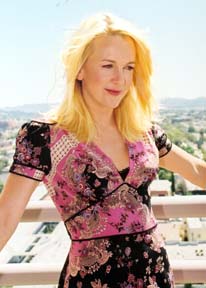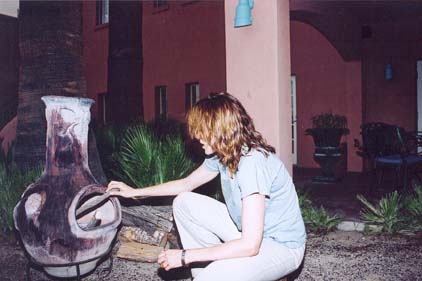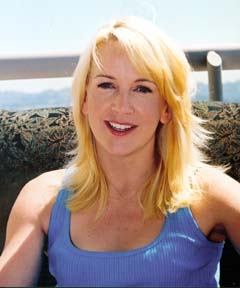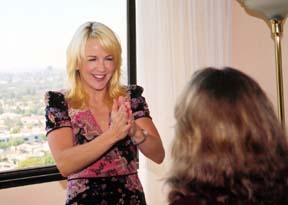 Renee is gleefully rubbing her hands together as she sets in to do my makeup and hair. The evil chuckle she emitted gave me pause, but I let her have at it (grin).
Renee talks about the plot of the movie:

"The character I play, Ashley, is a dancer who drags her friend with her to Vegas because she has an audition to play a 'cat.' She thinks she's auditioning for a production of the Broadway musical. The show turns out to be 'Kittens.'"

"The movie is a romantic comedy about two ladies who end up in Las Vegas and find true love. One's an American, the other's a New Zealander. Bria, the New Zealander, played by Helena Beaven, is about to be deported and is trying to stay in the United States."

"She ends up marrying Francis who's the son of a casino owner. But Francis is engaged to be married the next day to the daughter of a rival casino owner. They're trying to create a truce by marrying the son and the daughter. However, they're absolutely wrong for each other."

"Francis marries Bria so she can stay in the country. But she's afraid because his family is like the Italian Mafioso and they send their henchmen after her. Bria then falls for the head henchman."

"My character gets food poisoning. I go to see a male nurse who turns out to be . . . Francis! He helps me feel better and I fall in love with him." (to be continued)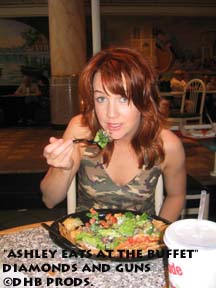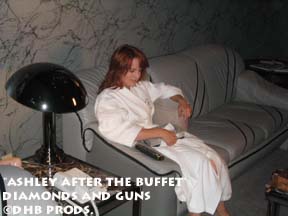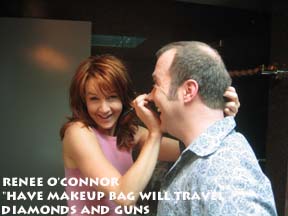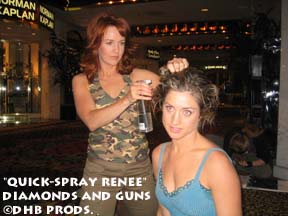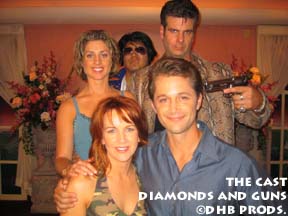 Renee will begin filming an independent feature-length film called Diamonds and Guns early this summer. It will be shot in Las Vegas and Los Angeles. Directed by Chris Dollard, with a script by Dawn Higginbotham (from a story by Dawn and Helena Beaven who are producing their first full-length film), it is a comedy about two friends -- from America and New Zealand -- who go to Las Vegas to find true love. It is being shot digitally with an eye toward film festivals and future distribution.

Renee said, "I chose this script out of all the ones I've been looking at because it was one of the funniest I'd read. It has an energy on the page which I hope translates to the screen and the audience. It came to me by way of Aaron Morton who did the lighting on "Dangerous Prey," the Xena episode I directed. Aaron did the lighting on a movie called Nemesis Game and introduced me to the guys who wrote, produced and directed that movie. They in turn introduced me to Helena. It all began with Xena."