The Official
Xena: Warrior Princess
Fan Club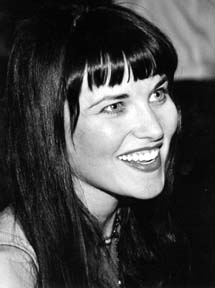 Photo: Wendy Sparks
Lucy Lawless Biography
Since the September 1995 series debut of Xena : Warrior Princess, New Zealand actress Lucy Lawless has thrilled American Audiences in her starring role as the fierce and fearless Xena. Never before has television seen anyone quite like her -- a woman as smart, strong, courageous and confident as any male hero. She's also a compassionate character, whom Lucy describes as "a woman with devil on her shoulder, who knows all about the darker side of human nature since she battles it within herself every day."
A native of Mt. Albert, Auckland, New Zealand, Lawless first captivated television audiences with her portrayal of the statuesque, leather-clad Xena in a three-episode arc of the hit series Hercules: The Legendary Journeys. Prior to that, she had guest-starred on Hercules as Lyla, Deric the Centaur's courageous young bride, and appeared as the menacing Amazon enforcer Lysia in the two-hour "Action Pack" telefilm Hercules and the Amazon Women.
Almost six feet tall, with jet black hair and piercing blue eyes, Lawless is the fifth of seven children and the oldest girl in her family. Until the age of eight, she was very much a tomboy, following in the footsteps of her four older brothers. She was educated primarily in convent schools, where she developed an early interest in acting and began appearing in numerous musicals and plays.
Following high school graduation at 17, Lucy attended Auckland University for a short time before her passion for adventure took her to Europe. She began traveling through Germany and Switzerland and when money ran out, headed for Australia and signed on with a gold-mining company in Kalgoorlie, a small town in the outback about 500 miles from Perth. She was subsequently relocated to a tiny mining camp two hours further away from civilization. One of the very few women miners, she did the same grueling work as the men -- digging, mapping, and driving trucks.
Lucy married in Australia and returned to Auckland shortly thereafter, where her daughter, Daisy, was born. With renewed determination to pursue a career in acting, she began doing television commercials before landing her first real acting job at age 20 with a comedy troupe on television called Funny Business. After a variety of guest-starring roles in episodic TV, she moved to Vancouver, Canada, for eight months to study drama at the William Davis Center for Actors Study. When she returned to New Zealand in early 1992, she accepted a job as the co-host for Air New Zealand Holiday, a travel magazine show broadcast in New Zealand and throughout Asia, which took her around the world. She went on to co-host a second season of the show before being cast in Hercules and the Amazon Women.
Though she had practiced yoga for some time, Lawless had no special training in martial arts, sword play or stunt work when she landed the role of Xena. But she did have some experience with horses, having ridden a great deal in her teens. Blessed with a natural aptitude for the difficult physical challenges the role demands, she has since trained with martial arts master Douglas Wong (Dragon: The Bruce Lee Story) to learn basic kung fu moves and fighting techniques with swords and staffs.
Lawless also has an aptitude for languages and accents. She speaks English, German, French and some Italian, and has often worked on U.S. co-productions requiring a mid-American accent. Despite having studied opera for several years, Lucy has a passion for jazz.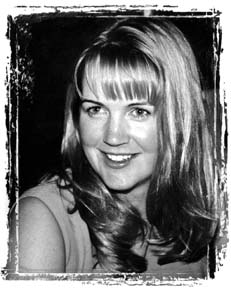 Photo: Wendy Sparks
Renee O'Connor Biography
Renee O'Connor stars as fast-talking young Gabrielle, Xena's plucky traveling companion and devoted best friend, in the hit syndicated series Xena: Warrior Princess. Described by Renee as "a romantic storyteller with a passion for adventure," Gabrielle often saves the warrior princess from her darker impulses and is the perfect foil for Xena's wit.
O'Connor first came to the attention of the executive producers, Rob Tapert and Sam Raimi, when an audition won her the role of the young Deianeira in their two-hour "Action Pack" adventure Hercules and the Lost Kingdom. They were so impressed by her performance opposite Hercules star Kevin Sorbo, they signed her for a starring role in Darkman II: The Return of Durant, a feature released on home video in July 1995.
Prior to Darkman II, she co-starred with Ellen Burstyn and Sheryl Lee in the ABC movie Follow the River, portraying a young woman captured by Shawnee Indians. Set in the year 1755, the drama was based on a true story. In her next role, she starred opposite James Garner as a self-obsessed actress who hires Rockford as her bodyguard in CBS' The Rockford Files: A Blessing in Disguise, which was initially broadcast in May 1995.
Born in Houston, Texas and raised in the suburb of Katy, Texas, O'Connor began studying acting at the age of 12 at Houston's Alley Theater, and later attended Houston's High School of the Performing and Visual Arts. She made her professional acting debut in 1989 starring the Teen Mouse Club, and went on to star in Match Point, another serial for the popular children's show. That same year, O'Connor moved to Los Angeles and soon landed a featured role in the episode of Tales form the Crypt that marked Arnold Schwarzenegger's directing debut.
O'Connor went on to portray Cheryl Ladd's daughter in Danielle Steel's Changes. Later, she starred as one of the group of students whose lives are suddenly endangered in the NBC movie The Flood. Her most recent theatrical film role was that of Julia Wilkes in Disney's The Adventures of Huck Finn, starring Elijah Wood. She also guest-starred as the daughter of a murdered couple in an episode of the acclaimed ABC television NYPD Blue.
Renee is single and enjoys horsebackriding, rock climbing and kickboxing. She jogs and lifts weights to keep in shape for her work on the show, which has become increasingly more physical as her character has gradually learned to defend herself under Xena's tutelage. She also loves to travel.
When not in Auckland, New Zealand, where the series is filmed, Renee makes her home in Austin, Texas. There, her mother and stepfather, Sandra and Eddie Wilson, own the famous Austin restaurant Threadgill's.