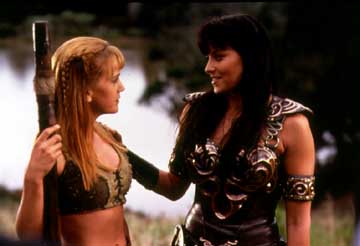 NOTES TO THE CAST AND CREW OF XENA
The letters have been pouring in and I'll be putting new ones up here as fast as I can. I'm also sending them down in batches to New Zealand for the cast and crew to read and enjoy and know what pleasure they've brought into the hearts and minds of the viewers these past six years.
To Lucy, Renee, Rob And The Entire Cast And Crew
I just recieved my Kit #4 and could hardly wait to see the video. Thank you so much for such a wonderful gift. As a fan it's easy to get caught up in the weekly episode without thinking about EVERYTHING that goes into it. Incredibly hard work! Please thank everyone involved, especially Lucy and Renee!

I've been a high school teacher for 31 years and in that time I have seen such change in young people. The lack of empathy, respect and at times violence breaks my heart. When I started watching Xena I decided maybe there was something I could do in a small way to change the behavior of some of my students.

I organized a RAK CLUB (Random Acts of Kindness). I've set it up with only one of my classes and waited to see the results. Like Xena and Gabrielle these kids started looking at others as special and they began to relay to me their "good deeds.Ó

One senior student stopped a group of students from picking on a shy freshman on her bus and made each of those bullies apologize to him. The freshman now sits with her each day in safety and gets the help he needs with homework and simple advice from this senior.!

Another student who lives with her single Mother knows how hard it is to make ends meet and has been secretly donating her paycheck to her Mothers bank account in case of an emergency.

Another student working in a grocery store helped cover a grocery bill for a family coming through her line when they didn't have enough money to cover that bill. The family returned and paid the student back.

And finally this class of students donated their time and collected toys to wrap and send over seas to a childrens charity for Christmas.

HOW DO I SAY THANK YOU to all of those involved in Xena for presenting this format of giving and protecting and taking care of others, and for allowing me the chance to help my students impact possitively the lives of others.

Both Lucy and Renee have been named honorary members of our RAK CLUB. I'm going to miss the show VERY MUCH!

Naidine D'Angelo

To all the crew thank you for the best show ever made, these were the greatest 6 years of my life.
To Lucy: You inspired me for all the things a person can do to change and brought out the best in all the fans. You made me think about the things that are really important and what is worth fighting for.
To Renee: You show me to face life with courage, that fear is not enough to stop anyone from reaching their goals. And that time changes people, but we decide the way we change for good or bad. And that love is the way, but there are many types of love, and many ways to fight for that love. The innocence in you and your character are part of life and everyone has a little or a lot of that innocence, even Xena.
Thanks for these 6 years and I wish you luck and success. From now on we'll have to live with the memory of the best action/adventure/comedy show.
Alex

Bravo for six years of the best entertainment. To be able to watch the storyline develop and be positive and strong. To watch all the characters grow along with it. To watch Lucy and Renee bring their characters to life made it seem like it wasn't a story, but real life with a lot of fun along the way. The fantasy world is a great escape and Xena and Gabrielle made it real. I will truly miss the show and being able to watch the best chemistry between two of my favorites and the best actresses I have had the privilege to watch. I know a lot of hard work, physical and mental went into this show. Just keeping in shape is hard enough, but it all truly is appreciated. For myself, I have never been such a devoted follower of a show in all my life, but I'm glad this was the one I chose. I hope to see Lucy and Renee work together sometime in the future. I think they will be what I will miss the most.
Bobbie Parr

How sad it is to write this note of thanks. First, to Rob Tapert and Sam Raimi for creating such an original concept and for giving the fans something more than the same old formula we are offered on TV these days. Thank you to the crew who works so hard at putting this show together. I never imagined until I saw the behind the scenes video. Now to Lucy and Renee. What wonderful actresses you are. You have made the characters of Xena and Gabrielle into complex, strong and caring women that young, old, men, women, gay, straight, young and old have come to adore.
You have given us an hour in which we can be entertained, whether thru laughing or crying.
There has never been lead women characters like Xena and Gabrielle and I don't know there ever will be again. The chemistry between Lucy and Renee has made the characters unique.
I don't think you realize the impact Xena has had on many fans. Whether it be pure entertainment or something more, it has given all of us something we can take away after six years that is more than the enjoyment of a TV show. The love and friendship between Xena and Gabrielle is like no other characters before and it is that relationship that has made this show so special.
We thank you, especially for Season 6 and The North Africa and Norse arcs, which broke new ground between Xena and Gabrielle. So thank you from the bottom of my heart for giving me six years of action, laughter and tears and allowing me to peek into the lives of Xena and Gabrielle and share the love. I will surely miss this.
Eve Rinaldi

I've thought about what the end of Xena would mean to me. I don't think I will know the full implications of it until the last episode is aired and I've watched the last credits rolling up the screen. There is nothing else like this on television. Two strong women characters, who actually like each other, are best friends and who fight for the Ògreater good.Ó You've made me laugh and cry, and just plain shake my head in amazement. I want to thank you all for a wonderful adventure, and especially for this season which is turning out to be something very special. I know I will be sad when that last episode airs, but Xena will live on for a very long time. You can be sure of that. Thank you Lucy and Renee. I look forward to seeing you both in anything you do. You both have bright futures ahead of you!
Carm DiBenedetto

I have been watching Xena for three years and have enjoyed the show immensely. I started watching it when my eleven-year-old son and his friend asked me to join them one evening and take in the show. I really enjoyed the humor and then gained an appreciation for the developing characters and their deepening relationship. I just appreciate the fact that the relationship changes and develops a complexity that you don't often see among strong female characters.
I have really been enjoying Season 6 because of the great productions (broad landscapes, variety of locations and cultures it involves, costuming, new characters, and -- again, the developing of the characters). I think the thing I am attracted to in both main characters is that tenderness, intelligence, strength, courage, leadership, and fitness can be honored and respected as female traits. As Xena has matured, she has been able to learn from and overcome many of the negative traits and demons she once embraced. Isn't that part of what we are all trying to do as we mature and gain wisdom?
Thanks for the creative and consistently hard work you have put into this show. Obviously, you have touched a very large and diverse audience, and I, for one, really applaud you for maintaining a respect for these groups while still maintaining a sense of humor.
I will really miss the show and hope that you all find avenues to continually express your many talents.
Pam Church

I'm gonna keep this short, so I'm gonna say THANK YOU! You guys worked your behinds off for 6 years and I would like to tell you guys how much I appreciate your work. I can't believe 6 years have gone by. You guys did a TERRIFIC job and you should definitely be proud of what you have done. There will NEVER be a show like this. We shared your pain and your happiness, and it's really hard to say good-bye to the show. BEST of luck to ALL the actors, actresses, and crew members in the future. Battle on!
MissyB

I wanted to send a big thank you to both of you for providing myself with a "break" from everyday reality in the form of Xena. When there is so much sadness and violence around in everyday life, the series has provided me with an hourÕs escape from all that and transported me to a different universe for a little time. A universe where so much is possible and reality can be just about anything you want.
Congratulations to Robert for giving life to the show and assembling such a great cast, writers and crew. Look forward to more of the same.
To Lucy, what can I say. I know that you were not first choice for the role back then, but fate intervened and it is unthinkable to even consider anyone else even remotely trying to breath life into the role the way you have ( and this is true for Renee, Kevin, etc).
Unfortunately, we are not seeing the last series, six, in Australia, but I hope and keep my fingers crossed that the tapes will become available some time next year as they look to be some, if not the best work to date!
Coty Cortese

I've never been in a fan club or written fan letters until now. Xena has really taken me for a ride these last few years. The range of emotion and acting on the show is outstanding and the writing is superb. And I must say, I have yet to see any female action star that could stand up to the realism of Xena's battle skills. She really looks like she's kicking butt and taking names -- Lucy is a tough act to follow -- literally! But some of my favorite episodes are the funny ones like "Warrior...Princess...Tramp" which shows off the comedic timing of these talented gals. And the chemistry between Lucy and Renee on screen must be a reflection of their off screen friendship. From their interviews, they both seem like very down-to-earth girls that you would want to hang out with. Good luck to Lucy and Renee, the writers, the crew and all the cast members. Thank you for bringing some fun, some tears, some smiles, some frowns into our lives.
Debra Garsee DeVito

I just wanted to say "I appreciate you." This seems like too small a sentiment, but it is the best I can do. Xena is the best show ever made in so many different ways. The story lines, the scenery, but mostly the acting. My favorite lines are the unspoken ones between Gab and Xena. Renee and Lucy are so talented. They can portray so much emotion in one glance. When I sit down to watch an episode, I know that I should be prepared to laugh, cry, be amazed, be angry, basically go on an emotional roller coaster if you will. But I also know that the whole cast and crew of Xena are so talented that the episodes aren't only dramatic but have ventured into so many different areas like musical, silly, and historical and the show has always kept its dignity. I would be hard pressed to try and think of another show that has reached so many different topics without compromising something.
I saw the behind-the-scenes video, and let me just say, "Wow." I had no idea the amount of work, cooperation, patience, focus, and overall stamina it took to do what you so wonderfully do. I've realized that I took all of it for granted. I just sort of pictured a Xena fairy miraculously blessing my TV each week for an hour. It was great to see how everyone interacted with each other, and that Renee and Lucy seem to genuinely care for one another. So in conclusion, please know that your hard work is so appreciated. The show has helped me in ways that I can't even express, and itÕs pretty good viewing too.
CJ Peterson

As a fan of the show, I was, as I know many, many others were, quite disappointed that Xena is coming to an end. When I first saw a Xena episode it was "Callisto" and the infamous campfire scene that made me see that this was, as campy as it could get, a good show. I've since been an avid fan and if nothing happens from now and May of 2001, I will be heading to Pasadena and see the people that have made me laugh and cry. I will miss the show and believe it or not I used a Xena episode ("The Price") in my Psychology class. Xena has always been my backbone to standing up for myself. If Xena can face an entire army by herself then I certainly can handle one tough day at work. Gabrielle has always been the guiding force to no matter how bad it gets, or how bad "I" seem to have it, there will always be someone else worse off than me and it is the little things to be happy about and Gabrielle was always that. I will miss the show very much and though I would like to see it go on forever, Lucy and Renee are too talented to stay in one place and I wish them well.
Connie L Perales

I began watching this show in its 3rd season. Never have I seen a show with such heartwarming storylines, action-packed sequences, and amazing actresses as this one. With the end of the series approaching, I thought it only appropriate that I share with you how much this show has meant to me. I am now 17 years old, in the 11th grade. Back in junior high, I experienced some health problems that involoved numerous visits to the hospital for x-rays and tests. Although it was nothing major, simply some chest pains, I felt very helpless and afraid. This show taught me strength as a woman, love for others, and the everlasting bond of friendship. Though I am sad to see this show go, I know that only better things will come for Lucy and Renee in the future. I only hope that they may know how much they have touched the lives of Xena fans worldwide.
Dana Stewart

As the series, ends I bid farewell to friends I found. I developed an emotional bond with these women, Xena and Gabrelle. They taught me to be greater than I am, to be better, they opened my eyes and taught me to be tolerant of others and to always remember that love is beautiful no matter who shares it. But most of all they helped me learn that my job is simply to love and forgive, leave the judging to God, he's much more qualified. I love this show, the message it sends and the people divinely inspired who put it together and make it happen. The world shall mourn the passing of this epic and its soul-stirring heroines who reach others with their message of light.
Duebert

This show has been groundbreaking, inspirational, unique and quite simply the most fun I have ever had watching the television. Your storylines have been bold, daring, sometimes breathtakingly original, but always unmissable. The relationship between the two leads is a watershed in television, a strong, loving relationship between two women, shown week in week out, and never compromised. Season 6 is incredible, the quality is first class and the stories are gripping and the bond between Xena and Gabrielle is as strong as ever. So Lucy, Renee, Rob, the whole cast and crew thanks so much and let this just be au revoir and not goodbye.
Angela

It is difficult to express the disappointment of seeing Xena coming to an end without first understanding the effect it seemed to have on such varied peoples and lifestyles. This is a series that seems to epitomize the description "all things to all people." And although these viewers saw a world filled with trials and tribulations, they saw people treated and living as equals inspite of color, race, religion and lifestyles. They saw two very flawed humans who had the love and perserverance to conquer lifeÕs adversities. Whether the viewer was a "sub-texter" or "main-texter," the writers, producers and actors managed to balance the relationship to satisfy both lifestyles. For this and for all the hours of viewing enjoyment and the many more hours of discussions about the shows talented actors, producers, writers, set and costume designers and all those hundreds of workers in the background, my husband and I say thank you. We can never repay them for providing us a few hours of leisure time each week, but we can and do wish each and everyone future success and happiness.
Fran and Howie Heckrotte

You made the characters you so brilliantly portrayed become real people to your viewers. The range of human emotions from the ridiculously silly to the depths of despair could only be accomplished by two of the most outstanding actors, Lucy and Renee. Your devotion to your craft could not go unnoticed or without giving you the accolades you so deserve. We as your devoted fans would be indeed remiss if we did not express our gratitude to you and to the writers, costume designers, musical directors/composers, set designers, grips and all those behind the scenes who gave this show its longevity and success. Indeed, this show was unique in all aspects of its professionalism, devotion to putting forth the best show of shows and its loyalty to we, your loving and devoted fans. There are no words that truly can express how much we will miss Xena. There will be a period of withdrawal and a deep feeling of lose yet, the memories will never fade -- Xena will be indelibly printed upon the minds of all your fans.
Geri

Wow, six whole seasons and you guys still kick ass! You guys have made a wonderful show that not only was a hit with many people, but you made a show that encouraged and inspired them. I guess you can say I am one of those people. I grew up in a dysfunctional family where there wouldn't be a day that my father would not abuse us. I used to see my mom black and blue all the time and next thing you know I'd be in the same position as she was. My mother got away from it all and my siblings and I were left to tend for ourselves. I went through elementary school depressed knowing that there was no way in hell I was ever going to get away from that life. Your show came out when I was in junior high and I began to watch it religiously. It gave me back the hope that I lost and it made me see that life wasn't always going to be black and gray, I realized that we do shape our own destinies with the choices we make in life. I am seventeen now and I am still an avid watcher of the show. I'm doing wonderfully in school and I've overcome my past and learned to finally forgive my dad. It's been a really great six seasons and I will truly miss your show. I hope that this letter will show how great you have impacted peoples lives and how we truly appreciate that. Lucy and Renee are truly wonderful role models (Well, that and how many gals do you know can kick butt and still have good looking hair?) I hope they both know that. You guys rule!
Melinda C.

I would like to take this opportunity to congratulate all of you on an outstanding final season! I have seen the old ÒsparkÓ come back into Xena and Gabrielle and always loved their closeness as soulmates. I wish all friends in life could be as truly devoted to one another as these two warrior women.
I have watched all six seasons, and always was anxious for the next episode. I don't care which season was the best to some, the worst to others, I always enjoyed the variety which was portrayed by all of the characters.
Lucy: I grew to really admire you for your strength and wit, and yet you let Xena show a sensitive side which really balanced her character. Your perseverance really made Xena someone to be admired.
Renee: I think you are one of the most devoted actresses today and your portrayal of Gabrielle will long live on in my heart. I admire you in real life for your physical fitness and your friendship with Lucy.
To all of the others: Rest assured your characters only enhanced the show. I have never known so many actors to influence one show. I hope to see all of you in other endeavors long after Xena ends production.
Mary Miller

I am writing to say thank you for Xena. Season Six is so good. It is truly a Òhigh noteÓ ending. My Mother introduced me to Xena a few years ago. We would watch together as Xena and Gabrielle defeated the bad guys and rode off into the sunset to save the next village. Mother was a warrior all her life, but she couldnÔt defeat cancer. She was 80 years old when she died this past July. ItÕs important that you know what warm memories your characters and stories give to such a wide spectrum of fans across the world. I hope you will walk away from Xena at its conclusion with a great deal of pride in that gift. I look forward to the May convention in Pasadena and seeing you there. I want to be part of that cheering crowd when you step onto the stage. I wish all of you well as you conclude the Xena series and pursue other dreams. Thanks for the memories.
Judy L. Koger

I don't even know how nor where to start thanking the entire ensemble responsible for Xena. I would first want to thank them for the friends that I have met online and then in real life at the Creation Conventions and smaller Xena events. I have met friends from other countries and states that are now a part of my life.
Thank you for being dedicated to not taking anything too seriously. You have entertained me and spoiled me. How many times have Xena and Gabrielle died? I lost track. We identify seasons by the shade/length of Gabrielle's hair. The historical timeline of Xena's life hurts to think about. Everything Xena does defies the laws of physics, gravity and common sense and I love it all. Thanks for the escape from reality.
Joe thanks for the music. Incredible. The scenery -- the sets took us to a time and a place and gave us atmosphere. Stunt doubles made the show come to life and protected the actors. They are the "extreme" heroes. The costumes are art. Of course I believe Xena and Gabrielle grabbed them off the rack on the run and paid for them with whatever change was floating around the bottom of Argo's saddlebag. I believe that. Hair and makeup? All heroes should be perfectly beautiful and bad stupid warriors should have rotten ugly teeth and bad hair. Thanks for making the characters look appropriate. Props: Thanks for the chakrams. It IS Xena. It defines her forever and has a mind of its own. Thanks to the writers we came to know and love and meet. I watched drama, comedy, sagas, musicals and you offed all the Greek Gods in the process. Thank You Creation for bringing us all together so we could meet our friends online and see our stars onstage.
Finally, thank you Lucy and Renee. You ARE the show we love. No point in raving on and on about your acting skills. Others will do that and have been since Season 1. I know you are friends now and forever in real life. I have made friends forever in real life thru watching Xena. I am happy for you and happy for me.
JoAnn

To Lucy, Renee, Rob
And The Entire Cast And Crew
Gods where does one start? I have never in my lifetime enjoyed a program as much as I have enjoyed Xena. I am 71 years old and have never joined a fan club before. When I started watching Xena and Gabrielle, I fell in love with them and the program. I have laughed, cried and gotten angry and had a wonderful 6 years. I will never be able to thank the cast and crew of Xena enough. And Joe LoDuca, your music is wonderful. I have every one of the Xena CDs and am hoping you are going to make more. Lucy and Renee: You have brought a smile and a sparkle to my eyes. Your friendship on screen is something to see. The way you two made your characters grow was wonderful.
Donna Phillips

I have become an avid watcher and devoted fan of Xena since its debut on the TV screen in the fall of 1995. Almost 73 years old, I am possibly Lucy and Renee's oldest fan. What did Xena mean to a septuagenarian? In my case, it provided three things: Entertainment, Education and the ability to use a Computer.
It's quite refreshing to finally see, at my age, some role models uniquely for girls and women. It's a far cry from the idols of my youth ó cowboys! I was nearly 50 before I saw anything that even remotely resembled a super heroine ó Wonder Woman. In retrospect, even though the character did far less complex stunts than Xena, it was a beginning. I was glad to have what I had.
Six years ago, by mere accident, I turned on my TV one night and saw the powerful, super heroine that I had longed for when I was a girl. And the show was not just all entertainment. It was educational too. I certainly learned a lot more about the Greek, Roman and other mythologies of the world. And geography? You can bet I became more knowledgable about New Zealand than I ever anticipated. I learned about self-defense moves, sets, exceptional creative costumes and fresh locales.
In addition to the show itself, I found the lives of the actors and behind-the-scenes people, such as Joseph LoDuca, very intriguing. A review of LoDuca and his music provided a good insight into the creative process involved in composing. The introductory theme, for instance, is appropriately heroic and the Bulgarian Women's Chorus interpreted the choral music in a grand manner. The best education is that which is also highly enjoyable. Xena has proved that.
Shortly after Xena went on the air, I noticed the address on the screen where one could log on to the Xena website. That was the nudge that finally pushed me into the computer age. I was 67 years old when, to the wonderment of my senior-citizen friends, I purchased a computer. In the process of finding my way around the internet, I hit on the idea of focusing on my new-found idol, Xena! That was my door to the new world of computers, the internet, and thus, into the Xenaverse!
Now with the ending of Xena, I feel a deep sadness. And so it is that I now bid a fond farewell to the Warrior Princess and her Sidekick. To Rob Tapert and Sam Raimi, who made Xena possible, thank you from the bottom of my heart for bringing this terrific show into my life. To the exceptional cast and crew, my appreciation and gratitude for your superb performances and work.
Lucy Lawless and Renee O'Connor evidenced the best chemistry I have ever observed in a lifetime of watching movies. Unquestionably, Lucy made Xena a memorable super heroic figure. She truly became the Warrior Princess! Renee, as Gabrielle, the loyal and devoted sidekick, brought a warm and believable dimension to her character. After watching every episode, I conclude that Lucy's and Renee's brilliant acting has truly made Xena a classic. Thank you so much for breathing life into your characters and making them so vivid. I wish both of you the best of everything as you move on to other roles. May the chakram keep spinning through many, many re-runs!
Diane C. Bonacci

Thank you for working so hard on a show that I have watched and enjoyed for so many years now. It will be greatly missed. To Ms. Lawless: Thank you so much for portraying such a strong female character. I hope I can meet life as steadfastly as Xena. To Ms. O'Connor: Through your character I have been able to see some of the dark and light in my own life. I hope I can meet each day with Gabrielle's beautiful smile and faith in humanity. To Mr. Raimi: I have laughed at and with Joxer since the beginning. I will never be able to hear squeaky metal again without a smile. I hope that I can offer in my life half as much love as what was in Joxer's heart.
Christy Stracener

My name is Fernanda and Iím the owner of a Brazilian mailing list called Friends Forever. I am speaking up for everyone. A member of the list, Enio, wrote the message below and everyone agreed with what was written so I hope the cast and crew get to know how much they have meant to us Brazilian fans.
Xena was an example that, with intelligence, creativity and talent, broke many barriers and taboos. In every episode, there is a lesson to be learned. To value a friend's trust. To protect those we love. The wisdom of knowing to forgive ourselves, no matter the mistake. The ability of helping, even the enemies. To help the needy The eternal fight between right and wrong. The nobility to recognize a mistake and try to correct it. To not create pre-judgments. The need of giving a second chance to someone. To try to take everything always in good mood and with a smile.
This work was so wonderful that people from every region of Brasil came together, thru the internet, to comment and to talk about the show. We made up great friends and we also built a relationship strong and true like the one we see in the show. You can be sure that from now on, everyone from the cast will be marked in our hearts and theyíll always have our support, admiration and affection.
To conclude, we'd like to congratulate and to thank the production of the show, from the humblest extra to the beautiful and charismatic Lucy Lawless and Renee O'Connor, showing that this friendship goes beyong the set.

I was watching "Lyre, Lyre, Hearts on Fire" and thinking that it embodies in one episode so many of the reasons that we fans are as passionate about Xena as you all so obviously are. It showcases the multifaceted talent of the wonderful cast.
From the delightful lyre of the title to the other musical instrument props (that functioned very well as weapons), to the always gorgeous costumes, to Ted's absolutely delightful, uninhibited performance as Joxer's brother Jace, to Lucy and the other women's gotta-get-up-and-dance rendition of "Sisters are Doin' It for Themselves," to Renee and Jay's dream sequence dance, to Renee's go-go dance in the cage sequence, to Lucy and Jay's rap during their fight stunt, to the rousing end number when Joxer joins his formerly shunned brother on stage it was one grand, good time for the fans and must have been for the cast and crew, as well.
The choice of "Sisters are Doin' It for Themselves" was so perfect as the show has done so much to empower women of all ages. Even in this humorous episode, we still have touching moments between Lucy and the adolescent suitor that her mother thrusts upon her whose feelings she does her best not to trample, between the estranged brothers Joxer and Jace, between Renee and Ted. And who but our glorious Lucy would so revel in her pregnancy that she would share her beautiful, big, pregnant belly in Renee's go-go costume with us?
It has been a joy, throughout these past 5 years to see the evolvement of the friendship between Xena and Gabrielle. Lucy and Renee, you have so brilliantly and movingly portrayed the growth of these characters as they've traveled their respective spiritual paths and have given us so many on-screen moments (like Xena to Gabrielle in "A Solstice Carol": "Gabrielle, you ARE a gift to me" when Gabby says she has no gift for Xena) to cherish always. You all have been a gift to us and I thank you from the bottom of my heart for all the love you have lavished on this delightful show.
Shelley Hume

I've started this note a dozen times, trying to find the right words to express what the show has meant to me. In the end I can do no better than use the words of Xena herself, from "Prometheus." So, to Lucy, Renee, Rob and everyone who has had a hand in the making of Xena:
You changed my life.
You taught me how to live.
I'll never forget you for that.
Thanks.
Silenus

For me, there has never been, nor will there ever be, another series that has touched me as Xena has. The main reason is the characters of Xena and Gabrielle in the persons of two of the most riveting actresses ever, Lucy and Renee. Together, especially, they are magic.
Laura N. Cook

This last year has been very hard for me. My husband left me after 5 years of marriage. I had to figure out how to stand on my feet and be my own woman. I felt like a fool and a failure. But watching Xena over the past three years, I found the strength. I identify so much with Xena. I have a really beautiful good side and a really great dark side. I found that with my dark side comes the power to move on and with my good side I control the darkness and still let the light within me shine out to others. Thank you to the the producers, directors and writers. With your imaginations, you have entertained us, made us laugh and cry and reached something deep within each of us.
Tawnya

Every once in a while comes a show that has the rare combination of entertaiment, good acting and that special something that sets it apart from other shows. I believe the characters grew on the audience not only because they were always going on a new adventure, but also because they offered depth and insight with the dramatic episodes and laughter with the comedic episodes. I think that was a very good combination and one of the reasons why the show has stayed fresh for 6 seasons. I want to give my thanks to all the cast and crew of Xena for a job well done. Know that your hard work and effort has meant a lot in the lives of many people who have thought, laughed and cried with each episode and that will sure miss the adventures of Xena and Gabrielle when the show comes to an end.
Amelia Iglesias

Thank you very much for putting your heart and soul into the making of a show that has touched the lives of many around the world. Your messages of the possibility of change, the reality of redemption, the power of friendship and love, and the characters that have touched us so, will be eternally alive in our hearts.
Genez Orejola

A whopping thanks to the cast and crew of Xena for so many years of hard work. The complex storylines, the stunning cinematography and visuals, the main and supporting characters, the acting talent, and the behind the scenes work that brings it together ó all these elements make for the best show I have ever seen on television. Plus, I love watching Xena and Gab fight!
Xena has been a wonderful diversion, food for thought, fodder for obsession and inspiration. Thanks especially to Lucy and Renee for bringing Xena and Gabrielle to life ó and to Rob for bringing them into existence.
Amy Skalinder Anich

I am a 31-year-old woman suffering from Multiple Myeloma Leukemia. It is a devastating disease but in watching this show and the two heroes in it ó Xena and Gabrielle ó whom I've come to love, Iíve found some real truths for my own life. One being that. as Xena loves to say, "We make our own Fate." No other phrase from doctors or family or priests have had a greater impact on my attitude in my own fight.
I absolutely love the show and the relationship between Xena and Gabrielle. The characters inspire and remind me of so much ó demonstrating the beauty and fragility in life, strength of character, power of love and forgiveness, and the importance of friendship.
I've always believed that the measure of success on any level is defined by whether or not ONE Person has been touched by my life or my presence in theirs. In this sense, this show is such a success because it has positively impacted my life and countless others. Lucy & Renee, you are so appreciated by fans around the globe and so loved. Whether I live to see the end of the show or not, Xena and Gabrielle are my heroes and they make me smile though my own life is a painful one.
Angela L. Perri

I want to thank all the people involved in the making of the show, especially Ms. O'Connor, for all the fun times. It provided a lot of laughs, adventure, tender moments.
I am a middle school teacher in West LA that has a special class the children sign up for in order to share the teachers' interests. Mine was the Xena club. We watched shows and then the kids make up games. We have a lot of fun and many little girls who come from countries where women are not respected see a wonderful example of a strong woman who is capable of a very deep friendship with another woman. The boys also are exposed to a great adventure show starring a woman.
Aleida Santiago

To Lucy,
New viewer, impressive writing and insight, great creative acting and from the interviews an intelligent actress for a change. Sorry it's over. Look forward to your next project. Old enough to be your Mother, married and have no intention of buying a Xena outfit. Thanks,
Laura