Lucy at the
Richmond/Ermet AIDS Foundation Benefit
August 2, 2004
What a night!
What a lineup of performers!
What a great time for Xena fans who would give their eyeteeth
to see Lucy sing in person -- and did!
And they got to keep their eyeteeth as well <G>
All right, here's the shot of Lucy and I that some sneaky person took.
But you better look quick, cuz I'm not going to leave it up here long <G>
Will be putting up heaps of shots this weekend.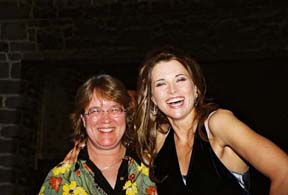 (saving a space for the screengrab)
I did a bit of filming there and hope to be able to share it soon. Hmm, I can make screengrabs. Gotta ask around the office and check on that Monday.

The show was terrific with artists like Tyne Daly who ripped the theatre open with "Rosie's Turn" from Gypsy; Jill Eikenberry and Michael Tucker who played two women from Woman of the Year, one glam (Jill) and the other a schlump (Michael in the cutest shower cap and pink slip-ons); Sean McDermott who holds the longest note I've ever heard doing "Gethesemane" from Jesus Christ Superstar; and Nita Whitaker who turns "I Don't Know How to Love Him" from Jesus Christ Superstar into a gospel roofraiser.

Lucy was the biggest surprise of the night for the audience. They imagined a brawny Amazonian and out came this lithe, stunning, glamorous woman -- who, by George, could sing and sing very well. After the show, I mentioned to Lucy that there was an actual buzz going on in the room. I heard remarks like, "Wow, I didn't know she looked like that!" and "Hey, she's got quite a voice!" I suspect the Xena fans in the audience were just sitting there smiling to themselves <G>

Before the show the lobby was filled with tall, small, pedestal tables. I found a spot that looked perfect for a Lucy gathering point and asked everyone to meet there. After the show, it seems the entire audience flooded into that room and everyone was gathered around their favorite performer. And . . . my pedestal tables had turned into regular 8-person dinner tables! They were all over the place, including my chosen meeting area. But if there's one thing I've learned about Xena fans, for the most part, they're respectful and considerate. And they give Lucy the space she needs to do her part in the gatherings -- signing and posing left and right for pics. Yep, left and right -- she's such a pro, it's a marvel to watch.

It was a little hectic getting started -- because of that dumb table -- but it settled in to feeding people around the table up to their turn to have their photo taken. I think my nickname should be Two-Camera Sharon. I had one in each hand -- I'd whisper to Lucy over her shoulder, "left, right, left, right" and she'd swivel in the given direction stopping to pause in the middle to sign another autograph. I have to keep an eye peeled for the shy folk who are too timid to step up. I just grab 'em by the neck and plop them next to Lucy <G> I'd love to have copies of all those Lucy/fan shots I took to put up on this page. As well as the ones you took of the gathering at large as well.

I think she got through everyone we could spot after about an hour and then Lucy took her weary, high-heeled feet off to get in her car which, as you may have heard was the wrong car. (Hmm, she didn't actually take her feet off, it's just my mangled grammar <G>) It took a few minutes of yelling out, "Hey, who's here to pick up Lucy Lawless!" but we finally found the right one. What a time for a chauffeur to go off for a smoke <G> Lucy was tired, but excited about the wonderful night and always grateful for all the fan support. It really does make a difference to her having you there :)

Thanks to all from Lucy, REAF and myself for a wonderful evening. We'll have to do this again some day.

Photos by Ann: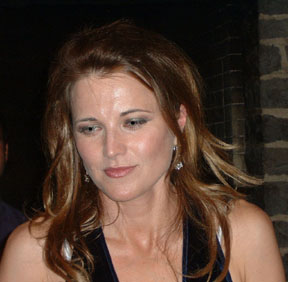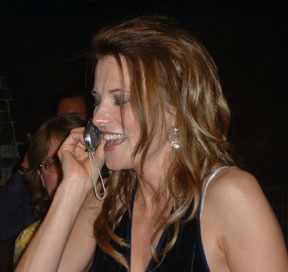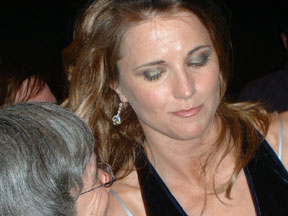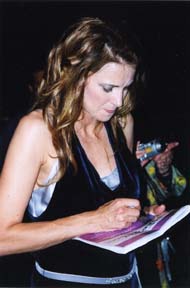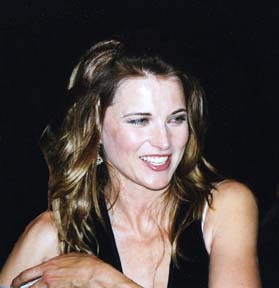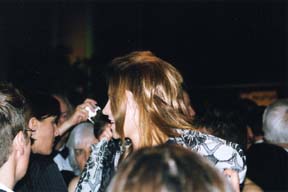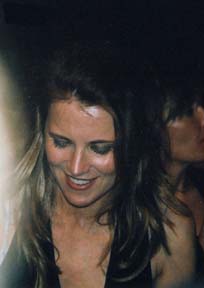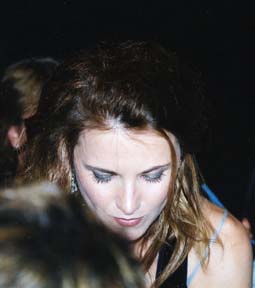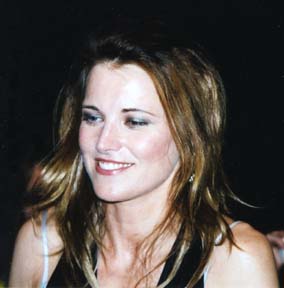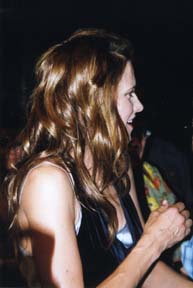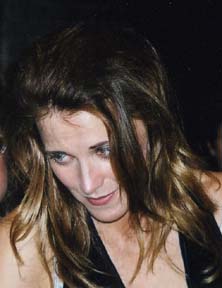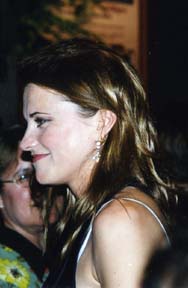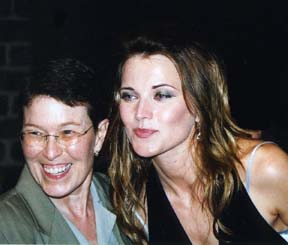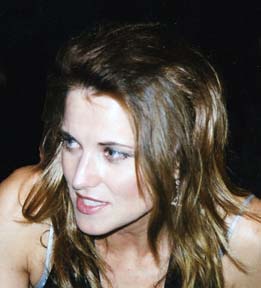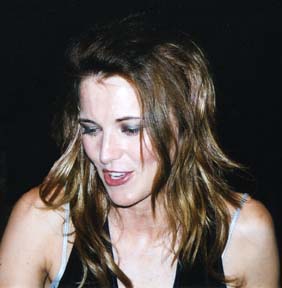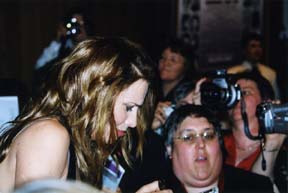 Photos by Marilyn: