CREATION ENTERTAINMENT
REMEMBERS JANE WYATT
Spock's Mother Amanda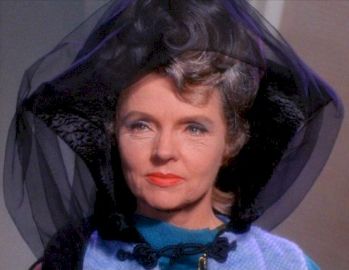 Creation Entertainment mourns the loss of JANE WYATT, the wonderful lady and actress who graced our stages on several occasions. In addition to her much loved role of Amanda, Spock's Earth born mother, Jane had a distinguished career in motion picture, television and stage spanning nearly seven decades. Her role as Margaret Anderson on "Father Knows Best" garnered her three Emmy awards over the 207 half hour episodic run of the show which spanned 1954 to 1960.
One of our fondest Creation memories was the Spock Family reunion where we had Ms. Wyatt, Leonard Nimoy and Mark Lenard together at a convention. Those "moments in time" preserved only in memory are truly unique and special. We recall that Ms. Wyatt was concerned that fans would ask her questions that she wouldn't be able to answer since her Star Trek work was such a small part of her overall career. Of course, our loving audience embraced her fully, not only for Star Trek, but for being part of all our growing up years.
We remember Jane for her vitality, poise and wit. Rarely in our careers do we come upon someone who had true "Old Hollywood Style". She epitomized the grace and elegance that as fans we always hope to find. She is survived by children and grandchildren. The family has asked that in lieu of flowers, friends should make donations to the March of Dimes.
With love and admiration from Adam and Gary and all your fans at Creation Entertainment.