Creation Remembers
Majel Barrett Roddenberry

It was the mid eighties and Star Trek was reborn with The Next Generation. The Paramount lot was buzzing with the new production and Gene Roddenberry was once again doing what he did best, overseeing a Star Trek TV show. His beautiful wife Majel called us to say that she had a surprise and she was bringing it to our show at the Ambassador Hotel in Los Angeles that weekend (the hotel has all but been razed to make way for a public school, definitely the loss of a cultural landmark). The surprise turned out to be Marina Sirtis, in what would be her first convention appearance. Majel was beaming with pride at this new ingenue of the Star Trek universe.
Later, we happened to see Gene and Majel in the bar right outside the beautiful Coconut Grove, and you could see that they were deeply in love, holding hands and laughing.
That act of putting the fans first was typical of the First Lady of Star Trek, Majel Roddenberry, a strong, intelligent, beautiful woman who touched our hearts - and our lives. We remember warm afternoons with Majel on stage while her baby boy Rod slept peacefully in the vendors room. We remember powerful speeches in which she conjectured on the promise of the future, following much the same humanistic themes as her husband. We recall her impassioned support of scientific exploration and progress and the true belief that our society would evolve beyond its current barriers of prejudice, class division, poverty and oppression.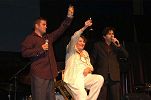 Majel with son Rod and Creation's Adam Malin toast 40th Anniversary of Star Trek at Las Vegas 2006 event.
We remember her standing by the side of her husband, the Great Bird of the Galaxy, as he sat in his wheelchair on stage in the Shrine Auditorium to the tumultuous thunder of thousands of people applauding and cheering when we all honored Gene and the 25th Anniversary of Star Trek. We remember the voice of the Computer, the one constant through series and movies.
We remember Nurse/Doctor Christine Chapel, with professional demeanor and legs that went on forever and Number One, clearly the commanding officer of the original Enterprise, a woman willing to sacrifice her life for her enlightened principles.
We remember parties at the Roddenberry home with hundreds of guests laughing, celebrating, and legends of Hollywood in attendance.
Mostly we remember a loving, caring lady who was devoted to her family and to the fandom that celebrated the triumph of Star Trek. Always in our hearts, we'll miss you Majel.
Adam and Gary