Creation Remembers CAROLYN KELLEY
(Mrs. DeForest Kelley)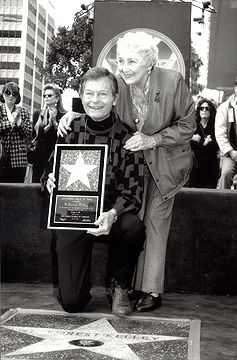 We at Creation are deeply saddened by the loss of Carolyn Kelley, devoted wife of DeForest. Their multi decade marriage was a true Hollywood success story, and the Kelleys were an inseparable couple through thick and thin.
We think back in love and respect at the many appearances DeForest made at our events, all of which were attended and supported by Carolyn's presence. As one of the architects of his career and comfortable with the world wide fame of her husband, Carolyn proved to be an important asset in Deforest's professional career. She assisted us in the development of our late 1980's tribute to DeForest, which featured Bill Shatner and Gene Roddenberry.
One memory that sticks out is the 25th Anniversary of Star Trek held at the Shrine Auditorium that we produced in 1991. After appearing on stage, Deforest came backstage while Bill gave his talk. Bill is notorious for ribbing DeForest, and at one point during Bill's talk De came on stage with the veritable "hook" to pull Shatner off. This delighted Carolyn and she recounted the story many times after.
Although they never had children, they had several beloved pets and devoted some of their valuable time to important charities. Later in DeForest's career he began writing a series of poems, beginning with "Big Bird's Dream" that recounted in parable-like fashion the creation of Star Trek and the inspiration of Gene Roddenberry. We a were proud to be the publisher of this and two follow up poems in small volumes that featured family photos and the beautiful calligraphy of Carolyn.
After DeForest passed away, Carolyn spent the last years of her life at The Motion Picture Home. Although stoic to the end, she never got over the tragic loss of the love of her life- and rightly so.
Now DeForest and Carolyn are together again, forever. We send out our love and condolences to their relatives, friends and fans worldwide.
- ADAM MALIN
---
Carolyn married DeForest Kelley on September 7th, 1945, twenty-one years and one day before the debut of Star Trek (De used to joke that it was easy to remember their anniversary as it was one day before the show's).
In the fifty-three plus years that they were married, they rarely separated. In fact, after De's brush with cancer nearly twenty years ago, he would only go to a convention if he could bring her with him.
Carolyn had a warmth about her that was contagious, and she never let De get away with anything. They held hands and watched the birds and squirrels while smiling sweetly at one other right up 'til the end of De's life, when they were in rooms across from each another at the Motion Picture Country Home and Hospital in Woodland Hills.
Carolyn spent her last years quietly at the Motion Picture Home, occasionally going back to the house in Sherman Oaks that she shared with De for so many years and loved so much. When they lost almost everything in the big 'quake of '94 (De said that everything that was glass, crystal, china or porcelain broke!), instead of moving they simply fixed up the house and began collecting again.
I will miss Carolyn's sense of humor and gentleness, as much as I have missed De since his passing.
- RICHARD ARNOLD