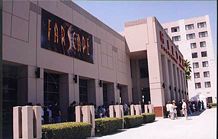 Far be it from us to keep our love of the series quiet! A giant Farscape banner welcomed fans from as far away as Europe to the convention.
Held August 5 and 6, 2000 at the Burbank Airport Hilton Hotel, the first Official Farscape Convention was a weekend that will be long remembered!
Given a small window of potential dates when the entire cast would be available, and with the Democratic National Convention closing out all of the area's facilities through much of that time, we at Creation were indeed lucky that our "good luck" charm location of the Burbank Hilton was available on such short notice. This is the very same facility that launched our area Xena, Hercules and X-Files conventions.
The unprecedented help of the wonderful folks at The Jim Henson Company, along with the amazing production talent of the Farscape team, immediately gave promise to the fact that we would be able to produce a weekend that would meet the expectations of those that were coming from around the world.
The icing on the cake, of course, was the fact that the entire cast would be able to join us! All the way from Australia and joined by Los Angeles' own Kent McCord, this was indeed a one-time only attraction!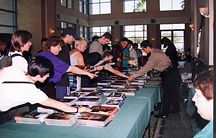 With only a couple of months to produce products (and this includes design, approval, sampling and ultimate manufacture) we tried to have as much stuff available as possible. Photos were a popular item at the convention, and the action figures were presented in sample form for the first time (and they look awesome!).
The excitement backstage was amazing and most of the cast watched on our big screen as their comrades took on the audience. What a wonderful family atmosphere and it was great for all of us to watch as this talented team truly supported each other. As we've seen in the past there simply is nothing like a "first-time" convention for a series both for the actors and the audience. And the audience responded: huge applause, great questions, standing ovations, uproarious laughter!
The cast had a dynamite time: there was a lot of love in that auditorium during the weekend! Our special thanks to everyone who took the time to spend the weekend with us in Burbank. We hope you enjoy the special photos and keep up to date on this site about future Farscape events and activities!