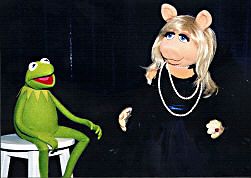 Muppet icons KERMIT and MISS PIGGY were on display in the incredible HENSON MUSEUM that showcased puppets from the HENSON WORKSHOP and THE HENSON CREATURE SHOP LOS ANGELES.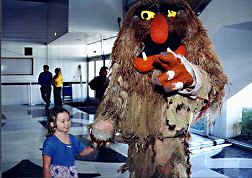 Kids and adults alike love SWEETUMS, who was
walking around the event hugging everyone.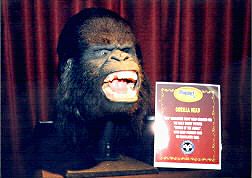 The MUSEUM showcased the brilliant animatronic work of THE CREATURE SHOP, including the head of HOOT from GEORGE OF THE JUNGLE.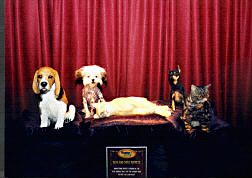 Part of the animatronic cast of CATS AND DOGS were on display.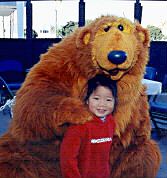 BEAR IN THE BIG BLUE HOUSE made some special appearances at the event for all his fans. He even sang some songs on stage.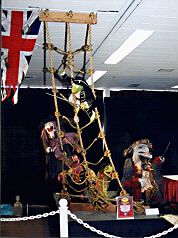 A display from MUPPETS TREASURE ISLAND
adorned the Museum, direct from the Smithsonian.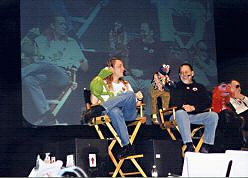 The incredible Muppet Puppeteers appeared on stage with some of their characters. Fron left to right, STEVE WHITMIRE performed his alter ego KERMIT; DAVE GOELZ thrilled with GONZO THE GREAT; JERRY NELSON presented FLOYD the hippy of the Electric Mayhem Band.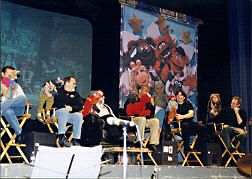 The other half of the performers on stage: KEVIN CLASH charmed with ELMO; BILL BARRETTA performed PEPE the prawn; BRIAN HENSON, the esteemed CEO of JIM HENSON COMPANY and his alter ego, SAL MANILA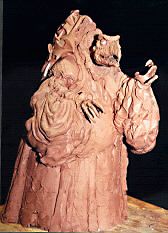 A clay sculpture of a SKEKSIS, one of the evil vulture-type creatures
from Jim Henson's seminal work DARK CRYSTAL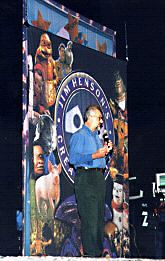 DAVID BARRINGTON HOLT, head of CREATURE SHOP L.A., gave several
fascinating presentations that revealed what a world class operation they
are artistically and technologically. In particular the various virtual and
puppet motion control systems demonstrated blew us away.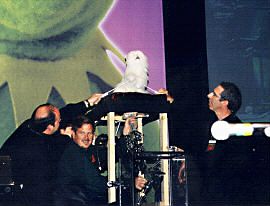 A marriage of physical puppetry and motion control, none other than MR. TINKLES performed a song and dance number for the amazed audience on stage.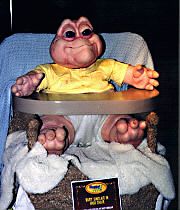 BABY SINCLAIR from the hit Henson series DINOSAURS sat in the Museum.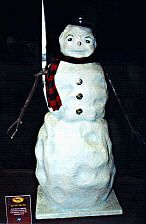 JACK FROST, the world's only animatronic snowman, also was on display.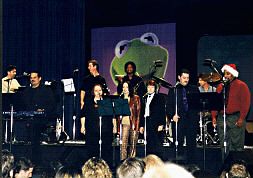 THE MUPPET BAND entertained the audience with
cuts from the many Muppet films and TV series.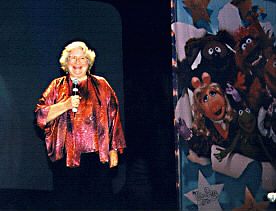 JANE HENSON, wife of the late JIM HENSON, was a special guest of honor at the event, and gave a moving speech and reminiscence of her husband, the man who started it all.