It was our great pleasure to host The Official 15th Anniversary of STAR TREK: THE NEXT GENERATION September 27-29, 2002 at the Pasadena Center. This affair, more intimate than some of our huge conventions at the same location, was highlighted by personal appearances from most of the major cast members.
A special unique surprise was a display of costumes and props from the eagerly awaited motion picture STAR TREK: NEMESIS set for release on December 13, 2002.
Click any pic to enlarge.
---
MARINA SIRTIS has clocked more miles doing convention appearances than anyone, except maybe James Doohan. She has developed into quite a comedic presence on-stage. She's a fantastic spokesperson for Star Trek: execs take note! And, we hear Marina really shines in the new movie
(hopefully her best scenes remain intact!).
---
Here are some shots of the fabulous costume and prop display from NEMESIS.
In our memory it is the first time that Paramount displayed items at a fan
convention. We love the fact that the studios have come to recognize the
vital importance of their fan networks! Thanks to Paramount for allowing us
this amazing opportunity! Special note: check out Shinzon's costume: even
more awesome in person than on the movie poster!
---
Looking distinguished and fit as always, MICHAEL DORN is a true
favorite of fans worldwide, especially the legions of Klingon fans out
there. One of the most laid-back of all of our guests, it is a pleasure to
work with Mr. Dorn!
---
It was truly wonderful to welcome one of the genre's
biggest stars PATRICK STEWART back to our stages! Patrick has taken his
Star Trek fame and really gone onto become a unique presence in worldwide
show business. We loved him in X-MEN and he came from shooting X-MEN 2 to
be with us. What a stage presence this gentleman has: he held the audience
in the palm of his hand for 80 solid minutes!
---
WIL WHEATON was a special guest of the weekend. Wil is a talented
fellow as evidenced by his writing on his website, and also in his readings
at the convention. Wil was part of much of the weekend, beyond his stage
appearances, signing autographs and meeting fans (in particular the legions
who read wilwheaton.com)
---
GATES McFADDEN surprises PATRICK STEWART on stage! We
love when we can offer super-cool photo opportunities and this convention
was no exception! DR. CRUSHER and CAPT. PICARD, together again! It was
clearly evident that these two talented folks really do enjoy each other's
company and it does show on the screen!
---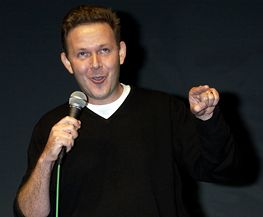 The convention wrapped on Sunday with some very special guests
including JOHN LOGAN, screenwriter of STAR TREK: NEMESIS. The Star Trek
franchise was incredibly lucky to grab John as he is one of Hollywood's
hottest writers (Gladiator being his Academy Award winner). John is a
long-time major Star Trek fan and he was quite entertaining on stage talking
about how writing Star Trek was a huge deal for him! We're hoping that he
gets his wish and will write Star Trek XI because there is a lot of cool
rumors about what he would do given the chance!
---
BRENT SPINER was the person who brought his friend John
Logan aboard. John related the story of how a mutual friend set up the
intro because she knew John was a big Trek fan. John and Brent became great
friends and the rest is Star Trek movie history! Brent made one of his
infrequent convention appearances with us and we're always happy to welcome
him. In the interim between convention appearances and Star Trek movies we
love seeing him pop up in various movies and television films.
---
JAMES CROMWELL, Academy Award acting nominee and all-around nice
guy, made his first convention appearance at this event and it was a
pleasure. James has done many cool movies along with Trek, of course, but
we still remember him as "Stretch Cunningham" from ALL IN THE FAMILY/ARCHIE
BUNKER'S PLACE.
---
---
Photo Credit: Al Ortega


© Creation Entertainment. All Rights Reserved.
Unauthorized duplication of graphics or material appearing in this site is prohibited.