LONDON, ENGLAND
August 29-31, 2003
Hilton Metropole
STRONG WOMEN OF SCI-FI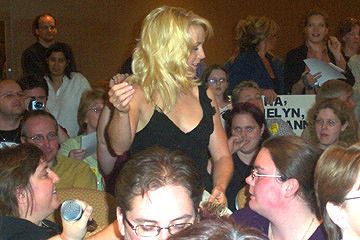 Renee O'Connor was our guest of honor for this event at the beautiful London Metropole Hotel and she was poised and beautiful, to the delight of her many fans. Renee made a rare q and a appearance, even going into the audience to talk to fans "Phil Donahue"- style. She spoke about her movie projects and of course Xena, and her amazing relationship with Lucy Lawless and Rob Tapert.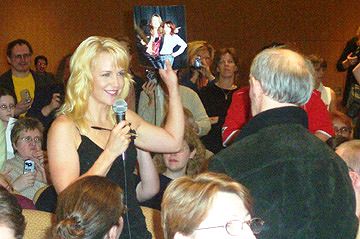 Webmasters for several Xena and even a Renee website were on hand to meet and greet her.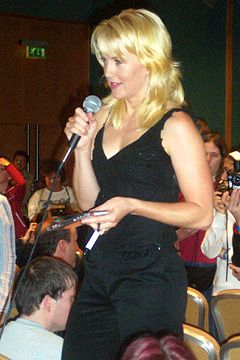 Renee spoke at length about her role as Gabrielle, one which involved tremendous physical activities including wire stunts, fighting techniques, various types of dancing and weapons work. She also reflected on the acting challenges of the role, and the beauty of the locations in New Zealand, now seen in the Lord of the Rings films.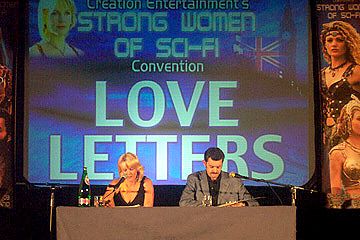 A highlight of the weekend was a production of excerpts from Love Letters, featuring Renee and Tim Omundson, the American actor who played Eli in Xena and has also appeared on the US show Judging Amy as well as in feature films like Starship Troopers. Tim is a wonderful and talented man who has also delighted us at our events with his Dean Martin song stylings, complete with martini glass in hand.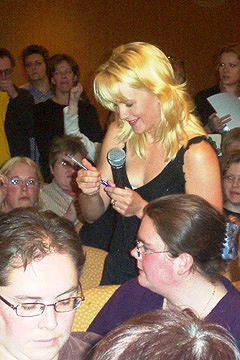 This was Renee's first convention appearance in Europe and hopefully not her last!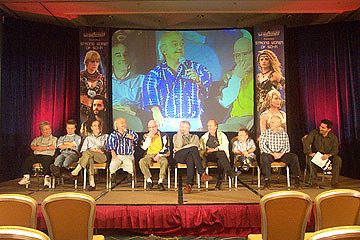 Although the weekend was a "Salute to the Strong Women of Sci Fi", we were honored to also have a group of British actors who have appeared in various Star Wars and other fantasy/sci fi films. Among our distinguished guests was Jeremy Bulloch (Boba Fett), Garrick Hagon (Biggs), Rusty Goffe (Jawa), John Hollis (Lobot), Mike Carter (Bib Fortuna) and Warwick Davis (Wicket Ewok) who participated in a Star Wars discussion.
<< Back To Past Events Index


© Creation Entertainment. All Rights Reserved.
Unauthorized duplication of graphics or material appearing in this site is prohibited.