XENA PASADENA 2003 COVERAGE
Page 2 of 2
Click a picture to enlarge
---
Blonde and beautiful: Victoria Pratt is currently starring in THE NEW MUTANTS, but Xena fans love her as Cyane, and of course her starring role in
the Rob Tapert series CLEOPATRA 2525.
---
You have to give Rob Tapert and his casting directors a lot of credit, because did they ever choose great talented people to fill roles on Xena. Case in point, a guy we have been trying to get to come to the annual show for years: JAY LAGA'AIA. There is a reason Jay has been unable to make it: he's been in the Star Wars films, Matrix and Lord of the Rings! The audience loved him totally: and check out his "twister" moves at our charity
breakfast!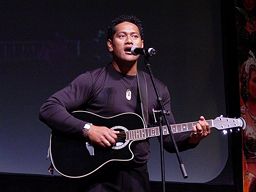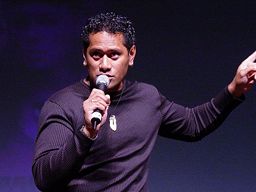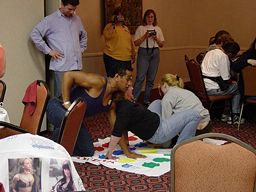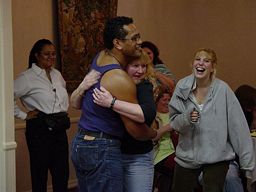 ---
In all the years we've been doing conventions there has never been a guest quite like the amazing Hudson Leick. She is unpredictable and willing to do most anything to make sure her audiences are happy! Here are some scenes of Hudson at her convention talk and doing some numbers from "CHICAGO". We all want Hudson starring in her own TV show: so some bigtime TV producer: let's get going on this: ratings will follow!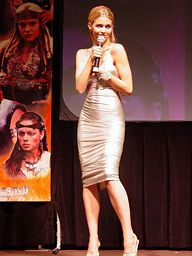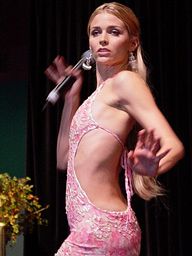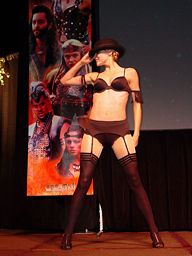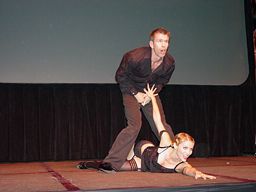 ---
The highlight of the convention was the eagerly awaited appearance of the
stars of the show, Lucy and Renee! We recreating our popular COFFEE TALK
videos live on stage and everyone had a fantastic time reminiscing about
some fave Xena moments. And didn't the girls look great?
Thanks Lucy and Renee for sharing time with all of us!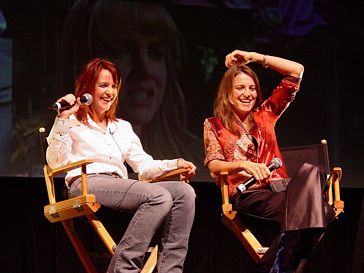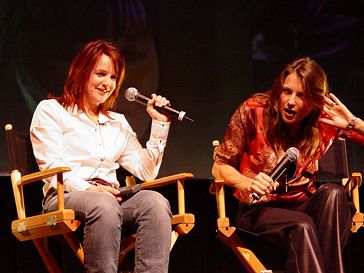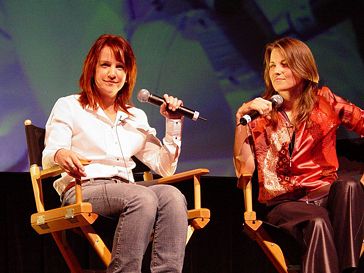 ---
ROB TAPERT responds to the audience pleas for a XENA movie! He said no one wants it more than himself! We can't wait to see our gals on the big screen in an epic adventure!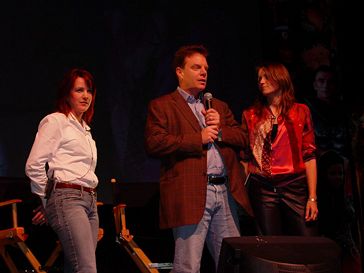 ---
MELINDA CLARKE in her first appearance for us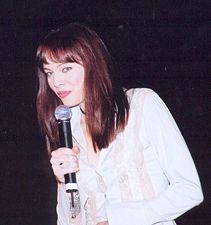 ---
MUSETTA VANDER also making her premiere Creation appearance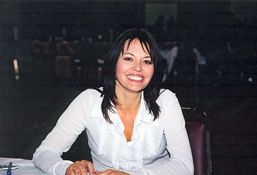 ---
STEVE SEARS: a super-nice guy and creative force behind the success of Xena!
---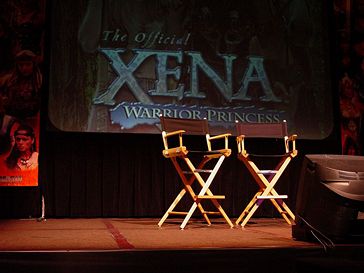 See you next year!
---
---
PHOTOS BY: phoenixena & Wendy Sparks


© Creation Entertainment. All Rights Reserved.
Unauthorized duplication of graphics or material appearing in this site is prohibited.