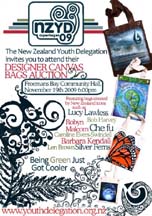 New Zealand Youth Delegation
Official Leaving Party & Fundraiser
Charity Auction! Live Entertainment! A night of FUN!
The NZYD are 12 passionate young Kiwis working to ensure our climate policies look after the planet and people for generations to come. They're heading to the UN Climate Change conference this December in Copenhagen, Denmark.
November 19, 2009, 6:00pm - 9:30pm
Freemans Bay Community Centre, 52 Hepburn Street, AKL
New Zealand celebrities such as Lucy Lawless have painted and hand decorated designer organic canvas bags which will be up for auction, alongside many more exciting items!"
Lucy has joined with
Paw Justice
, a New Zealand organization, that was formed to help deal with the problems of animal abuse and neglect with a petition to increase the maximum jail sentence for offenders that seriously mistreat our animals. Only NZers can sign the petition, but anyone can buy the shirt. The paypal function will be set up next week.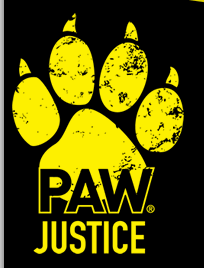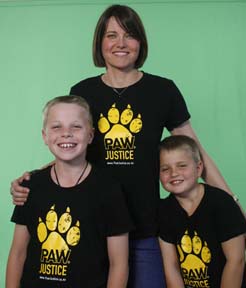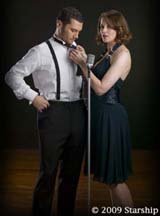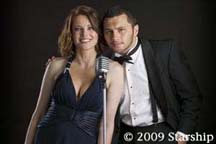 Lucy will be singing and swinging at the Starship Supernova Swing Ball in New Zealand on September 16, 2009. Don't you love that publicity photo they shot especially for this event? She's with Jason Kerrison, another performer in the show.
Three New DVDs for Sale!
Lucy's Roxy 08 Concert
Lucy's London Convention
Lucy & Renee: The Early Years (now on dvd)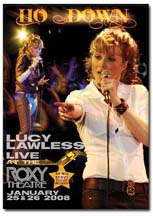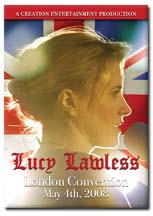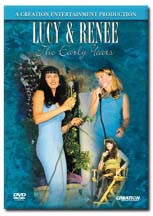 Lucy Live in Concert at the Roxy 08 DVD
This was quite a different show. Very mellow. Lots of country influences. Songs like "Walking After Midnight," "A Love Song," "Heartache Tonight" "Winner at a Losing Game" and "Stop Draggin My Heart Around" (a duet with Renee -- Renee singing -- Renee actually singing! <G>). The concert is about 70 minutes and there is about 45 minutes of bonus footage.
I filmed Lucy's London convention myself. So it isn't broadcast quality, but there were so many requests to release it, that we decided to go ahead. This complete appearance is about 60 minutes.
Lucy & Renee: The Early Years is finally out on dvd. It consists of four early conventions. Lucy in Burbank 1997. Renee in Valley Forge 1997. Lucy in Burbank 1998. Lucy in Santa Monica 1999. The total length of the dvd is 110 minutes.
Angel of Death
webisodes at crackle.com starring Zoe Bell
Lucy guest stars.




Hope you're sitting down for this behind-the-scenes videoclip of
Mother Superior and Sister Batril from
Bitch Slap
!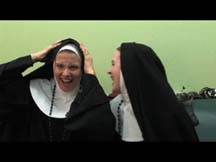 QT
WMV

Here's the preview of the Xena 2009 Art Calendar, "The Journey." We did two photo calendars this year. This one tells the story of Xena and Gabrielle's adventures from the beginning. It ends about one-third of the way through the series. The story will continue over the next two years. As Xena lives on in the popular culture, these calendars will provide a picture book retelling of their lives together.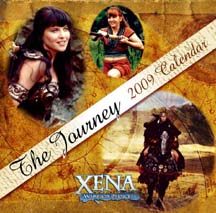 There are going to be two Xena calendars for 2009. The first one for preview is the regular Photo Calendar this year entitled "A Friendship for the Ages." It's filled with friendship, fighting, comedy, outtakes, wet month, a little conflict, a damsel in distress and three months devoted to individual episodes. Click on the cover below to see the months.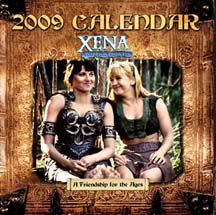 ET
videoclip of Lucy
on CSI: Miami
Lucy
TV Guide
Highlight for
CSI: Miami
Lucy on

CSI: Miami

next Monday, Nov. 10, CBS, 10PM ET/PT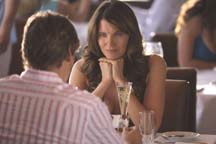 Daniel Cieplinski here. I shot and edited the Lucy and Renee
Bitch Slap
interview. The music is by the band
Soil Bleeds Black,
the song is "Kyrie Eleison," and it's off of their CD
Mirror to the Middle Ages.
I'm sure they have a myspace page as well. The band was founded by twin brothers, Mark and Mike Riddick, and are based in Northern Virginia where I'm from. Very nice guys.

Renee had a
Monster Ark
viewing party Saturday night. We were all supposed to be monsters or monster slayers. Some of the
Xena
crew were there and we gathered together for a family photo.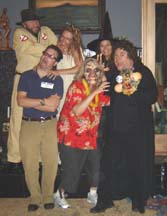 (clockwise from upper left:
Steve Sears, Renee, Bernie Joyce, Tim Boggs, me, Jason Schmid)
Renee sent over some candids she took on the set of
Monster Ark.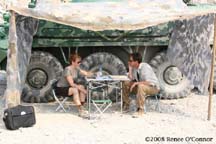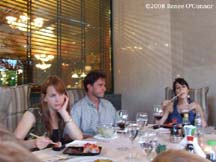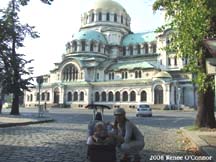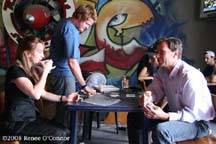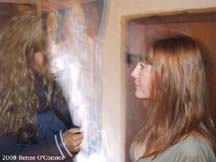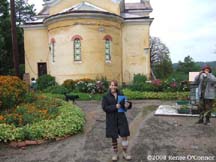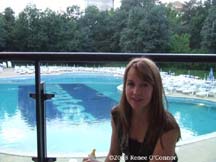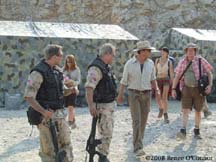 Renee had fun wandering around Comic-Con 08.
Ran into an old friend, er, monster!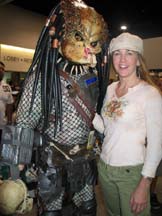 Got in touch with Renee and confirmed that she will be doing the upcoming 2009 online sci-fi series
Ark
for
60frames.com
. Info about the series can be found on
afterellen.com
Lucy supporting
Starship Hospital shuttle
service.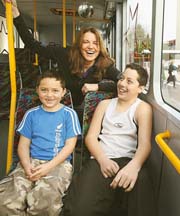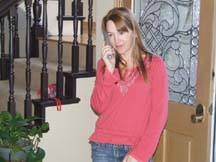 Therapy on screen and in real life or How I Conquered the Boogeyman and Lost My Head --
an
audio interview with Renee O'Connor.

Renee and Michael just sent me a behind-the-scenes photo from Bitch Slap. Hope you're sitting down when you click on the photo to see the larger version <G>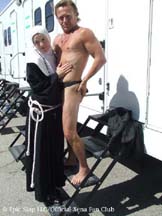 Lucy and Renee did bit parts in a movie with a
bunch of their
Herc/Xena
buddies:
I also did a small role as Mother Superior
in

BITCH SLAP
, alongside the gorgeous, Renee O'Connor
,
who is a naughty novice in the convent. She is confessing her dark fantasies to my character -- just as she does in real life. Ha-ha, not really. (Yes, really.)
BITCH SLAP
is an epic exploitation movie written and produced by
Herc/Xena
producer, Eric Gruendemann and directed by Rick Jacobson, (one of my all-time fave directors on
Xena
). It also stars Michael Hurst; stunt co-ordinator, Zoe Bell. Kevin Sorbo also makes an appearance. So it was a terrific reunion for us all. Renee and I were spectacular. Just don't blink.
Lucy

Eric called me up and asked to come and play with all my old buddies. I had the BEST time in a long time!
renee
Folks have been asking if Renee was in/remembered a couple films that recently showed up. So I put it to Renee. She doesn't remember being in a movie called
The Birth of Language
directed by Paul Jay although a Renee O'Connor is listed in the credits. She also doesn't remember filming the Randall's warehouse informercial although she was definitely in that. She looked at the youtube video and exclaimed, "Scary!" Not sure if she was talking about her acting or the fact that such a piece of work has surfaced on the web. <G>

The things you can find on your camera. I took this outside Renee's house after Coffee Talk, hmm, which number was that? <G> We've just put it up for
sale
.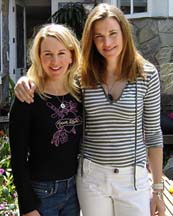 Rummaging through my movies, I found a couple clips I thought you'd enjoy over the weekend. The first is from the soundcheck for the convention when Lucy sang the "Cowboy Song" for the first time. The second is Lucy singing "Melt Into Me" at the Chicago convention with Joe LoDuca accompanying her on guitar. They rehearsed that song for the first and only time about 20 minutes before they were due on stage.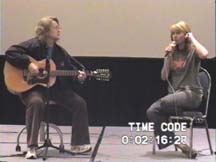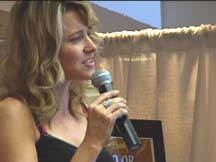 (click image for QTversion)(wmv version)
(click image for QTversion)(wmv version)

Here's a peek at what went on during Coffee Talk 6. I remembered, at a recent convention, that Renee talked about seeing Lucy at the Roxy and how evident it was that the fans loved Lucy and Lucy loved the fans. On stage, as she was saying this, Renee started to cry. I asked her why that thought made her so emotional. Here's her response.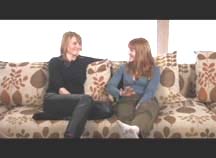 (click image for QTversion)(wmv version)
And here's a peek at the girls during Coffee Talk 6.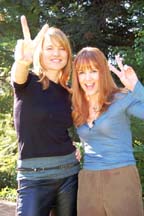 Now we're off to the Chicago concert and Lucy and Renee's duet to "We Can Work It Out." No one knew this was going to happen, including the staff. Lucy and Joe were rehearsing "Melt Into Me" in the car on the way to the convention. Lucy called Renee and asked if Renee would join her singing "We Can WorkIt Out" and Renee gleefully jumped at the chance to sing <G> They put this all together in the green room 30 minutes before they went on stage. Watch the opening, which begins with the audience applauding after Lucy sings "Melt Into Me." The response is so great, she looks behind her to see why everyone is cheering so loudly. She thought maybe Renee had stuck her head out from behind the curtain. Couldn't believe all that applause was for her.
Back to the car -- and Lucy's mishap with her compact case. You know, those round things that hold powder and shoot out of the holder every now and then. Lucy opened it in the car and it shot out covering her lovely chaps -- front and back! You can hear Lucy tell the story of how Renee came to the rescue and, um, er, wiped up the powder. Luckily, there was someone in the room with a cell phone to record this good deed.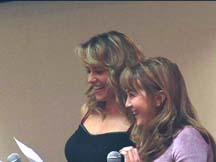 (wmv version

Lucy recorded a videoclip about working on

Burn Notice

(airing Sept. 13 onthe USA Channel). Thanks to Lucy for the clip and NBC Universal for the publicity photos. Click center image for QT of video.
(
wmv version
)
Renee called from Bulgaria a couple days ago and, aside from the heat, she's doing great. Iris is also well. Renee said that most of the cast was from the U.S. this time as opposed to the last time she worked in Bulgaria on Alien Apocalypse when they used more local actors. She also found herself working in the same quarry location that Alien A was filmed.

Note From Renee:
Hello from Bulgaria. Yes, I am still here. I have some great footage from my second week and just as I was about to spend the time to edit it together, my little Iris went into the hospital with an illness. She is out and everyone is well! This videoclip is just a little something for now.
Renee


(click image for QTversion)
(wmvversion)

How many folks remember Kevin Smith at the 2000 Xena Convention Cabaret? Well, we've just put up two videoclips of Kevin, Danielle Cormack, JoelTobeck and Tim Omundson from that show with Kevin singing Tom Jones' "She's a Lady" and Billy Idol's "Rebel Yell." They're over on the Creation TV website. Kevin couldn't get any hotter, so make sure you've got a cold compress by your side when you check out these clips.

GOT A CALL FROM RENEE about her new movie for the SciFi Channel,
The Genesis Code
. First off, here's a link to
afterellen.com
with a summary of the plot. Renee has been talking with the SciFi Channel about projects they might work on together. She'd been submitting ideas and they came up with this movie. Eva is spiritual and intellectual, but not emotional. She has love and hope for the world. Gabrielle was spiritual and emotional. Renee wanted to explore adding heart to intellect. She leaves Friday and will be filming for a month. FYI, she wanted to let everyone know the character of her ex-husband has undergone a name change to Nicholas Solomon. She made a point of saying she wanted everyone to know that as she didn't think "Nicholas" would appreciate being called "David." I think Renee's already knee-deep into her character. <G>
Here's a clip of Renee from the NJ convention. She talks about making the choice to wear the "Heart Of Darkness" outfit for her photo ops and the effect the costume had on her boyfriend when she first showed it to him. Wait till he sees what else is in her closet! Checkout "Tell Mama" on the Lucy Lawless Fan Club page.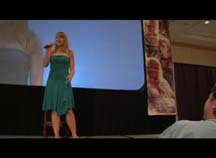 (click on image for QT, wmv version)

Renee visited her "Heart Of Darkness" for this weekend's photo ops. The funniest bit was when she discovered the ties to the top of the costume were braided leather. She decided they made great whips and many of the fans were treated to a thwap from Renee when they came up to her. She's such a goof. I'm in my local Starbucks here on Long Island. Hope no one is looking over my shoulder at my photo of Renee. Not sure suburbia is ready for Renee O'Connor in her temptress attire!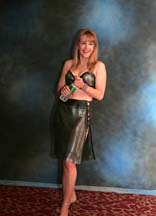 KIT 12 WEBSITE: Lucy attended the Girl Bar Pure White Party at the Hotel Zoso March 30. Did three numbers and she allowed me to video her dance rehearsal. Check it out over on the
kit 12 website
.
KIT 12 UPDATE: I've been gathering up odds and ends of Xena questions to ask Renee. Among them: What was it like to have a Warrior Princess nibbling on your toe? Life on both sides of the director's chair. Connecting with a murderer. Finding your name is now above the title. Gay/straight fan fiction -- read it or avoid it? It's a long interview, so pull up a chair and settle in for a good read.

There are photos of Renee being added to the Ghost Town imdb site. Not too many, but she looks great and there's a really funny one. More to come, Renee says.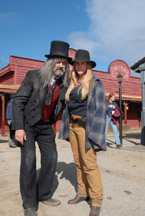 Lucy went to the gala re-opening of the Griffith Observatory in Los Angeles October 29. A friend of ours was there and got some photos and a bit of an interview that I've just posted to the Kit 12 website. She's a StarTrek fan!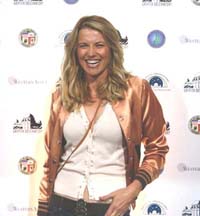 I talked with Lucy after she attended the Allure on Location benefit for Clothes Off Our Backs and she was still high from her experiences on Celebrity Duets. So much so, in fact, that she's dying to get back on stage and make more music. Seems January feels like a good time to her. You know January, yes? That's when we'll be having the 11th Official Xena Convention. Lots of fans will be in town from all over the world. Wouldn't it be great to be able to hear Lucy sing that weekend? Let's hope the gods make it so. Click here for a video of Lucy talking about her dream of getting back on stage. (wmv version)

Message from Renee:
"I'm about to start a movie called
Ghost Town
filming in North Carolina. I'm playing a character named Little Jack who is the son they never had. It's in the style of the HBO series,
Deadwood.
I have been to NC before to film the TV movie
Follow the River.
For that movie we worked in the Blue Ridge Mountains. This one will be shot in the Smoky Mountains. I do have a few days off so I plan on checking out the Cherokee area. I'll be checking in to share with you my progress
playing . . . (I interjected here and said, "a girl named Jack." I told Renee tha twas a takeoff on the Johnny Cash song, "A Boy Named Sue." Turns out she uses music to help find a character and she's going to go out and buy that song.
It just might help. <G>)
Well, that was one heck of a ride Lucy gave us on Celebrity Duets. I've got videos and backstage pics that will be going online this week. She had a grand time participating in this show and is thrilled for Alfonso. Everyone from the show -- cast and contestants -- partied at Jerry's Deli's Bowling Alley. They had the show playing on the TVs and the crowd was in an uproar when Lucy's "TellMama" piece came up. And thanks to all for your dialing fingers at home, signs and cheers at the show and the good wishes that came in from all corners of the world. Lucy will forever be grateful that you kept her on the show all the way to the end.

Lucy and Renee Get Out the Vote!!
(click image to see QT version)
(click here to see WMV version)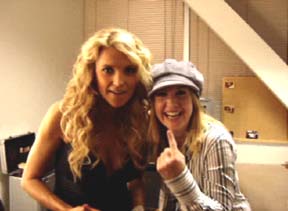 If you've been reading the

Celebrity Duets

reports, you've heard me mention the press that gathers after Thursday's shows. I've been surprised that the press isn't there after the Friday shows instead when the voting is announced. But this seems to be the way the production company set up the interviews schedule. I captured some footage of Lucy giving an interview to Reality TV and the
videoclip sare now online
on the Kit 11 website.
Lucy wowed the audience last night singing"Right Here Waiting" with Richard Marx. What was so thrilling is that, now that there were only five contestants, the song times are being extended and she got to sing so much of the opening verses of the song by herself. And when she sang with Richard, they're voices blended splendidly. It was pure delight. And speaking of delight -- Lucy's daughter, Daisy, was in the audience cheering her Mom on! Below is the fitting Lucy had with Alek Adorian for the gown she wore.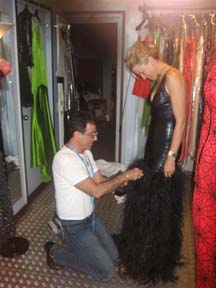 Lucy got"Footloose" and we all got jiggywith her. Check out the
Kit 11 website
for a report on week two of
Celebrity Duets
complete with heaps of backstage photos. Tonight is voting night again -- everyone warm up yourfingers and charge!

(click for larg eimage)


It's
podcast time on th eKit11 website!
I got Lucy on the phone and asked her a few questions about
Celebrity Duets.
Pop over and find out just how challenging it is to sing with music legends.
CELEBRITY DUETS


Lucy's doing fantastic! She was the top vote getter this past week! Let's keep those fingers dialing come thisThursday. Word is out that the top three people are very close together. It's neck and neck and we can make the difference!
This week she will be paired with either Patti LaBelle, Chaka Kahn, Richard Marx, Sheena Easton or Al Jarreau. Here's a shot of Lucy with Alfonso and Carly the daybefore Carly was voted off.
(click for large version)

ANOTHER KIT 11 UPDATE:
Back in August of 1997 Lucy appeared on the Tonight Show with JayLeno. After the show, she and Rob thought they'd take a casual stroll back to their car. What they didn't know about was the paparazzi that stake out the back gate of NBC studios. Check out the video to see what happened.

Just posted footage of Lucy at the Battlestar Galactica party at Comic Con over on the Kit 11 website.

Comic Con -- 7 billion people! Well, maybe not quite that many, but darn close to it. Lucy was doing some press backstage and we popped in to get some photos. Here's a sample of me taking a photo of our photographer, Brian, taking a photo of Lucy. I'm writing a report, with more piccies, which will be on the kit 11website shortly. It will also have a video of the Battlestar party Saturday night.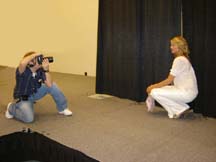 Photo: Sharon Delaney
click image for larger version

Here's the Sci Fi channel Battlestar Galactica
Season Three promo shown on Eureka last night.
Click on image for QT version.
Click here for wmv version.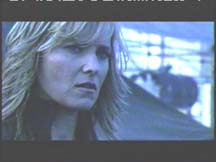 Speakingof Kit 11, the latest addition to the website is a beat sheet for an unaired Xena episode! It was called "Shoreline." Sort of Xena meets Survivor or Lost. Check it out. Makes for some fun reading.

XENA 06 CONVENTION DVD: As you may have heard, we had alot more onstage footage than originally thought. And I got permission from Lucy to include the Thursday soundcheck of the song she sang at the convention and footage from Renee's photo ops session. So I wound up making two bonus features. The total running time for the 2-disc set is almost 3 hours.

Forthose eagerly awaiting folks,
here's Renee and the lovely wee Iris O'Connor!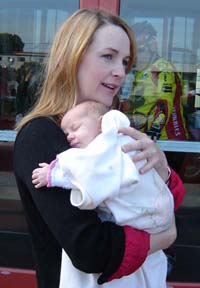 Our joyous best wishes go to Renee on th ebirth of her daughter. Renee sent us word that, "I had a baby girl Sunday, March 19, Iris Sura O'Connor, 7 lbs. 15 oz. and very mellow."
The
Xena Fan Club Kit 11
website is now online including another sneak peek at "Coffee Talk 5" that you won't want to miss. Lucy ambushes Renee in a most unusual place and poses a very intriguing question!
Grabbed a snapshot from the video of Coffee Talk 5.
They have so much fun together.
Filmed Coffee Talk 5 for Xena Fan Club Kit 11 today! It went wonderfully! Lucy and Renee were in great spirits and they gossiped like mad.

Couldn't resist posting these images of Renee at the Photo Ops.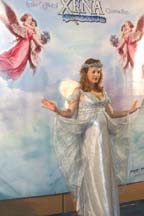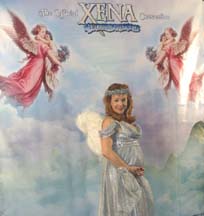 (photos:Aleida Santiago)
(click image for larger version)
Last Day of the Convention -- Lucy Day!
Lucy's doing her best Greta Garbo imitation in the middle one.
Yes, Lucy sang!
As for her accompanist, well, the verdict's still out on her. (grin)
(photos below: Sharon Delaney)
(click images for larger versions)


Day Two of the convention back in the green room with Michael Hurst,
Jennifer Ward-Lealand and Renee O'Connor!


Latest Kit 10 upload is now on line. Lucy came for a visit to our offices to work on a new shirt design. Thought you'd enjoy being a fly on the wall.

Click here for a special message from Renee for the holidays.
Latest
Kit 10
uploads are holiday messages from Lucy and Renee. I definitely think you folks will want to listen/watch them!