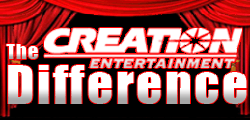 Unlike so many other genre conventions, Creation Entertainment has a strict company policy not to "oversell" our conventions. In other words, every patron, no matter what bracket of ticket they purchase, will have a seat in the main auditorium where the major guests appear and events take place. Nothing upsets us more than hearing about other conventions that sell tickets to patrons and then those very same patrons have to wait on additional lines inside the facility to get into (or sometimes not!) the main theatre. An important Creation Entertainment difference we want you to know about!
The Creation difference extends to our 40 years experience in running fan conventions. In the last few years we've seen promoter after promoter fail taking hard earned ticket money down with them. Inexperienced promoters, often first-timers, use celebrity images and names to get ticket money which they use to hopefully pay their expenses. When that fails they've already gone through "your" ticket money and they collapse leaving no recourse for ticket holders. They say "buyer beware" but this has happened in Twilight, Star Trek, Battlestar Galactica, and Firefly fandom (to name just a few) and we really feel for those great fans who have lost their ticket money and upset travel plans.
**All Convention tickets have a $7.75 shipping/handling fee charged per ticket ordered. This applies to all online, phone, fax and mail orders.
***Attention Attendees: Do not purchase Creation Tickets from scalpers or anyone trying to offer tickets as you arrive at our convention locations. Each ticket is checked for authenticity at the door with a scanner and we can not let you in if your ticket is counterfeit (which has happened recently). Each ticket once scanned makes any and all copies of that same one of a kind scan void and we can only let the first person in with it. Please ony buy your tickets only from Creation in advance or at the door, we seen too many nice folks lose their hard earned money this way and be turned away. Thanks, we appreciate your support!
WANNA VOLUNTEER AT THIS CONVENTION?
GREAT! IT IS MUCH APPRECIATED!
Just drop Toni a line at the link below, mentioning the convention you are interested in!

PLEASE INCLUDE:
CONVENTION NAME, CITY & DATE IN THE SUBJECT LINE OF ALL CORRESPONDENCE.
A separate email is required for each show you wish to volunteer for. A separate email is required for each person volunteering. All volunteers must be 21 yrs or older.
We really appreciate your help in publicizing this event on-line. Grab our banners to put on your site!
SHARON'S
XENA FAN PAGE
Click Here!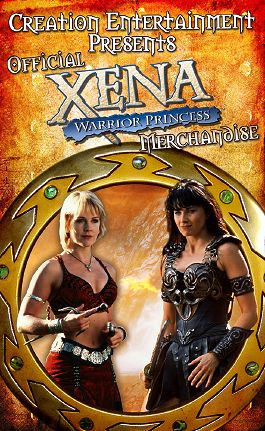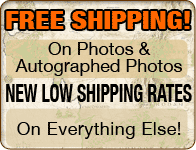 ALL GUESTS are contracted to appear and all convention contracts specify that appearances are tentative and subject to change as film and television work demands take precedence as can a personal conflict. Our events will take place whether a specific guest cancels or not (we always try to book replacements) and therefore we can not issue admission ticket or ticket package refunds if a particular guest does not fulfill their appearance contract. Of course we will always refund separately purchased photo ops and autograph tickets for a guest if they cancel.
PHOTO TAKING POLICY AT THIS CONVENTION
We know that taking photos makes the convention even more fun and we thought it would be a good idea to share our photo taking policies for you before you arrive at the convention so you can prepare. In the auditorium, photo taking is encouraged, but only from your seat. It is unfair to run up to the stage and block the view of others who have paid for reserved seats in front of you. Even if there are empty seats, patrons must sit in the seats they paid for to be fair to everyone. Due to fire marshall regulations everyone must be seated during performances. Please also be courteous to your neighbors when taking pictures. Photo taking is not allowed during autographing sessions nor during the photo ops. Only those people who have autograph tickets may come up to get autographs. At the Gold Exclusive Parties and Breakfast: photo taking is encouraged when the guests arrive (but only from your seats). After a sufficient time for all to get their photos we ask that your cameras be placed down so the celebrities can enjoy their time at the two food functions. Thank you for understanding the need to have these few rules so everyone is safe and has fun.
The vast majority of our guest celebrities take questions from the audience during their on-stage time. Therefore it is incumbent upon those that ask questions to make them ones that allow our mutual shared time with the celebrities to be enjoyable, interesting and entertaining for all (including the guest). Asking for hugs, telling stars we love them (we all do, that's why we're here), giving gifts, getting into long personal stories, or worse, is not acceptable for this format and, in fact, is quite self-centered when you are in essence "representing" all of fandom to a celebrity. Join us in trying to make this convention the best entertainment for everyone!
In the event of convention cancellations or date changes Creation Entertainment is not responsible for patrons' costs involving travel or hotel accommodations or any other non convention ticket expenses.
Advance ticket sales are generally turned off early to mid-week of the week of the events. Tickets, if they are not sold out, are sold at the convention of course.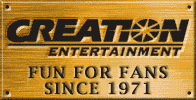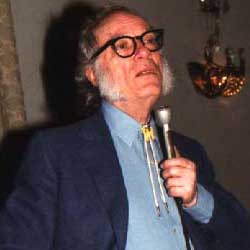 Here's a pic of the legendary sci-fi author/genius Isaac Asimov, a frequent visitor to our early conventions and quite a character as well! It is amazing that we got to work with him after reading so many of his books.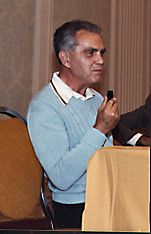 Comic book and entertainment fans owe much to the legendary JACK KIRBY, the revered talent who co-created the Marvel mythology and made many early appearances with us, among his most devoted followers. Although his passing never allowed Jack to see the amazing success of his characters in film we do know that his appearances at conventions always brought down the house!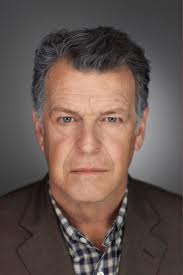 It is always great when we can personally thank a performer for an absolutely beautifully done job and that was just the treat when John Noble appeared in Feb of 2013 wrapping up his epic FRINGE series, one of our all-time favorite shows!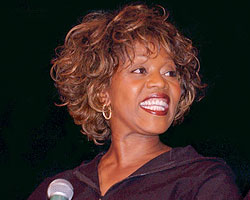 The beautiful and talented Alfre Woodard graced her stages to reminisce about her appearance in Star Trek as Lily in the movie Star Trek: First Contact, but of course she is best known for being an Academy Award and Grammy nominated actress as well as having an incredible 17 Emmy nominations (winning four).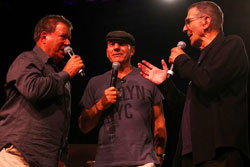 Our Vegas Star Trek Convention is ALWAYS full of surprises! Sir Patrick Stewart joins William Shatner and Leonard Nimoy in this once in a lifetime moment! We're glad we were there!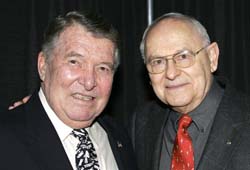 In 2006, space pioneers, astronauts Wally Schirra and Alan Bean, guested at Grand Slam: it was an honor!
Photo Credit: David Livingston

PLEASE READ THIS PAGE COMPLETELY BEFORE ORDERING ANY TICKETS.
Be sure of which day a guest is doing photo ops/autographs
before purchasing your admission tickets.
Please note that tickets are delivered to you via e-mail in PDF format which you should print out and bring with you to convention registration. Most customers receive their PDF tickets within 3 business days of having placed their order.
THE Official XENA Convention:
The 20th Anniversary Celebration
THE ABSOLUTE FINAL OFFICIAL XENA CONVENTION
BURBANK, CA (Los Angeles Area)
Friday, Saturday & Sunday
February 20-22, 2015

Burbank Marriott Convention Center
2500 N. Hollywood Way
Burbank, California 91505

Times: TIMES OF EVENT TO BE ANNOUNCED ONCE WE GET MORE OF OUR GUEST ITINERARIES COMPLETED.
The Official XENA Convention: Celebrating The 20th Anniversary at this, the absolute FINAL Official Convention

Over the past two decades the epic journeys of Xena and Gabrielle have stood the test of time and become part of pop culture history, and more important our social culture, putting a new face on television and placing strong women heroes as stars of major television shows and films. Xena fandom has and will continue to be a lasting force for good and countless friendships that will last a lifetime will flourish. It is with all these great memories that we join together for one more time to celebrate the 20th Anniversary. There will be no "votes" to continue as all agree that this is the way to go out: on the 20th! Make your plans now to be with us as Xena fans make their own personal journeys complete by coming from around the globe to join this once in a lifetime celebration of the series and its stars that has meant so much to us. We'll go all out to provide attendees with three days filled with wonderful celebrities, special events, and fond looks back at what made the fandom and the conventions themselves such memorable events. We're back at the beautiful BURBANK MARRIOTT CONVENTION CENTER, the place it all began so many years ago and the fully renovated hotel is in the center of LA's historic sites and sounds: extend your stay and make it into a full scale holiday trip!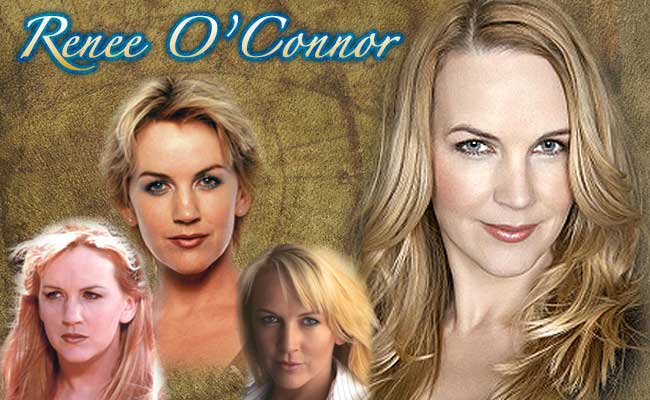 RENEE O'CONNOR (Gabrille) An incredibly gifted entertainer, Renee can really do it all and her fans have embraced her many projects since Xena that have taken her into independent film making, including directing and public speaking, as well as continuing to act.
Appearing Sunday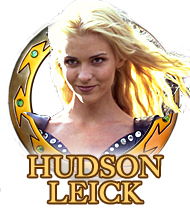 Hudson Leick
Callisto
Hudson's singular spirituality always adds to these conventions and here's your chance to experience her one last time on stage. Hudson will appear on stage Friday for the entire audience. She will also participate in our Sunday Breakfast as well as do her yoga class on Friday and Dance Workshop on Saturday. These workshops will be priced at $119 and last two hours. Her autograph will not be part of any ticket package and must be purchased separately.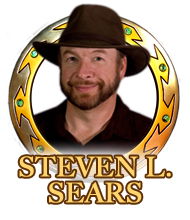 Steven L. Sears
(Producer/Writer)
One of fandom's and our convention's most ardent supporters, Steve has always been a true pleasure for us and all Xena fans to know. He makes himself quite available to the attendees and along with appearing on stage Friday he is often seen at the convention chatting and meeting new fans.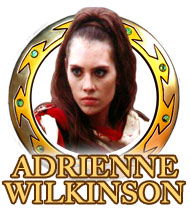 Adrienne Wilkinson
Eve/Livia and Megaera
Appearing on stage Saturday. Adrienne has spent the years after Xena doing a series of at least 40 different projects including voice over work on many of the Star Wars video games. Adrienne will be signing autographs on a complimentary basis for our Gold Patrons, others will be able purchase her autograph for a nominal fee.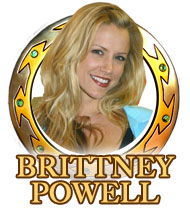 BRITTNEY POWELL
Brunnhilda
After portraying Brunnhilda on Xena, Brittney has gone on to be part of numerous television series and other projects. She has become one of our most popular convention guests and she will be appearing on stage Saturday . Brittney will be signing autographs on a complimentary basis for our Gold Weekend Patrons, others will be able purchase her autograph for a nominal fee.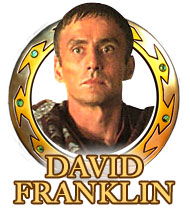 DAVID FRANKLIN
Brutus
David's work as Brutus on four Xena episodes have made him well known to Xena fans worldwide. His starring role in Farscape for 25 episodes only added to his genre popularity. Since then he has been in a series of varied television productions and is always a popular presence at our annual Xena Convention. Appearing on stage Friday, David will also return on Saturday and Sunday to meet more fans and do additional autographs and photo ops.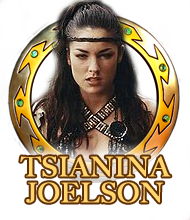 Tsianina Joelson
Varia
Appearing on stage Friday, The gorgeous and talented Tsianina is indeed a worldwide favorite with Xena fans who loved her work as Varia on four episodes of the series. Since Xena Tsianina has been involved in various projects and remained a friendly presence at our conventions. She will be signing for Gold attendees at the convention. Others will be able to purchase her autograph ticket for a nominal fee.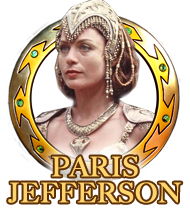 PARIS JEFFERSON
Athena
Appearing Sunday on stage, Paris will also do autographs and photo ops Sunday and participate in our Sunday exclusive to gold patrons breakfast.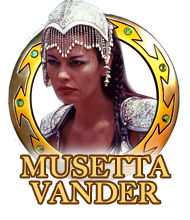 MUSETTA VANDER
Ilainus
Day of appearance to be announced.
Musetta will have a table in the vendors room (days to be announced) where she will meet fans and sign autographs for a nominal fee.
MORE GUESTS TO BE ADDED OF COURSE!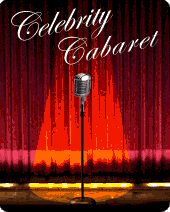 THE XENA CELEBRITY CABARET SHOW
There's no doubt that the Xena cast was multi-talented and each year at The Official XENA Convention we have the pleasure of presenting some of our guests in a delightful evening of live entertainment. Some truly wonderful moments have been had at the Xena Celebrity Cabarets and 2015 should be no different as we bring the conventions and their cabarets to a close. It has been awesome to see how great our selected guests have been in entertaining our audiences LIVE!

Details to come! This event is complimentary for our Gold and Silver Weekend Patrons. For others, general admission tickets will be offered soon.
---

YOGA CLASSES with HUDSON LEICK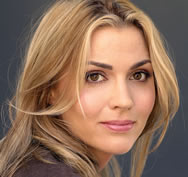 Friday Morning from 9am to 11am
Please bring a towel, water, and be in loose clothing.

Class is suitable for everyone, even beginners. Hudson Leick is a member of the California Yoga Teacher's Association. She has been studying yoga for over sixteen years and taught for more than thirteen, and has done her teacher's training with renowned yoga masters such as Ana Forrest, Erich Schiffman and Gurmukh. Hudson specializes in Kundalini, Hatha, and a modified version of Ashtanga yoga, and her classes are a subtle blend of these methods. She has also studied Vipassana meditation in Nepal, and the 5Rhythms® based on the teachings of Gabrielle Roth.
$119 limited to 60 participants.
---

HUDSON LEICK'S "FREE FORM DANCE" WORKSHOP
Hudson Leick returns for a second year with her new "free form dance" workshop for Saturday described as such: The practice of 5Rhythms dancing which is often described as moving meditation, was created in the late 1960s by Gabrielle Roth, who distinguished five rhythms common to all humans....
FLOW, STACCATO , CHAOS , LYRICAL, STILLNESS
When she combined these rhythms together, Gabrielle Roth discovered they can liberate the creative spirit inside each of us, regardless of our body type, age, or ability. There are no specific steps to learn, no choreography to memorize, and most importantly: no way to do it wrong.
In dancing the 5Rhythms, Gabrielle said, "they initiate us back into the wisdom of our bodies and unleash movement's dynamic healing power."

THIS CLASS HAS A LIMITED ATTENDANCE and is priced at $119.
---

FRIDAY NIGHT KARAOKE PARTY!
Come to enjoy fellow fans, come to sing, come to laugh, come to party! As an extra treat for all of our great attendees Creation Entertainment is happy to present this special FREE EVENT for all on Friday night! You never know who might show up and it is a great way to mix and mingle! Exact times and locations will be announced, but start practicing your number now!
---

THE CREATION COSTUME PARADE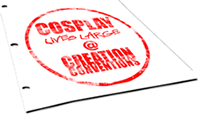 The famous Creation Entertainment Costume Parade Competition is always a highlight of the convention. Set for Saturday here is your chance to show off your creative abilities by dressing as any character or making up your own. The winner goes home with a $250 gift certificate but we have prizes for everyone who enters! YOUR LAST CHANCE TO SHINE IN FRONT OF FELLOW XENA CONVENTION GOERS: SO LET'S GO OUT IN STYLE!
---

THE GREAT CREATION DISCO AND COCKTAIL PARTY CENTERPIECE CONTEST
Another way that fans can show off their love of the shows we're honoring is by entering our famous themed CENTERPIECE CONTEST! This event takes place at our DISCO AND COCKTAIL PARTY (Saturday Evening) and is for Gold Members attending the event this weekend! Create the very best centerpiece that touches the hearts of our judges and the themes of the convention and you might just win a special $250 Gift Certificate! Just be "GOLD" and bring your entry to the party and that's all it takes to enter! CELEBRITY DROP-INS to the party will be announced in the days to come!
---

XENA MUSIC VIDEO CONTEST
Rules: one music video about XENA may be submitted on DVD only (please no computer- based media like CD accepted). PLEASE USE ONLY NTSC FORMAT FOR YOUR DVD. Entries are judged on the following criteria: video quality, audio quality, editing quality, inventiveness, song selection, and originality. Humorous submissions are encouraged. Entries can not be returned, and person submitting entry is granting Creation the right to play this entry in perpetuity at Creation events worldwide and/or on line at the Creation website(s). Creation does not sell music videos so your entry will never be sold as a commercial product, just presented at our events/on line. Winners will receive a $100 gift certificate good for Creation products. . We do not announce winners until the event.

Note: Due to the high volume of entries for our Music Video Contests, we are forced to limit entries to those people actually attending the specific show they are entering for. You do not have to be present for the actual showing of your video, but you must claim your award on site before the end of the weekend or your award will be forfeited. CONTEST SUBMISSIONS MUST BE RECEIVED AT OUR OFFICES BY 40 DAYS PRIOR TO THE OPENING DAY OF THE CONVENTION.
SEND YOUR ENTRIES TO:
Creation XENA Music Video Contest 2015
217 S. Kenwood
Glendale, CA 91205
---



Please make sure to bring ALL your printed out tickets to the convention as we can not replace any tickets forgotten or lost. This holds true for all ticket-buyers domestic and outside of The United States as we no longer have a will-call or hold ticket desk. Our convention sites generally have a business office where you can print out your tickets if you have left them home by mistake. Once you present your ticket(s) at registration, photo op areas, or autograph sessions they will be scanned for legitimacy and one-time use only. Thanks!
Customer Support E-Mail: ANY problem you have please write to us at:
and we'll look into it and get right back to you. Thanks!
NOTE: You may buy Photo Op and Autograph tickets before buying an Admission ticket, but you need an Admission Ticket in order to use the Photo Op and Autograph tickets. Please buy an Admission ticket as soon as you can as we can never guarantee Admission tickets won't sell out before the show. Join our Free Email list to get updates on ticket availability.

GOLD ADMISSION WEEKEND PACKAGE
DO IT UP IN STYLE ONE LAST TIME! The Gold Packages are the most upscale way to attend the full convention with all the benefits. You'll note that many were already sold (when you are in the process of ordering you will see the floor plan) and these were sold at last year's convention. HERE'S WHAT YOU GET WHEN YOU GO GOLD at the very last Official XENA Convention saluting the 20th Anniversary:
1) The very best reserved seat for daytime convention main auditorium events all three days. Here you will see all the guests, events, and attractions in a comfortable theatrical setting. You will get to pick your actual seat in the theatre during the ordering process.

2) Complimentary in-person autographs from selecting attending celebrities including Adrienne Wilkinson,Tsianina Joelson, Paris Jefferson and of course more to be added . Purchased separately the value of these autographs is a large part of the cost of the entire package itself, so you know it is a hot deal!

3) Complimentary admission to the amazing Xena Celebrity Cabaret. Keep the same great seating you have for the day for this CABARET PERFORMANCE featuring talented guest celebrities entertaining our audiences. Always a great highlight of the weekend's activities!

4) Complimentary admission to the exclusive to Gold Patrons Disco and Cocktail Party. This is a wild party that celebrities come by for and a marvelous time is had by all.

5) First to get autographs for all those signing in the theatre on a complimentary basis for Gold Patrons. For these signings we go row by row and you are in the front rows.

6) Wristbands for immediate entrance without waiting on line after initial registration.

7) Pre-Registration fun: You get your credentials prior to the convention opening and you'll also get first look at all the special Xena souvenirs.

8) Special collectible credential laminate for Gold Weekend Patrons.

9) And our favorite benefit, complimentary seating and breakfast at the famous Sunday Morning Exclusive to Gold Patrons Xena Celebrity Continental Breakfast and Charity Silent Auction. Join fellow fans and celebrities in a great morning and we'll be raising money for worthwhile charities with our silent auction! First guests are Hudson Leick and Paris Jefferson.
$479
*Please note that if you have autographs as part of your ticket package benefits you will need to have something for the celebrities to sign. They will sign anything you bring from home and there is a wide assortment of photos and other collectibles on sale at the convention.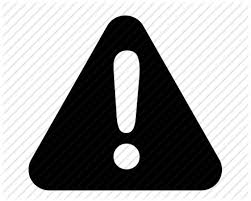 ADDITIONAL TICKET PACKAGES INCLUDING SILVER WEEKEND PACKAGES, GENERAL ADMISSION WEEKEND PACKAGES AND ALSO SINGLE-DAY PREFERRED (reserved) and GENERAL ADMISSION SINGLE-DAY TICKETS WILL BE AVAILABLE AS WE GET CLOSER TO THE CONVENTION. PLEASE BE ON OUR FREE EMAIL LIST SO YOU ARE ADVISED OF NEW TICKET OPTION LAUNCHES!
WE WILL, TO THE BEST OF OUR ABILITY, SEND OUT AN ANNOUNCEMENT EACH TIME A NEW TICKET BRACKET BECOMES AVAILABLE. BUT CHECKING THE WEBSITE FREQUENTLY IS RECOMMENDED AS WELL.
Autograph and Photo Op Tickets do not include admission to the convention. You must have an admission ticket for the convention in order to redeem autograph and photo op tickets.
NOTE: You may buy Photo Op and Autograph tickets before buying an Admission ticket, but you need an Admission Ticket in order to use the Photo Op and Autograph tickets. Please buy an Admission ticket as soon as you can as we can never guarantee Admission tickets won't sell out before the show. Join our Free Email list to get updates on ticket availability.

AUTOGRAPH TICKETS
Autograph and Photo Op Tickets do not include admission to the convention. You must have an admission ticket for the convention in order to redeem autograph and photo op tickets. Photography is not allowed during the autograph sessions.

Here's the rare chance to get an in-person hand-signed autograph by your favorite celebrity. We do autographing row by row for those that have them included in their packages followed by additional autograph tickets called by number. If autographs are part of your ticket package you can get any additional signatures you've purchased the first time you come up. You must bring an item for the celebrity to sign: you can bring something from home or purchase an officially licensed photograph or souvenir at the convention. The autograph tickets are available in limited supply, please order soon. THANKS!
** Please note that we can not accept "on cell phone" tickets for autograph and photo op sections so you must print them out at home and bring them to the convention on paper, not your phone. Thank you! We can accept "on cell phone" tickets for admission however.
RENEE O'CONNOR $50 (Sunday) Limited Availability. PLEASE NOTE that Renee's autograph is not part of any package and must be purchased separately
ADRIENNE WILKINSON $25 (Saturday)
HUDSON LEICK $25 (Friday) PLEASE NOTE that Hudson's autograph is not part of any package and must be purchased separately
DAVID FRANKLIN $30 (ALL THREE DAYS) PLEASE NOTE that David's autograph is not part of any package and must be purchased separately
TSIANINA JOELSON $25 (Friday)
STEVEN L. SEARS STEVEN graciously signs on a complimentary basis for all fans interested in meeting him.
BRITTNEY POWELL $30 (Saturday)
PARIS JEFFERSON $20 (Sunday)
Note: Patrons must bring an item for celebrities to sign. You can bring something from home or purchase a photo or other collectible in the vendors room. Please feel free to purchase as many autograph tickets of a particular celebrity as you'd like.

PHOTO-OP TICKETS
Photo Op Tickets do not include admission to the convention. You must have an admission ticket for the convention to enter into the photo op areas. Due to security considerations and guest concerns we cannot facilitate the giving of gifts to guests at the photo op sessions. LIMIT OF TWO FANS PER PHOTO-OP, NO EXCEPTIONS PLEASE! TWO FANS CAN BE IN THE PHOTO OP FOR THE PRICE OF ONE PHOTO OP TICKET.
Your photo will be taken by Creation's all knowing and super-powerful official staff photographers. They take the best pictures, make the stars comfortable & willing to pose more freely with fans, and generally are beloved by all. JUST CLICK TO OUR E-MAIL FEEDBACK SECTION TO READ ABOUT HOW GREAT CREATION PHOTO OPS ARE! Please read: PHOTO OP F.A.Q.
** Please note that we can not accept "on cell phone" tickets for autograph and photo op sections so you must print them out at home and bring them to the convention on paper, not your phone. Thank you! We can accept "on cell phone" tickets for admission however.
RENEE O'CONNOR $70 (Sunday) Limited Availability.
ADRIENNE WILKINSON $40 (Saturday)
HUDSON LEICK $45 (Friday)
DAVID FRANKLIN $30 (ALL THREE DAYS)
TSIANINA JOELSON $40 (Friday)
BRITTNEY POWELL $40 (Saturday)
PARIS JEFFERSON $40 (Sunday)
New MUSETTA VANDER $40 (Sunday)
GROUP PHOTO-OPS:
New

MUSETTA VANDER and PARIS JEFFERSON $70

(Sunday)



Burbank Marriott Convention Center
2500 N. Hollywood Way
Burbank, California 91505
Come to fabulous Southern California and enjoy all the legendary sites and sounds that have made LA "the place to be" for those who enjoy movies, television and all of show business. Our convention hotel is newly renovated and looking good! Click on through and make your visit to the convention into a full scale vacation! Escape the cold: LA is waiting for YOU!

Special Rate is available until: JANUARY 15, 2015
Xena Group Rate $145.00 per night for singles, doubles or twins*
*As of 9/18/2014: the hotel no longer has rooms at the group rate available for Wed. 2/18/15, those looking to book for that day will need to call the hotel directly instead of going through the booking link to book and will have to pay a room cost of $179.

Reservation Phone Number: (800) 736-9712
Xena 2015 TO GET THIS SPECIAL LOWER THAN NORMAL RATE, CALL: (800) 736-9712

Reservation Code: Xena 2015
DEALERS:



Shows start about 10 or 11 in the morning and run till about 6 or 7 at night. But they can start earlier and/or end later if necessary to accommodate an actor's schedule for autographing and photo ops. The hour-by-hour schedule is posted late in the afternoon (California time) on the Wednesday before the convention.
All guests and scheduling is tentative and subject to change.

Creation assumes no responsibility for typographical errors or inaccurate information provided by convention venues. All dates, venues and guests are considered tentative and subject to change. Check back frequently for updates.
NOTE: ALL TICKETS ARE NON-REFUNDABLE AND NON-EXCHANGEABLE. ABSOLUTELY NO AUDIO OR VIDEOTAPING ALLOWED AT ANY CONVENTION. Still photography is for personal use only - public dissemination and commercial use strictly prohibited.
By attending Creation events you agree to allow your image to be used on our website and in news documentaries or stories, either filmed by Creation Entertainment or other entities.
All ticket prices are subject to change, please order as early as possible.
In the unlikely event of a cancellation of the convention, or a date change, Creation Entertainment is not responsible for refunding airfare or any other costs other than the payments made directly to Creation Entertainment for ticketing. Also in the unlikely event, due to weather, transit issues or last minute illness or other reason given by celebrity, an advertised guest does not make their appearance at the convention, Creation Entertainment is not responsible for any refunds other than separate specific to the guest autograph tickets or photo op tickets. In the extremely rare chance that a guest does not finish his or her autographs or photo ops (which has only happened in a hand full of cases over 40 plus years, always due to something out of our control) Creation Entertainment will only be responsible for the refund of the separate autograph or photo op ticket.
In the extremely rare case (which has never happened before) our computer systems may accept more tickets than we have allotted for. If that should occur we would refund ticket money to the last several people (in order) who did manage to get a confirmation or ticket. As we've said it has never happened but we want to have a fair scenario in place it if does occur.