Opportunities to reach a loyal genre audience.

Keep up to date with our convention events and merchandise news!

See Creation's great items now up for auction!

Vendors and store owners, click for information.

Hand-signed photos by world sci-fi & genre stars!

Link back to our site with these colorful banners.

Comments about our events and service.

Some of the charitable causes we support.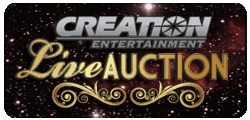 Leave a message for Whoopi letting her know how much we fans would love to have her join us at the 2013 Offical Star Trek convention in Las Vegas, August 8 -11 ! And don't forget to "LIKE" this page for the count.

https://www.facebook.com/pages/Whoopi-Goldberg/253267041382786

Add a Creation Banner
to YOUR Web Site!
Various Genre Links >>


Sponsored by Creation Entertainment

Contact us to have your link listed here!