Dear Friends:
As fans ourselves we try to make all our events and merchandise the very best we can. We're working round the clock to better serve our growing clientele around the world so we really do appreciate the favorable and encouraging e-mails we receive!

- Your friends at Creation Entertainment

PS - Newest letters are added at the top!
---
JACKSONVILLE SUPERNATURAL 2018
Your crew in Jacksonville was amazing!! I was nervous taking my daughter because of her special needs and everyone really helped put her, and me, at ease. I appreciate how kind everyone was and that they offered any assistance possible to make this experience the best it could be. Both my girls had an awesome time and can't wait to go to their next convention.

Thanks again!!!
C.M.
Creation Cares:Charitable Donations
Confirmed!

The package arrived today and all I can say is... wow. There is no doubt in my mind that these will definitely bring in some dollars for three great causes.

Thank you so much for your continued support and generosity. We could not do what we do without your help.
Sincerely,
Can't Stop The Serenity: Milwaukee, Wisconsin 2018
Official Star Trek Convention: Las Vegas
I will have to say that you did out do 2017! All the actors from DISCOVERY was such a great boost for us fans that we know the show will go on and on from the reaction of my fellow attendees, we could not get enough of DISCO!

The news about Sir Patrick was the climax of the show as we all know, that bit of news sent a ripple through the force (pun intended) that goes far and wide. Before he came on stage, we all thought that Bill Shatner was going to retire from conventions or he was going to be in the next movie. Little did we know that Capt JLP will be back in action.

Surely that was the best news of the convention, but I would like to say that the Friday night dinner show with Joe Piscapo hit it out of the ballpark! Since 2006, my wife and I have been attending as Captain Chair holders, that was without a doubt the most fantastic show we have seen. Truly that was the style of Vegas show I would have liked to have seen many years ago with Frank, Dean and Sammy if I could have! Not to mention that the switch to the Nimoy Theater was the icing on the cake. The food was the best and the fact that there was all that space to sit down and enjoy the show going on was so enjoyable. We really hope that set the precedent for future STLVs. Outstanding job for that choice!!!

While it has only been a few days since it ended, while at the con we renewed our same Capt Chair seats and look forward to see what next year has in store. We can hardly wait, but that is what makes it great!
BB
Dear sweet wonderful Creation
Thank-you , thank-you , THANK-YOU!! for the BEST week of my year. Absolutely outstanding planning and co-ordination, so smoothly run, clean, safe and friendly, Your staff were so helpful and efficient and the variety of guest was just incredible. I cried to meet Apollo, and dear Eddie Paskey, the TOS members of our Trek family are so precious and to see, hear and HUG. Joanne Linville was simply beyond my wildest dreams, I am blissed out and you made it so ♥️
Thank you all from the bottom of my heart. LLAP.
Most kindest regards from N.Y.
I wanted to let you know that we had a wonderful time at The Convention!!!! It was our first year there. William Shatner was so very kind to my son. We took the photo op at the bridge. William Shatner talked to my son about his captains log and let him sit in the helmsman seat and told him to touch all the buttons he couldn't of been nicer to him ♥️ It was a wonderful day that we'll never forget.
J. Wilcox
Official Outlander Convention: Las Vegas
I just wanted to take some time to thank you for a wonderful event in Las Vegas, Nevada. It was my first official Outlander Con and I enjoyed it very much. All the actors were amazingly gracious and fun to get to know a little bit more. Your Staff were very friendly and helpful no matter why the issue may be. I hope you will consider having this event in Las Vegas again soon. I was able to connect with many fans from all over the USA. Thank You again for putting on such a wonderful event!
Sincerely,
VZ
Supernatural Official Convention: Chicago, IL
I wanted to drop you a quick line regarding the Supernatural Convention in Chicago this past weekend. Thank you and your company for providing a wonderful event. I had purchased tickets as a birthday gift for my Sister, and we had a fabulous time. I appreciate all the hard work that goes into planning these events, and all the people behind the scenes that work so hard to provide all the services and pleasant environment for the fans.
Thank you and your team.
A
Stranger Con: Parsippany, NJ
Dear Creation Entertainment,
I just got back from New Jersey today because of Stranger Con. I attended on Sunday and it was the best experience of my entire life! Getting to meet my two idols (Millie and Noah) was the best thing I could ever ask for! I loved all the staff and fans that attended, the vendors, and of course the guests!!! I just wanted to say thank you for holding this convention and making July 1st the best day of my life and I really hope you bring Millie and Noah back to the convention! I know a lot of people including me would absolutely love that!
- T
Hello! Just wanted to say I really enjoyed the Stranger Con event yesterday! Thank you guys for a great event! Everyone on the staff was so helpful & accommodating for lines & ADA seating. It was run smoothly & Millie & Noah were great! Looking forward to next year when you guys come to the Meadowlands! Thanks again.
A.B.
Stranger Con: Chicago, IL
Dear Creation Entertainment,

I attended your Stranger Convention in Chicago, IL this past weekend. My family drove up from Cincinnati, OH. We could not wait for this fun weekend!

I just wanted to say I was so impressed with how smoothly and professionally this convention was ran. Everything was timely, and all of the guests were incredibly sweet.

We all had such an amazing time. All of the Creation staff members were very helpful and very friendly. I really appreciate everyone's hard work that went into making this weekend one that people would never forget. As an audience member at this convention, I had such a great time and we will definitely be back next year.
Thanks for everything,
L.
Supernatural Official Convention: Birmingham, UK
I know you must have been inundated with emails regarding coming back to the uk, but I'm hoping that this one may also help maybe not in 2019 but 2020?? Birmingham was such an amazing experience and one that I feel must be repeated maybe in one of our other cities if not Birmingham? We loved having you here please come back we need more supernatural conventions don't tease us with one I beg you
Yours hopefully
K.C.
Thank you all SO MUCH for your great service in Birmingham. You and your people make a big contribution to making the weekend so special for everyone. I don´t know what I expected at the photo ops but definitely not that! Never thought that I will be able to get photos like this and I had so much fun.

I saw a lot of photo ops from conventions in the US and thinking always "I want it, too. The photographer is amazing!" And now: I have so beautiful masterpieces for my own use. I can not thank you enough. I really hope, that I am able to visit another convention in the future with you are taking the photos there.
Best regards from an more than happy fan from Germany.
Paola Reinhold
Dear everyone at Creation

Thank you so much for bringing the Supernatural Con over to the UK. Like many others we lost money on the convention that went bankrupt and I admit was hesitant about buying tickets. However I was in the fortunate position of being still being able to purchase tickets and am pleased to say I don't regret it at all. Louden Swain (esp with Richard) were simply amazing throughout the weekend. The Saturday Night Special was out of this World and with his interactions in the vendor's room I believe Jason Manns has a fan for life in my 15 year old (who used his savings to pay for his own silver ticket as he was so keen to go). J2M panel was unsurprisingly a huge success but in all honesty there was not one 'bad' panel as all the guests brought their A game.

Please reconsider this being the one and only UK con. Looking at all the positive comments on social media it is safe to say it was a success and any future cons would be even more so. Personally I know of many fans who would've snapped up tickets if they had further notice and most importantly hadn't lost a lot of money with the convention company which went bankrupt.

Whatever happens thanks again for such a magical weekend and fingers crossed for another SPNUK.
Regards
K.K.
To whom it may concern!
I just wanted to send a quick email in regards to your return to the uk.
I understand that it is costly to bring the cast over to the uk and to in general bring the con over.
But I just wanted to express the general happiness that I felt and many fans felt during this 3 days period.
First of all it was my first ever con and I was super nervous but thanks to a friend of mine on Twitter I managed to be added into a friendship group of supernatural fans where I have made forever friends. This is what your con did.
Thanks to SPNUK I managed I finally meet my idol Misha Collins after 9 years of being his fan and loving and appreciating him for many years. And this was all because of creation I also got to meet Jared padalecki and Jensen ackles who I have also watched for 8 years and completely idolised.
So basically it was just a email to say please bring them back to us in the UK as for many people UKcon is there only chance to meet the cast. I really hope this changes creations mind.
I really hope this changes creations mind.
Thank you
C.L.
Hi cast of Supernatural. I have just left my first supernatural convention and I want to thank you. I'm living in Aberystwyth, 3 hours from Birmingham and I'm studying to become an actor. Every single one of the WONDERFUL people who was at the Con was just as charming as everyone says. Briana and Matt, you are hilarious! Matt that british flag on your forehead?? Nicely done! Alex, I don't know if you've gotten used to the craziness that is the SPNfamily but you sure are loved in the fandom! Jake, thank you for keeping up with the SPNfamily all these years! You in the sunglasses with Union jack was handsome and sooo funny!

Rob, Billy, Michael, Stephen.

What can I say? I was at Station Break last year. Needless to say, that concert didn't turn out as any of us thought it would. But I met one of my closest friends there. THis weekend, I got to meet you in person. FINALLY! Rob, I'm still mad at you, I have a performance in 2 days. And I lost my voice completely during the concert yesterday. Who can I blame but you? But wow... that concert? I have lost count on how many times I've fangirled over the music that is Louden Swain this weekend. If you HAVE to do less conventions next year, come to Sweden! I will be your personal guide. I wait for you (nod to She waits)

Richard, you're doing an amazing job as a host at these conventions! And with the directing as well as writer of King of Cons (REALLY hoping for a season 2) I know you said you prefer directing but you're an incredible actor. You make me wish that Misha or J2 or whoever the next person is late so that I can hear more of your improvised songs. I really hope to see you in UK or Sweden soon again! IF Spn ends, don't stop hosting cons! You are so funny. THank you Rich.

Jared, Jensen, Misha

You are insane. The J2M panel had me laughing to tears. PLEASE get more questions wrong! You are amazing human beings. I loved every moment of the panels. Misha, GISHWHES has been an amazing journey and I'm eagerly expecting what this august can bring with GISH. Jared, AKF has helped me a lot. Thank you. Jensen, same thing with You Are not Alone. Thanks to all three of you who keeps spending so much time away from your family to come to us and make sure we're having a good time. Seeing you on stage is worth every penny of the conventions.

I have never seen a cast more loved by their fans who loves us fans in return. During these 3 days, I've come to learn WHY the fandom is called #SPNfamily. It truly is a family. Thank you SPN for this convention. I love you.
Hugs from Sweden /Aberystwyth
E.
PS. Creation Ent PLEASE make another convention here in UK. We love it so much!!
to whomever this may concern,
I'm writing this (well typing) to ask you to consider coming back to the United Kingdom for a con.
I understand it may be very costly for you, but please if you can understand, it's so rare for us to be able to see the cast. It's really unlikely for us to be able to go to an American con, so please come back sometime.
everyone at this convention this weekend, has been the happiest they've ever been, and loved experiencing creations well run con. the guests you invited to this con, were incredible, and we would all love to see them again!
the creation team were so wonderful, and helpful, and from the bottom of my heart I thank them, and whoever's idea it was to come over to the UK.
I know this is a lot to ask, but so many of us would love to have you back at the NEC, as the venue was so amazing, and spacious.
thank you for this amazing weekend, please, please come back.
From,
k.m.
I just wanted to congratulate you on a brilliant convention that was held this weekend in Birmingham, UK.

I have had experience with Rogue events last year and they were a disaster.

I hope you are aware of what a fantastic team you have, they are polite, organised and have 100% opened the UK's eyes on how a convention should be run! I have fully enjoyed myself.

Now that being said...I am actually writing to try and convince you to bring the #spnuk con back next year.

I am wondering if there is anything at all we can do to try and possibly get 2019 spnuk con to happen.

To pre-warn you, a petition has started as well as the #spnuk2019 tag on Twitter.
Hope to hear from you.
Much love - a new creation con fan
H.B.
I attended the Supernatural convention this Saturday in Birmingham ( UK) and it was amazing. Thank you so much for bringing such a wonderful group of people to see us. It was a wonderful opportunity to connect with people from a show that is truly loved and stars that seem to care so much for their fans. As well as a thank you I also wanted to say I really hope there is a possibility of another UK supernatural convention next year, Jensen and Jared (and the rest of the cast) are loved by us all and we would jump at the chance to come along again. Hopefully next time we'd be slightly less nervous in our photo opportunities!! I for one would love to go again, and for the whole weekend this time and get lots more photo ops, I've been bitten by the bug!
Thanks again and kindest regards
B.
Hi guys, I'm not sure who or how to do this but I hope this makes it to the right people.

I have just attended the Supernatural Convention at the NEC in Birmingham UK & I wanted to say a big thank you to your company for organising such a fabulous event. The amount of people there was amazing & everyone is having the best time.

I hope that you will consider coming to the UK again with Supernatural as I know from chatter on Facebook & meeting with people over the past two days that they would definitely attend again & bring more fans.

If you could also pass on these sentiments to the attending cast members who have made this convention a truly memorable time it would be appreciated as there is a lot of love for them here in the UK.

Once again thank you for bringing so much happiness to the Supernatural fans of the UK & fingers crossed we will see you again next year.
Kind regards
K.H.
Supernatural Official Convention: Toronto, ONT
Hey, I just wanted to send out a quick Email to thank you guys for an amazing weekend at TorCon 2017! This was my first convention and will definitely not be my last. I loved how organized and planned out everything was and if there was a bump, you handled it calmly and fixed everything needed to be fixed. I will be moving out to California in the next three years so if you ever need help with organization or just hiring, I would love to be apart of your wonderful company! I have memories that will last a life time! Thank you again so very much for everything! This event was truly priceless!
Thank you from the bottom my my heart,
M.M.
The Vampire Diaries Official Convention: New Jersey
Hello!

I hope this is the right email account to send this to. I just wanted to say a huge thank you for putting together such a great convention for fans of The Vampire Diaries and The Originals this past weekend in Whippany, New Jersey.

I have attended many various conventions over the years and I just wanted to say that Creation Entertainment conventions are by far the best that I have attended. They are always run so smoothly with no problems. The schedule is always accurate once it's posted so that fans never have to worry about things changing last minute once it goes up on the site. The events at the cons are always started on time and never have any problems.

I know it must require a ton of work to put these conventions together. But please know how appreciated that work is. I have seen lifelong friendships formed at these conventions and it's such an incredible honor that fans have the chance to meet their favorite actor and/or actress in person at so many personal events.

I am very glad that you are continuing the The Vampire Diaries/The Originals convention tours next year. I'm already planning to attend a few of them. Thanks especially for adding a TVD convention in Nashville Tennessee. As someone who lives in the South East area, that is very much appreciated and thank you as well for adding Matt Davis to the 2018 conventions! :)

Thank you again for all the hard work. Creation Entertainment really are the best fan conventions out there!
-A.
Supernatural Official Convention:Phoenix, AZ
Thank you for bringing the Supernatural cast to Phoenix for a convention. I went Gold this year. It was the first time I'd had a Gold experience. It was beyond my expectations. I had an amazing time. I'm hoping to be able to go Gold again in 2019. Gary suggested that it is a possibly you will be back with Supernatural.

Thank you again for a wonderful convention. Supernatural is, I'm my humble opinion, the best show on television.
Sincerely
C.A.
Once Upon A Time Official Conventions
Thanks for providing B. and I a Once in a lifetime experience during the Once Upon A Time convention.

It was amazing and so nice for my daughter to hear stories from the actors about their struggles and rejections in this crazy business. My daughter wants to go down this road and performs often but entering the teen years brings a different dynamic to the business.   She was comforted to know she's not alone.

So in the end she met some stars and heard their life stories.  It was a very family friendly event.  
Thanks again
R.
The Vampire Diaries Official Convention: Chicago, IL
I wanted to send a thank you to you and the staff, at the TVD Chicago event earlier this month, for accommodating me in regards to my physical disability.  The staff at the event were very kind and did not give a second thought when I expressed not being able to stand in long lines.  Even when I offered to wait my turn, sitting in a chair, the staff had me go through the line, which I know is not something they had to do nor did I ask, but was appreciated.  Paul Wesley was also kind, when I met him for a picture, even when the line was stopped for me to cut in, he didn't give it a second thought.  (Please pass that on to him if you can.)

I know that it is the law to provide accommodations to people with disabilities when requested, but it is not the law to be as kind and generous as everyone was there.  I work at a Center for Independent Living which helps people with disabilities, live independently and advocate for themselves when needed.  In my job, I have had to step in when accommodations were requested and not given.  I wish more people and businesses acted the way the staff did in Chicago.  It was quite refreshing to have people act so kindly even after being asked for an accommodation, which I personally do not like to have to do in regards to my disability because of reactions I typically receive. Thank you again and I hope you have a great day.
Sincerely,
HL
Hello!

I just wanted to let you guys know that this past convention in Chicago was AMAZING! And already planning for next year! (Any hints on when gold/silver tickets may be going on sale ;) — Also super excited to see Joseph Morgan, BUT…still want Paul to come. :( He is a TVD staple! Wouldn't be the same without him. So try and twist his arm and get him to come back…at least for one more time. :)

Also…Mercy Mode was awesome!!!! I love Chase Coleman's voice already…but with his band, it was just incredible. Seeing as it was only their 3rd or 4th show…I would LOVE to see what they can do next year at the con if they can make it back. :)

Thank you for the great weekend! See you next May!
~ A.
Supernatural Official Convention: Seattle, WA
What a phenomenal treat to get to be live in Seattle through Stageit! Feed came through perfectly. No issues. So fun to talk to others.

The show was cute and sweet!  

Really hope you do more shows like this!  

Would be awesome to get to have a special Streaming Live Only show as well ...where viewers at home could ask questions.  

Thank you, Creation, for this opportunity. Was like getting to be there. A real gift for those who can't attend the real-deal. This was the Real Deal  All smiles!
Thank you!
K
Supernatural has been a part of my life since 2006; since then a lot of things happened in my life and for all of it I had SPN to go to; when I was feeling sad, the show kept me together, it helped me to deal with real life and its bad things in a way I can't even explain.

Last weekend I had the BEST EXPERIENCE OF MY LIFE at SPNSEA and it is all thanks to Creation, the amazing AMAZING volunteers, the people from "I'm alive" who offered me comfort after a photo op where I was shaking and crying after meeting people I always dreamed to meet.

So, here a way to THANK all the amazing people involved, thank you SPNFAMILY. This weekend in Seattle will always be in my memories and it'll be forever the best time of my life From: A girl who used to think her dreams could never come true and they actually did.
V.T.
Once Upon A Time: Vancouver, BC
I recently attended my first ever convention: Creation's Once Upon a Time convention in Vanouver last month. My best friend & I decided since it was likely going to be a once in a lifetime event for us we would go all out & bid on the VIP Backstage Pass. The cost of tickets, photo ops, travel, hotel, etc...means we probably can't make this an ongoing thing so we felt fine about splurging to make this weekend extraordinary.

Boy was it ever! We had the time of our lives and met amazing people with whom I

know we'll be friends for a long long time. But what really made our weekend incredible was our VIP handler, Kerri. I truly cannot express how amazing she was. Amazing, fantastic, outstanding...those words do not even come close to describing Kerri. She worked so hard to make sure every little detail was perfect. It seemed as if her goal in life was to ensure we had absolutely the best weekend ever!

I don't know if she is on staff with Creation or simply a volunteer, but either way you need to hang on to her. If she's staff, she needs a promotion & a big fat raise.

The con itself was lovely and I know we'd have had fun no matter what, but it was Kerri's hard work & devotion that made this weekend truly exceptional. Words can never convey how amazing she was to our VIP group.

I happened to see her on the train going home (we took the train to Seattle & then flew home to Dallas) and was thrilled to have even just a few more moments to visit with her. She is an absolute treasure & I hope you are able to reward her hard work & dedication. She deserves it!
Sincerely,
S.M.
Supernatural Official Convention: Nashville, TN
I just wanted to send out a short thank you. Thank you for the long hours, effort, and care you put into the photo ops and making sure we all have a good experience and pictures. Thank you for pushing through this past weekend in Nashville, despite being sick (and having ops run longer than expected on top of it). I  realize it's a job - but I also know just how miserable it is to have to work when you're sick.  More personally - I've always hated having my picture taken because I've never been happy with the results. I've gone to 4 SPN conventions now, and your pictures are the best pictures of me taken, ever. Having them has helped boost my confidence a great deal -- I'm not sure how many people would consider it a good thing that I have *more* confidence now, lol, but I really, truly appreciate it. Those pictures mean a lot to me, so, thank you for being so very good at what you do.
Best regards,
N,
I would just like to let you know that all the volunteers you had at Nashville were so helpful and friendly. It made the con a wonderful experience.

Thank you to you and your staff as well for putting on a good show.

Can't wait to do it again next year.
Cheers,
G.
Supernatural Official Convention: Las Vegas
Sorry I am not sure who to address this to but since we spoke many times I thought I would start here. I just wanted to say thank you to the entire Creation crew, Adam, Gary and all the others that contributed to the Supernatural Las Vegas convention. I took my 15 year old daughter there for her birthday present and she had never been around or seen celebrities before.  She just adores Jared and Jensen and wanted to see them on stage. While we were in line for the autograph session with Jared, she started to go into shock over meeting him. Jared was so nice that when he saw she was having trouble he really did a great job to help me calm her down. He even went so far as to walk her behind stage to meet Jensen on the other side of the theatre. Jensen was so kind and welcoming and she was just in heaven. Because of being limited to mobility scooter for these large events, the guys really helped me to provide her with the best present ever. Please pass on my thanks to the Creation team and a personal thanks to Jensen and Jared for their kindness. Neither of us will ever forget the experience.
Thank you,
H.C.H.
I wasn't able to say this in person on my way out of the Rio tonight, but I wanted to take a moment and thank you for all that you did to make the Las Vegas SPN Convention so special for the fans of Supernatural. The photos are such an integral part of the happiness people experience at these events, and I felt it important to acknowledge your talents as a photographer. Thank you for all that you do!

Safe travels, and I look forward to next year!
Sincerely,
A
Supernatural Official Convention: Chicago
The Chicago convention was the first for my wife and I. we are in our 60s, and frankly, thought we'd be way out of place because of our age. Figured we'd stick out like a sore thumb. That was not the case, and everyone was so welcoming----we had a blast. We attended all sessions, every day, and really enjoyed it all. From my previous work with very large corporate meetings, I am aware of what extraordinary planning and effort it takes to host such a successful event. Congratulations to you all, and thank you.
M
Supernatural Official Convention: Whippany, NJ
Greetings:

My daughter, Charlotte, and I attended the Supernatural Convention at the Marriott in Whippany, NJ.

Charlotte is 12, and has been a SN fan for about a year. When she told me she wanted to attend the convention I agreed to purchase Gold tickets and it would be an early Christmas gift for her.

We had been to BookCon and StreamCon and ComicCon, so I had a general sense of what might take place. Never did I expect what transpired!

Every cast member was charming and generous of time and spirit, and every staff member was gracious, friendly, and helpful.

During the event, many member we encountered went above and beyond to ensure that Charlotte had a great time and got everything she wanted. Never have I been at a fan event where staff treated everybody with such dignity and consideration. In particular, I want to commend Connie, Shelly, Morgan, and Brian Chetta, all of whom deserve to be recognized for their efforts. Please let them know how grateful I am.

Your team did such a great job that we decided to get front row tickets for next year, and we plan to have as good a time then as we just had in Whippany.
Thank you.
Best regards,
R.M.
Dear Creation, Adam and Gary,

We just wanted to say THANK YOU so much for yet another amazing Con!! Everyone was so polite, the volunteers were amazing and all the actors were incredible!! Well done!! You give the fans such an amazing experience, we hope it continues for a long time! Supernatural is the best.

We renewed our GOLD tickets and we are already looking forward to next September!! Hoping you will bring Ruth and Gil back next year along with Kim and Briana!! It was our first time meeting them and they were great and very funny.
Thanks again and best wishes,
Kim, Kelly and Rita
Supernatural Official Convention: Toronto, ONT Canada
I would like to let you know that the volunteers and security were amazing at this past weekend convention in Toronto. They were polite, attentive and very helpful. Our first time attending was memorable and we will be back.
Thank you N.B.
This weekend was truly something magical. Although it was my fifth Creation convention, I think it may well be my favorite of all time, there's just something so special about being there to celebrate Rob. Not to mention the schedule ran as smoothly as I've ever experienced, go Team Creation!
Thank you!
-C.
PS please tell Stephanie she really killed it at the Mic. Really fantastic performance! :-D
The last time we communicated was in April so you may or may not remember me. That's fine. I'm the artist who asked for, and got, permission to sell my original art at the Toronto Supernatural Convention this year. I wanted to write you a note about it. A thank you note.

The experience I had at the show this past weekend was utterly fantastic. The response to my art blew me away completely. I've done a lot of comiccons but that was nothing compared to this weekend. Creation runs an incredible show. Your staff there was friendly and helpful. They truly cared. The volunteers were awesome. The space I had was perfection.

I had friends who were just attending the event. Gold and copper seats. They came to share with me quite a bit about their experiences so I could live vicariously through them. It's obvious your company makes sure the fans are well cared for. From registration to ops to panels to autos, they had nothing but good things to say about the weekend. I could see that even from where I was sitting. The weekend is fandom family.
Best,
P.M.  
Official Star Trek 50th Anniversary Convention: Las Vegas
Chris - wonderful experience and photos as always, but I SO ABSOLUTELY loved the blue-ish background this year, it really made the photos so much more enjoyable than the red. I loved how my photos turned out.

Thank you for all that you do!
Best,
B  
It was wonderful to see how you mostly managed to stick to the schedule, when it was such a complicated schedule. As gold ticket holders, we also greatly appreciated the free autographs not including a lot of people who seem to be among them over and over again - it was definitely the best value we can remember seeing.

Five days was NOT too much. In fact, it still seemed to be over too soon.

The video equipment was wonderful, although I am never sure how much of that is yours and how much is the Rio's. But the quality was great and it was far less intrusive than in the past. The lighting on the stage also seemed greatly improved, for photo-taking.
M
Supernatural Official Convention:Minneapolis
Thank you, Chirs!!! For everything this weekend. Thank you for your patience and understanding. All of our pictures turned out perfect!!!! Thank you for the little smiles after all my pics. Those littlle smiles gave me so much confidence. I can't expain it or why but they were exactly what I needed at that time. I wanted to tell you thank you in person but you were kinda busy. :) I hope you get some rest before your next con. Thank you again!!!!!
I am thankful I was able to be there the past two years. Never dreamed I would ever get to a con. Memories for a lifetime.
Thank you, again!!!! Hugs!!!!/p>
C.
50 Year Mission:Minneapolis
Good afternoon,
I wanted to tell you that the Rat Pack, and Karaoke was the blast. easy the best part of the convention. I enjoyed the entire time.
J.B.
Once Upon Time Tour and The Vampire Diaries: New Jersey 2016
Hi.

Sorry this is a little in coming but I want to Thank you for an awesome time at the OUAT Chicago con. The stars were awesome and Lee Arenberg was a fantastic MC Host (hopefully he will be the MC host next year for the cons). I was there for both days with my sister. We had front row seats. We did all the photo ops and 5 Meet and Greets. I want to Thank Chris Schmelke for the amazing photos (they all turned out great as always), Creation staff and volunteers for the awesome job to make the con such an amazing and fun weekend.

I also want to Thank you for an awesome time at the OUAT NJ con. I only went for 1 day, on the Sunday but had a fantastic time as always. Again the stars were awesome and Lee Arenberg did another fantastic job as MC Host. I did quite a few photo ops and 3 Meet and Greets. Again I want to Thank Chris for the amazing photos and the Creation staff and volunteers for the awesome job to make the con such an amazing time for me.

I had a blast at the TVD NJ con this year. Micah and Chase were terrific hosts as always. Samurai Fish and Adam Malin killed it all weekend (plus at the OUAT cons). The stars were awesome as always. This was my 3rd TVD NJ con (my first one was in 2014). I always have a blast and look forward to going the TVD NJ con next year. I want to Thank the Creation staff and volunteers for an awesome job. Without them, the cons wouldn't be as much fun.

So Thank you for always making the cons fun and awesome, as well as Thanks to Creation, I have made so many wonderful friends.

Love your Canadian friend
C.D.
Supernatural Official Convention: Pittsburgh, PA 2016
Good morning,
I just wanted to send out this email because I cannot express how amazing of a time I had at the Pittsburgh Supernatural convention last weekend. It was my third Creation convention (and second Supernatural one) but it was just so great in every aspect it seemed! The location was nice and spacious where I didn't feel like I was crammed into a tiny ballroom since the hall was just SO HUGE. I loved seeing the guests walk along the skywalks before and after panels too!!! It was just a little thing that made me laugh at their shenanigans while crossing it that you don't get usually. Plus the vendor room was busy and I loved having so many more vendors to what I saw during the Supernatural convention in Toronto last year.
The lines were always running smoothly and I think it helped how organized your staff and volunteers were when it came to questions and directions. Going up and down to the photo op room was kind of nice because it meant the congestion of the photo op lines never really interfered with the panel room or the vendor area. PLUS the super long line of tables for photo op pick ups was great because it was spread out and was always busy but not in a crazy sort of way.
I also absolutely loved - and I mean LOVED - having Brianna and Kim as our masters of ceremonies for Friday and Saturday!!! They are so energetic, funny, and just plain great human beings who really showed how much they loved us like we have loved them through the show and online. I mean don't get me wrong Rob and Richard are GREAT hosts but I guess the great combination of Kim and Brianna being women had a different and cool vibe to it that was completely refreshing. If you ever want them to host again PLEASE DO!! I would love to see Kim and Brianna together more often at upcoming conventions as well! Likewise I loved having FOUR FEMALE GUESTS!!!! They are all so nice and welcoming that I literally cannot express just how beautiful it was to have them there. If you could ever get Genevieve Padalecki or Katie Cassidy (OR BOTH!!) to attend a convention soon I would drop everything just to meet them at one of these! Really I just would love to see more great female cast members (like Kaitlyn Newton, Felicia Day, Erica Carroll, and so many more) at these conventions because it's also so nice and relaxed even if I am surrounded by a few thousand other fans. It never feels overly rushed to meet the guests. I'm proud to say I've already got tickets for three more conventions in the future and cannot wait!!!!
E.K.
The Vampire Diaries: Parsippany, NJ 2016
Creation #TVDNJ Convention was amazing. I had the most amazing time. The staff was very helpful, organized and did an amazing job this weekend. The meet and greets we so much fun I got amazing selfies like the one I am posting. The panels were hilarious. Sebastian Roche had us in stitches. The Karaoke was a blast and so was the concert. Loved the trivia games! Overall an action packed mini weekend vacation. The celebrities were very gracious to us fans. I had such a great time I decided to go to Dallas. Thanks for a memorable weekend!
Thanks,  
P.B.
50 Year Mission: Dallas, TX 2016
Adam,
Thank you for a great Star Trek Convention in Dallas.  I hope you and your team had a safe journey home.
Thank you also for sharing your own story with us on the stage Saturday. The Convention was a thousand times more meaningful after you shared your beginnings as a teenager--it was a such an incredible story!  Please let your parents know that I also thank them for believing in you and your dream with their whole hearts (and pocket books!). 
Like the woman who spoke at the mic on Sunday, I have similar demographics and it was my first convention too.  As a life-long enthusiast, it was a big deal for me to finally take the time to go to a convention.  In the past, I felt too "busy" to take out a whole weekend for something so indulgent.  I purposely bought my tickets early so I couldn't have the "excuse" of being too busy to go.  And, I'm soooooooo glad it was yours (and not a some sort of Comic Con). 
This was a special and meaningful experience for me, because it was a symbol of allowing myself to be who I am, around others who felt the same, and it was an investment of time for to enjoy myself.  I didn't realize this until after the Convention (and I'm still thinking about it) so I thought I would express my thoughts and gratitude to you.
Your life seems wonderful and full so I doubt I could ever return the favor, but to offer to do so all the same.  I wish you the very, very best.
Forever grateful, 
T.D.
Hi,
Thank you, everyone for making the 50th Star Trek Anniversary Convention in Dallas completely excellent!.. You ALL did a great job! I'm a real fan of Creation Entertainment events now, + really glad I tried it out. I hope to attend the Stargate Convention in Sept. I'll tell everyone how much fun it was for all of us who attended...
CONGRATS!
A.F.
Supernatural Official Convention: Washington DC 2016
Hello,
I'm writing this mail to let you now that I had a great time at the supernatural DC convention. I was impressed by the way it was organized. Everything went very smoothly. The volunteers knew what they were doing and you got what you payed for.
This was my first American con and I thank you for making it so great. I hope to go to another Supernatural con in America in the future. Hopefully next year or the year after that.
Kind regards,
K. B.
Hello,
The DC Convention this weekend was my family's first convention to have the pleasure to attend. I wanted to say thank you to all of the helpful and kind volunteers in attendance. The Supernatural Convention was amazing and we will never forget it. Thank you!
Sincerely,
M, N AND D
Hello! I just wanted to say how amazing DCcon was! I had a VIP pass and Thea looked after us so well. In fact, all your volunteers and staff were so lovely and helpful all weekend. Thank you for running such an amazing event!
L.
Supernatural Official Convention: Las Vegas 2016
HI THERE,
I just wanted to reach out to you and say THANKS!  My daughter and I had a GREAT time at the convention and all the people we came into contact with and your staff were very courteous and helpful.  You run a very smooth operation.  We look forward to the next one.
Blessings,
J.P.
Supernatural Official Convention: Nashville 2016
I wanted to offer my congratulations on a successful Salute to Supernatural convention this past weekend in Nashville. This was my first time going to a convention as a solo attendee and my third overall. The volunteers here were super helpful and the lines, both photos & autographs, were very well managed.

I wanted to point out some specific names who stood out among them.

Kelsey & Valerie, the gentleman & young lady who worked the photo-op lines all three days, were both extremely nice & helpful, yet very efficient. They were able to manage multiple lines, some super long, and prevent any mass confusion (as has happened at other conventions). They also kept the lines moving, but were very personable and fun as they did so. I hope to see them working other conventions.

Also, Connie, the "lady in red," was a font of information. Whenever I or another attendee had any questions, she was happy to answer us and did so with a smile and a laugh.

I normally suffer from social anxiety and expected attending this con alone to be a truly nerve-wracking experience, until I got there. Once there, the volunteers & staff, as well as the attendees & guests, made me feel right at home. I had a blast and can't wait for my next con experience with Creation!
Thanks for an amazing trip!
J.
Supernatural Official Convention: Houston 2016
Hello:

You probably won't remember, but I just wanted to say thank you for taking time out of your day to respond back to me. By the grace of God, I was able to attend the convention and ended up having the time of my life. It was the greatest experience and one that I will never forget. I was even so lucky to buy a Jensen Ackles autograph ticket from a lady who desperately needed the money and I desperately wanted the ticket. I am truly inspired by what you guys do with creation entertainment in allowing fans such as myself dreams to come true and I would love the opportunity to get involved with you guys. It was a great way for me to end the weekend (after passing my Texas Life and Health Insurance License Exam the previous night).

Once again, thank you, I realize that you are a busy man and I am grateful because you gave me the chance to meet the cast.
Best,
B.M.
Supernatural Official Convention: Jacksonville 2016
I would like to start off bye thanking you all for coming to Florida in January for a Supernatural Con. My wife and son had a great time at it. Also Susan who ran your Photo table was amazing and was so cool that she had open Vinyl figures for my son to be able to trade for the ones he wanted. I am not sure how many he bought, but I do now he traded with her at least 3 times and it made his weekend getting a few more towards his collection. I look forward to next Year and he will be able to buy and trade more. I thank you for your time and please keep up the great Supernatural cons please
thank you,
C J B
My first Creation event, SPN JaxCon, was better than I could have ever imagined. >From Rich's opening welcome on Friday, to Friday night's Karaoke, to organizing the #KazooNation at the Saturday Night Special, to the hilarious J2 panel on Sunday, and all of the Photo Ops and Autographs in between.

Connie, and her crew of volunteers, ran a tight ship and I would not have been able to enjoy the Con nearly as much without their assistance and support.

Being someone with a condition that falls into the category of "hidden disabilities" (meaning it's not obvious or evident), in my case polymyositis & lupus, can be a challenge. I'm not at the point of needing to use a wheelchair or scooter, but standing/walking for more than 20 minutes or so, leads to significant muscle fatigue and pain.

Although I was initially concerned with how I would be accommodated, I soon learned I didn't need to worry about that, or worry about being taken seriously by the volunteers. They took care of meeting my needs and treating me with respect, and I am grateful for that.

I look forward to future Creation events, knowing that I will be able to enjoy myself without concern. Keep up the good work.
Sincerely,
K.T.
The Vampire Diaries Official Convention: Orlando 2015
Good evening,
I am writing this email to thank you and the volunteers from TVD Orlando! This was my first year attending the convention and I look forward to attending many more in the future. I had a very memorable weekend, it was such a great experience. The entire staff was extremely efficient and friendly and the event was so well organized despite the change in schedule. I cannot say enough good things about the convention! Thank you for the incredible experience,
R. N.
Supernatural Official Convention: Denver 2015
Denver con was great. We went on Sunday, and had a photo op J2M. Very good first experience.
B.
Supernatural Official Convention: Chicago 2015
Good afternoon!!!!
I wanted to write to y'all as soon as possible after to the Chicago Con to thank everyone for all the effort they put in to help us with a situation that occurred due to my inexperience with conventions, since this weekend was our first one. We are from the Nashville, TN area and I purchased the tickets for the Chicago con for my daughter's 18th birthday present long before the Nashville con was announced and I had no idea what the schedule for the con would be and because of this, our travel plans severely cut into the Sunday activities. Once I realized my mistake upon arrival, I emailed the customer service address for Creation and received a very prompt and helpful reply from Sharon advising me to reach out to Stephanie on site and ask her if there was anyway to get my daughter's items autographed by Jared and Jensen before we had to leave to go home at 2pm. I never found Stephanie, but Chris called on Jen to assist, and after that we dealt with a volunteer named Donna, and ultimately with a gentleman volunteer in a black suit (who's name I never caught), who delivered the autographed items to us.

Everyone involved were SO VERY sympathetic, gracious, and helpful with our situation, even though they were all busy with their own roles and responsibilites , culminating with obtaining the autographs of Jared and Jensen for my daughters, especially my 18 year old's violin. There was no reason for all of these people to help me, because as I stated before, this was an error I made on my part because of my lack of understanding in how these conventions work. So, THANK YOU Creation Entertainment to help me fulfill my daughter's birthday wish. You ALL went above and beyond. Please pass my gratitude on to all involved!
Sincerely,
S.M.
Supernatural Official Conventions
I wanted to thank you for the fantastic job that Creation does with the Supernatural conventions. I was recently able to attend the Minneapolis convention, and found it well-run and masterfully done. In fact, I had such a great time, that I and several friends with me promptly bought tickets for the next year's convention. I also bought several photo ops with Jared and Jensen.

By far, the highlight of the convention were the panels with Jared and Jensen. Their chemistry and banter was a joy to watch and ensured that I will be coming back to future conventions to see that panel again.
Thanks for a great experience,
Lindsey Van Beek
Supernatural Official Convention: Secaucus, NJ 2015
We just wanted to write and say we had a fantastic time in New Jersey. The guests were wonderful and we especially had a great time with Travis Aaron Wade (who we never met before) and Gil McKinney. We really hope they continue to stay on the guest list for NJ next year. Big fans of them! We already renewed our 3 Gold tickets for row B. This year we brought our friend Jaye with us, after being a first time convention attendee last year in Whippany we were totally hooked and blown away by our vacation. We got her hooked on the show last year (watched all 10 seasons!) and she came with us. She loved it too and also wants to go back. We tell many people about the Supernatural conventions and have about 6-8 new people buying tickets next year! We also won two video contests this year and plan to make more for next year. Just wanted to say we had a fantastic time and thank you for all that you bring to us fans.
Much love,
K & K Berg
Supernatural Official Convention: Dallas, TX 2015
I bought three day Gold passes for the Supernatural con @ the Plano Centre. Each and every day I was there every representative of Creation Entertainment I encountered was very nice, courteous, friendly and a pleasure to speak with. They went above and beyond to help make sure our experience was amazing.

I will never have the opportunity to attend another convention. Thank you for making the Supernatural 2015 Dallas Convention one I will always remember.
Sincerely,
V.R.
Adam, Gary, and the rest of the Creation team - thank you for an amazing weekend at DallasCon! Truly a wonderful experience - all of the cast was so kind and fun. Misha was a particular highlight for me and my friends, and he was so warm and wonderful every time I got to speak to him - truly an angel inside and out!
Can't wait until next year,
L.
The Official Star Trek convention: Las Vegas 2015
This message is for Adam Malin, everyone at Creations Entertainment and Anovos for making this my best STLV ever!!! I was pick as Best in Show for the cosplay competition!!! I got a chance to have a photo op with Michael Westmore, whose show Face Off inspired me to go all out in making Species 8472. If you could have seen the JOY and EXCITEMENT I had on my face just performing in front of the judges and then winning Best in Show, I had a BALL!!!!

My only disappointment was I missed the opportunity to have a photo op with the Voyager Crew in my 8472 costume, because the tickets were sold out before the schedule came out of when the photo op was done. Even though I wanted to, I'm glad I was not in that costume all day!!!!

I like the new costume competition rules also.
Thank You Again!!!
D.G.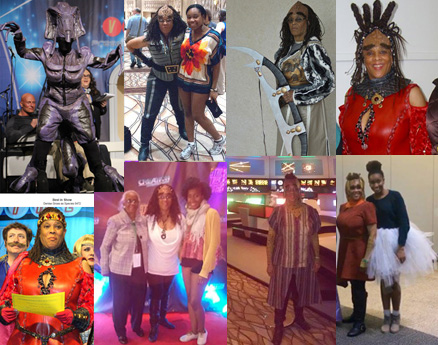 To everyone at Creation Entertainment,
This year was my second Star Trek Las Vegas convention, last year was my first. I would like to thank the team from Creation Entertainment for their convivial nature which was a large part of why a magnificent time was had by yours truly. I would like to specially express my gratitude to the ladies in the Photo Op room just for being their wonderful selves. I would also like to thank Chris for the great photographs he shoots, I might have a silly grin but my eyes are always open, and the atmosphere he creates with music, it always feels like a celebration. I wish I had a tenth of his talent. Last but not least Adam and Gary thank you for another great convention. I have already purchased my ticket and reserved my room at the Rio for 2016. See you next year. Sincerely,
R.B. Lancaster, Ca
Hi. Thanks again for a very fine Star Trek convention as always. My dad came out to the convention this year and he had a very good time.

Your photographer, Chris lives in my co op, what a small world.

I hope Richard Arnold, Nichelle Nichols, Celeste Yarnel, and Eddie Pasky get better real soon.

I hope Avery Brooks makes it back next year and hope he is okay. I'm glad Scott Bakula can make it back when he is not filming his series.

Jolene Balock hasn't come back for a few but hopefully next year. It was cool seeing Sir Patrick Stewart on stage and back on later with his co stars.

I hope George Takei and Bill Shatner can put their feud to rest one day . It was still very nice seeing them.

Your Leonard Nimoy tribute was really very wonderful and it is good to see that his son is keeping busy too

I thank you, Gary, Leticia, Monica, Chris, and all of Creation Entertainment for another very good year . God bless
A.L, Jr.
Dear Creation,
I live in Las Vegas. I have attended every Star Trek Con that Creation has hosted here, and wanted to express some thoughts regarding my experience at this years event.

1. Thank you for adding the second set of large screens toward the middle of the Leonard Nimoy theatre. It made it much easier for those of us seated in the General Admission area to see the activities on-stage (and videos). I hope you do this at future LV conventions!

2. I loved the Voyager Cast Reunion! Thank you for making it happen, and thank you for saying "The hell with the schedule", and letting it run overtime! Fantastic!

3. I like the on-stage band (Sci-Fried).
Thank You!
K.B.
Supernatural Official Convention: Washinton DC 2015
Good morning! I attended the Supernatural Con over the weekend in Washington DC with my son (age 15) and daughter (14), and just wanted to thank everyone involved for a great time! I've been to many comic-book and sci-fi conventions over the years, and yours was one of the most well-organized I've attended. The photo ops went especially smoothly. It probably helps that, unlike at other cons, where 20 celebs can be conducting photo-ops simultaneously, you only have a few to organize at any given time. Still, having everyone wait in the main hall instead of standing in line for hours (as we've done more than once at other cons!) was a welcome change. My kids did the Jared/Jensen photo, and kudos to those guys, as they couldn't have been nicer, during the photo and afterward at the panel, which we enjoyed a lot. I don't know how they keep up their schedule, but they seem genuinely happy to interact with fans and appreciative of their stardom. Not all celebs are like that, believe me!

The panels were fun, the band was entertaining, and Richard Speight really kept things moving. And the venue was very nice! Thanks again for a fun day at the Con. It was a day my daughter will definitely never forget!
J.H.
49 Year Mission Tour: Chicago 2015
...just wanted to let you that I had a wonderful, amazing, outstanding, time at the Chicago trek khan. All the guests were entertaining and fuuny. but the highlight for me was meeting walter Koenig in the elevator, even held the door for him. also meeting my fellow friends and family, I love u all. Bought a gold pass for next year for the big 50 too. Hope we get some good guests and a lot of autographs included in gold pass for next year too. The volunteers and Chris the photographer did an amazing job, thanks chris.
LLAP. GREAT JOB!!!! Creation. :)
J.W.
Supernatural Official Convention: Las Vegas 2015
After some really busy weeks I finally wanna say a huge THANK YOU to you & your entire team for putting together what was the best convention I've attended so far! After last year I didn't think VegasCon could get any more awesome but well, you guys along with Jared, Jensen, Jeffrey and all the other great guests made it happen! Of course I already renewed my ticket for Vegas 2016 and I also convinced some friends to attend as well because, simply put, VegasCon is the best of all your cons! (I had a blast in Dallas too but what can I say, Vegas is just my favorite!)

I'm also looking forward to my first VanCon this year and I'm glad I grabbed a ticket for the famous location tour. I love all the behind-the-scenes stuff and info and since SPN is filmed in Vancouver, would love to hear about that at Vancon too. I don't know if you guys follow the folks from the SPN crew on Twitter but especially the production designer Jerry Wanek provides us with great information and pictures of the fantastic sets and props he and his team are building. A panel with him at VanCon would be amazing, especially in this 10th year of Supernatural because the crew and all the different departments are an important part of SPN's success too and we all would love to hear more about the fantastic work they do! I hope you don't mind me suggesting this, it's just something I'd really love to see.

OK that's it so far; please tell your entire team Thank You for putting together these fantastic events! Creation makes a dream come true for so many fans and I'll always be grateful for that!
Have a great day! Greetings from Germany
A.
Supernatural Official Convention: Seattle 2015
Thanks again for taking such awesome photos this past weekend at the Seattle Supernatural con! I was super impressed with how they turned out compared to other celeb photo ops I've done at other cons.
Sincerely,
C.K.
Hi Creation,

I have a feeling I'm not emailing the right department. I recently attended SEACON over the weekend for Supernatural in Bellevue, WA. I just wanted to give your company a raving review of how awesome it was. Everything went perfectly. You guys were understanding and professional. I did not feel rushed during my photo ops when I was telling the actor how I wanted to pose. The pictures were delivered quickly. Everything was on schedule. You guys rock! I also had attended the Emerald City Comic Con over the weekend and you guys were far, far better than they were. I told my friend I was comfortable and not stressed at SEACON and then I headed over to ECCC and got stressed because they were so disorganized. I am planning on going to VANCON in August and definitely SEACON next March.
Again, you guys rock!
-B.
Wow! What an incredible weekend!! Thank you so much! You really know how to make a unique experience for fans. What you have created is light years better than traditional cons. I had to split my time between Emerald City Comicon and your con and have to say yours is so much better. It blew me away and I've done a lot of cons.

When will tickets for 2016 go on sale?

Also, would you please consider doing a Buffy and/or Whedonverse themed con? There are so many fans I think it would be really successful for you. So many Joss Whedon shows and fans. It'd be incredible!

Thank you and hope to be back in 2016!
Sincerely,
C.K.
Xena Official Convention: Burbank 2015
I also just wanted to add that I thought this was the best photo op experience I have had. You guys kept the flow but were not militant about the process and the pictures were great. It looked like everyone was having a good time (music, laughs, etc) while still moving along a normally arduous process. I was very pleased with the quality and care taken in the photos.
Thanks so much!
Kind regards,
R.
Supernatural Official Convention: Phoenix 2015
I am writing in regards to the Supernatural Phoenix 2015 convention. For years, I had heard of these conventions but I have never had the opportunity to go to one until last weekend. I had an extremely wonderful time there. I want to commend you and your team for putting together such an awesome event.

It was such a great surprise to look at the schedule and see that there were intermissions each day to allow time for me and my friend to get food. Most conventions are so rushed that you don't get time to chill out and rest yet at this event my friend and I were able to find pockets of time to eat and rest. We are so grateful for those breaks, because it allowed us to stop and collect ourselves. (Although, the breaks also lead to us buying two more photo ops as well, so I suppose free time can be dangerous for our wallets!)

The volunteers were nice and helpful for the most part, and I never once felt unsafe or rushed. I was truly impressed at the level of interaction between the fans and the stars. Richard Speight Jr. was a great host, all the panels were entertaining, and our seats (though General Admission) were great.

I had such a wonderful time that literally the only suggestion that I can think to make (and this might not even be something your company could control) would be to create a system so that once a customer pays the photographer for the JPEGs the email would be sent immediately so that there is no waiting period.

I heard a rumor that your company is considering hosting another Supernatural convention here and I really hope that's true. My friend and I have already begun planning it, and will buy the more expensive tickets next time.

Thank you so much for this event, it really made my dreams come true,
N.C.
Salute to Supernatural: Houston 2015
To Whom It May Concern:

This past weekend, January 23 to January 25, 2015, I attended the Supernatural convention in Houston, Texas, with my niece. I have never been to an event like this before. I just wanted to say that I thought everyone did a very good job of making the fans happy and feel appreciated. All of the attendees seemed to be very pleased and satisfied with their experience, including my niece, which of course is most important to me.

I can only imagine the amount of work that goes into such an event. I thought everything ran smoothly and I appreciate everyone's hard work. I also thought the celebrities did a good job of making the fans feel appreciated. I can only imagine how draining such an event could be for them.

So I just wanted to say thanks to everyone, and good job!
K.J.
Good evening gentlemen!

I just wanted to send an email to thank you for the amazing weekend this past weekend in Houston. I thought it was really well organized and even with the switch in the schedule, I thought was pulled off without a hitch!

I also wanted to say that i thoroughly enjoyed the swap in scheduling with the gold panel being later in the day. I've been to a few cons and this was the first one where we had the swap in the scheduling. It was quite the change of pace and it was quite nice! I am also excited to return next year. The hotel was amazing and at previous locations it was cumbersome at times to get food due to the schedule and the concessions that were arranged totally helped that.

Also, I was really hoping to mention that we'd love to see more ladies next year, especially Cindy Sampson and Brianna Buckmaster as well as Kim Rhodes and any of the ladies who have graced the screen.

Thanks for a great weekend and looking forward to Vegas, DC, Dallas, and Houston next year! :)
Thanks,
A.M.
We just got back from the Houston Supernatural convention and I just wanted to say thank you for the opportunity to join in on the fun. It was so wonderful to be a vendor at your event!
F.R.
I wanted to write to you and tell you and everyone at Creation THANK YOU SO MUCH for the convention this weekend! I'm a fairly regular comic con attendee, but this was my first Creation event, and it absolutely blew every other show out of the water. Not only was the programming just wonderful, and all of the guests amazing people, but your staff and volunteers were all such nice, friendly, helpful people. I thanked Ms Connie yesterday, and asked her to thank all of the volunteers on behalf of us here in Houston, because everyone was so amazing. (I'm running out of superlatives, because it's so hard to put into words how absolutely incredibly awesome this weekend was!!)

I was a VIP this weekend, and I especially wanted to say thank you for having Sam be our hostess. She was absolutely the most amazing person at her job - making sure we got where we needed to be on time, helping with any scheduling conflicts, and just being an all-around helpful and sweet person. Since this was my first Creation event, she let me know what to expect and how the days were going to go, and she is simply the best. I've already reserved my seat for next year, and I'm definitely going to go for the VIP again, so I hope you'll have Sam back as VIP host!

Obviously all of the guests were amazing (and, again, the programming was so awesome). Being backstage was such an experience, and being able to spend a few minutes with each of the guests was, quite simply, the greatest. Everyone was so sweet, and really personable, and I think that's a huge part of what makes the event (and the SPN Family, in general) so special. I'm looking forward to seeing a lot of these wonderful people next year (and some new faces, I'm sure)! The karaoke party was a blast, and the Saturday night cabaret was just off the charts! It's such an awesome part of the programming, so thank you again for that!!

I could probably go on for ages, but I'll just say again - THANK YOU! I so look forward to next year, and I will probably become a Creation-con junkie, and start traveling as often as possible to hang out with all of these wonderful people again! So thank you for Creation, thank you for the amazing fun of these Salute to Supernatural events, and I hope to meet you next time around!
Sincerely, A.L.
I attended the Supernatural Convention here in Houston this last Sunday and wanted to let you know that it was terrific! Everyone associated with Creation Entertainment was very helpful both before and during the Convention. I especially appreciated Ms. Sharon Delaney (who helped explain how the purchasing process worked and timely answered my messages), Ms. Jane Haber (who ran the "meet and greet" auctions and, like Ms. Delaney, replied to my emails promptly), the gentleman at the Convention who sold various "photo op" tickets and took time to explain how that process worked, and a volunteer at the Convention from Edinburgh, Texas (whose name I cannot remember---it began with a "C"---you need to track her down) who I bumped into several times during the day and who seemed to take an interest in making sure I knew where to go, when to go there etc. even when I didn't ask. The Supernatural stars, themselves, were all excited to meet the fans, and gave freely of their time. I knew for them and for all the Creation Entertainment people that this must be exhausting work, but there were no complaints, attitude or anything other than helpful people happy to see me. One other person was the photographer, himself, who, together with the Supernatural star Misha Collins, insisted I pose for another shot when it appeared I may have blinked during the shot. Neither had to do that. It's like I must have had "be nice and helpful to this guy" wrtten on my forehead. I always appreciate people who help me, and wanted to express my gratitude and return the favor and hope this note helps them. I intend to be at another one of your events soon.
With Kindest Regards,
/s/ Chris Kennedy
Dear Gary, Adam, and Creation staff,

Thank you so much for another wonderful SPN con! The weekend was phenomenal, and the guys were all so great - especially Misha, whose meet and greet I was lucky enough to attend. He is truly an exceptional person. :) Can't wait for the next one!
- L O
Creation Entertainment
Thank you so much. I attended NJcon and Chicagocon last year and had a WONDERFUL time! It was very well run. I was impressed with how professional and helpful the staff were. Both venues were great! Lines moved quickly. I would and have recommended Creations cons to friends.
Many thanks,
L.W.
Salute to Supernatural: San Francisco 2015
I also wanted to say to please pass word on to the crew (and actors) that everything was run beautifully, everyone was so incredibly friendly. My daughter (and her little brother) will never forget their time spent at the convention.

The professionalism was outstanding. Memories made. Check!
Best.
L C
Star Trek Offical Convention: Las Vegas 2014
Hello!
Here are a couple shots from STLV. Love going to the convention every year and making great new friends. Creation is unsurpassed in their ability to turn an everyday venue into an unforgettable experience. I've been impressed with their exemplary customer service! I know you just asked for photos but I wanted to pass on the compliments :)
Sincerely,
K.K.
Star Trek Offical Convention: San Francisco 2014
My name is Joe and am just writing to let you how much I enjoyed the Star Trek convention at the Hyatt Regency thsi past weekend. The time went by so fast - it seemed liked I just walked the door Friday morning and then it was to leave Sunday night after I received Ethan Phillips autograph. I meant to say this in person to you as I past you on the way out the door. Your staff is always so accomodating to me whenever I have a question and I am looking to ordering the "JPEG" of the pictures I had taken. Would you believe that I had 12 pictures taken over the 3 days. I am certainly looking forward to December 9 - 11, 2016 when you return. I know the time will be well spent on your part lining up different people to attend and thanks again to you and your staff. Happy holidays
JN
Salute to Supernatural: Toronto 2014
Your convention pretty much made my *year*, and I just wanted to find a way to let you know. I know everyone is quick to make their voices heard when they have a complaint or request and I strive to be one of those who also try to also pass along praise when it's warranted, something there never seems to be enough time for in our hectic schedules. Not knowing your face at the time I know that I personally asked you about a conflict between my Sam costume contest entry and a photo op, and you were not short with me because you were too busy running an entire convention, you gravely listened to my question as if it were the most important thing in the world at that moment and then told me which I needed to do first. I can't tell you how much that means to me.
CC
Star Trek Offical Convention: Seattle 2014
My son and I just attended the Seattle Star Trek convention. We had the pleasure of having the VIP tickets. (Thank you for that auction. It makes the experience so special particularly for Will, my son. We did it in Chicago as well.) However, I wanted to write to tell you how great the convention was!!!! It was fun, ran so smoothly and professionally, and was just great. The staff was amazing. I watched Richard orchestrate it so fantastically. The gentleman who I believe was heading up security was unbelievable,so kind and professional. The sound guys really were great as well. I heard many people hope for more Seattle conventions as theY had such a good time. Now I flew all the way from South Carolina, so I know that we could use one closer my way too! We have some nice resort towns on the coast and a nice capital city Columbia with a great airport but of course Charlotte NC is the big city in the south, ha!

Anyway, thanks for the wonderful time in Seattle. Will and I will be at the Star Trek convention in Chicago. I just have to keep my eye open for the VIP auction. We have our tickets but he can' t handle lines. Oh I was too late for this years Las Vegas and missed the gold tickets so that would keep me from bidding on the VIP so I will have to be faster on Las Vegas 2016, right,ha!
L,
Star Trek Offical Convention: San Francisco 2014
Thank you for making my first Trek conference so memorable and enjoyable — it was clear how much effort you had put into organizing and moderating the event. Truly appreciated.
Regards,
A
My wife Sue and I attended the Star Trek San Fran convention this weekend and wanted to pass along our appreciation to you and your team for another awesome job.

We had a fantastic time and look forward to seeing you guys at the Vegas convention next year.

Take care and safe travels,
Dave S.
Salute to Supernatural: Vancouver, BC Canada
Just thought i'd add that I was lucky enough to have been to my first Creation convention this year at Vancouver. I had such an amazing time that I have already booked for Toronto next year. I would like to thank everyone involved in making Creation by far the most organised and fan friendly convention around.
Best wishes
A.B.
CREATION ENTERTAINMENT
Thanks, Jane, and be sure Adam and Gary know how much I appreciate their personal attention. It's no wonder Creation is the best around!
Warm Regards,
E.
Salute to Supernatural: Burbank, CA
Just wanted to thank you and tell you that my experience at Burcon 2014 was amazing. Everyone at Creation and all the volunteers were tremendously helpful. I ended up tooling around in a cart when my walker was lost on the bus. Everyone, from the teenage fans to the vendors to the stars were kind, considerate and a pleasure to be around. 2014 has not been a good year for my family and this trip definitely made my year… Now, I have to figure out a way to get my very jealous daughter to a Salute to Supernatural Convention in the future…. Once again, thank you so very much.
J.
Salute to Supernatural: Chicago, IL
Um, you guys are ROCKSTARS!!!!! I had an unbelievably good time!!! Well worth every cent. This was my 4th Creation con but my 1st Supernatural one. You guys seriously took the roof off that place. I love the venue, I loved all the staff I met. Again, if I can sing Val's praises and the volunteer Amanda Kotsky. They are the only ones that I know by name but seriously every staff or volunteer I met this weekend was amazing. I saw you I think briefly Gary but you looked very busy so I didn't come introduce myself lol.

I REALLY hope you plan on returning to the Hyatt in Rosemont again next year. That's a perfect venue for an event that size. (maybe I'm a bit selfish too because after this weekend I earned enough points on my Hyatt rewards to stay for 2 free nights so I plan on using them next year LOL) Also, I wanted to praise you guys on somehow keeping the schedule pretty close to target. Or at least as far as I noticed it seemed to run like a well oiled machine. Your guests were great. I cannot imagine anyone coming to an SPN con of yours and walking away disappointed. It was truly awesome.

Thank you all, truly from the bottom of my heart for all that you do. This has been my favorite Creation event to date and I do plan on attending another SPN con!!!! Thanks again!!! :-)
Best Regards,
B.E.
Salute to Supernatural: Toronto, ONT Canada
Hi!

My sister and I were at Creation's Salute to Supernatural convention in Toronto earlier this month. I don't want to waste too much of your time, but we really wanted to email you and just say thank you so so much for running these conventions! We both had the very best weekend of our entire lives, and were able to come out of it with a whole new perspective on a lot of things. Being able to be in the same room as hundreds of other people who love the same thing that you love and totally accept you for who you are is probably the most amazing feeling in the world. We were lucky enough to bond a bit with a few of the actors over the weekend, and the comments that we got from them, together with the atmosphere of the fandom and the friends that we were able to make was enough for us to completely change the way we look at ourselves, and has allowed us to make the move to not only accepting, but loving ourselves as we are. I don't mean to be long winded and sappy, I just felt like we needed to thank you so much for making this experience possible.

P.S. We're definitely getting gold tickets again for 2015!
Thank you x a million
M&S
I just wanted to take the time to thank you for a wonderful weekend. My husband and I accompanied our daughters to the SPN Convention. We enjoy Supernatural, but we did not realize how much we would enjoy the convention. I would like to pass on a huge thank you to everyone who appeared, but most importantly to Richard and Rob. All of the stars we gracious and entertaining, but I was particularly amazed by Richard and Rob's multi-faceted talents, and their energy.And their warm camaraderie was very special too. I am amazed that Rob can perform as he did, for an entire weekend, only a year after a serious medical crisis. That they do this once, sometimes twice, a month, and I just wanted to be sure everyone knew how much we appreciate their talents and that they take time away from their families to be with us. Overall, we all had a fabulous time and made a lasting family memory - with teenagers that is very precious indeed! Finally, I'd like to give a huge shout out to Val. I imagine her job must be VERY challenging, and yet she never lost her temper - in fact she was always cheerful and funny when addressing the group, and kind and patient when fielding individual questions. So please tell her "thank you" from me. We had thought the convention would be a "once in a lifetime" experience, but considering how much fun we had, you might very well see us again.
Thank you,
MB N
Salute to Supernatural: Dallas, TX
Hi - Just wanted to send a quick note about VIP in Dallas. It was AWESOME! :D Having the food and table backstage really gave us a place to hang out (and put our stuff). And the private room for the meet and greets worked out well. I think it even made the guests more relaxed. :) Samantha was absolutely fantastic and I hope to see her again.

The con as a whole went very well, thanks for all the hard work!
D.B.
Salute to Supernatural: Whippany, NJ
On Sept 5-7 my husband and I attended the Supernatural Con in NJ.

I just wanted to say "Thank You" to Creation and all the volunteers who made it such a great weekend for me.

I am in a wheelchair and I was worried I would not be able to attend at all, that the whole experience would be too painful. Instead I had a wonderful time — and most of it was because of the fantastic Creation staff and volunteers who helped us throughout the weekend.

I would particularly like to thank:

Connie for all her help and encouragement throughout the whole con. She was just fantastic!

Tara DeAngelo for her help in getting autographs — she really helped us, especially with the hour long wait in line. She also helped get us in and out of our aisle past the video camera (we had to move chairs every time).

Morgan and Charlie – helped us a lot with maneuvering around fans and in getting my wheelchair in and out of the ballroom. They both helped with getting obstacles out of the way when we got stuck.

In the photo room Gloria was a HUGE help. She helped me in and out of my wheelchair so I could stand for my photos. (Something I did not think I would be able to do.) It meant so much to be able to stand for my photos, even if it was only for a few minutes. I don't think I could have done it without Gloria's encouragement and help.

I'd also like to thank Ava at the photo op line — she kept some over eager fans from crashing into me in the Sunday photo op line. She got them all to move back and helped get me to the front. She was really awesome at keeping the line organized and moving smoothly.

Traveling to NJ and attending the Convention was extremely physically difficult for me. It could have been a terrible, painful experience. But thanks to my husband and your great volunteers it became one of the best experiences of my life and the best anniversary present ever.

I wont ever be able to travel to a convention again, but if Creation ever has a Supernatural Con in Cleveland please sign me up for the front row!
K.A.
I just wanted to tell you once again thank you for an awesome convention weekend. I had so much fun and I thought the volunteers were so nice and helpful. I am not sure of the one girls name at the door in the photo op room but she was very sweet, of course Gloria is awesome in the photo op room she is really amazing. The cabaret was one of my favorite parts so glad you guys added that! Louden Swain/Elastic Waste Band awesome really!

Thanks again for the most amazing weekend!!!

See you in vegas and next year I am doing my first Vampire Diaries NJ con can't wait!!
Take Care,
T.
I just wanted to write and say thanks a ton for making yesterday possible. Had a great meet and great with Jensen, and it was such a great experience getting the chance to finally meet him. Please pass along my gratitude to everyone involved. It meant a lot to me.

Your team was very professional and made sure everyone got a chance to ask their question. This was my first con, and I'm going to make sure to free up my schedule for next year's NJ dates.

Again, greatly appreciated!
Best,
T.W.
Days of the Wolf: Chicago, IL
Hi Creation! Thank You so much for this year's Day of the Wolf Convention! It was totally kick butt and so much fun! Thank you for all the hard work you guys put into this convention and everyone who went absolutely loved it! We loved it so much that we ask that you guys please bring it to Chicago again! This was such a great experience for me and for others, so if you can, please bring the convention to Chicago so more people can enjoy it!
Thank You,
D.A.
The Vampire Diaries Official Convention: Dallas, TX
I just wanted to congratulation ALL your Creation Entertainment staff and volunteers who made the Dallas Vampire Diaries convention such a success. We absolutely loved every minute of it. My daughter and I came as gold patrons, and this was the third convention I have attended. (My prior conventions have been with Twilight.) Anyway, there were a number of schedule changes with the stars which I am sure created havoc with the agenda; however, your people adapted quickly and kept everything flowing as smoothly as could be. There were a lot of attendees and everything was completely *magical* for my daughter and I. Thank you so much!!!

Once again, bravo to all of your staff. Keep up the great work.
A.G.
Star Trek Official Convention: Las Vegas, NV
Dear Adam, Gary, and the staff of Creation Entertainment,

As a six-time attendee of Creation Star Trek conventions (Las Vegas 2011, 2012, 2013, 2014, Cherry Hill 2012, and Chicago 2013), I just wanted to take the time and reach out to say thank you for all your hard work and the extra effort that went into this year's Star Trek Las Vegas convention.

It was far and away the best Las Vegas convention I have attended. The extra bells and whistles - the Guardian of Forever, the Transporter, the Promenade, Quark's Bar - were welcome additions and I hope that they return next year. They provide fun additions for fans and convention attendees to enjoy, and to give us the opportunity to make the most of every moment that we spend walking the halls of the convention sharing our love for Star Trek.

In addition, I thought Five Year Mission as the house band were excellent, and I would encourage you to consider having them return next year as well. Their music was a fun way to fill pauses in programming and keep the energy up in the main theater.

All in all, I remain thoroughly impressed by Creation's Star Trek conventions and look forward to next year's Chicago and Las Vegas conventions, and the big 50th anniversary conventions in 2015.

Keep up the good work!
Sincerely,
A.P
As soon as we saw the door to Enterprise's bridge on the stage, we knew we were in for a treat. The Gold dinner on Thursday night was delicious and our group had a wonderful time enjoying each other's company, the beautiful view, and the music from our favorite Star Trek musicians. Yes, we even tried the Rio's version of the warp core breach and loved every sip! :O

We've been coming to your convention in Las Vegas since it started and have seen most of the stars many times. Like everyone else, we have our favorites. We truly appreciate your efforts to get the new cast members as well as other folks involved. It was an absolute delight to hear from Harlan Ellison this year - especially when he told one of the "professional questioners" (that guy is always first at the microphone!) to stop talking and ask the question. Some of us in the audience wanted to give him a standing ovation just for that! Different voices are always interesting.

The fun freebies in the convention center's hallways were not only a great way to get memorable pictures; but, it was fun to people watch and see the variety of poses for each "action shot" on the Guardian of Forever and the transporter room. The gal doing the character drawings of fans was really a gifted artist and did a great job under pressure of the long lines that awaited her each day -- a testament to how much everyone loved getting their picture done! Listening to Star Trek music as we walked down the hallways certainly made everything seem a little more focused on the reason we were all there.

One special moment came unexpectedly. We were listening to the panel discussion about Star Trek: The Experience. Suzie Plakson began the presentation talking about what happened when she hosted the decommissioning party. She said that as the curtain for STTE came down there was total silence and everyone raised their right hand in the Vulcan salute. Having been to the grand opening of STTE and attended many Creation parties there for the conventions, it was easy to close our eyes and be transported to the scene through Suzie's words. The folks on the panel did a great job giving everyone in attendance an overview of what STTE meant to all the patrons and Star Trek fans who visited.

Most of all, thank you for bringing the Las Vegas Pops Orchestra back for a lovely concert that included the Star Trek themes and music we've come to love and appreciate. The "Suite from Inner Light" is one of the best pieces of music in the Star Trek collection, and the Orchestra did a stellar job. Our only disappointment was that we couldn't get them to stay longer and do a few encores. ;-)

Dessert party? Fabulous! Music by Five Year Mission? Fun and fabulous!

It will be difficult to top all the hard work that went into this convention; but, we're sure your team is up to the task. Congratulations on a job well done, and many thanks for a memorable weekend. We look forward to seeing you in 2015!
R. and S. K.
Hi,Adam. I like to thank you,Gary,Leticia,Richard,Sharon,and the rest of creation entertainment for a very fine star trek convention weekend.

I'm glad you bought back the bingo game. I missed it last year. It was a lot of fun and someone from my table won prizes.

Kudos to William Shatner for coming on an injury. He had good stories to tell and even made fun of himself. He joked with the audience. Here's to hoping he'll heal from his injury soon.

I hope Avery Brooks is feeling better and will be back next year. Happy belated birthday to George Takei. I missed him this year. Harlan Ellison was great and funny. I'm glad he came back and had fun reading his teleplay for the city on the edge of forever.

I hope you all had a safe trip home and looking forward to doing it all again next year.
Proudly yours truly,
A.L., JR.
P. S. Please pass along my sincere thanks to your wonderful staff.
I don't have everybody's email. Thanks.
Jane,
I just wanted to give you some feedback of the event - it was fabulous and i loved it. I understand that you were not in convention so i just wanted to drop this note to you.
Lots of fun and will be looking forward to next year.
d.
Just want to say the convention was fabulous. Truly great and the Props were awesome.
Thank you
S.L.
Thanks for another great Vegas Star Trek con. It's been a rough few weeks for me and as always this community gives me a lot of strength and faith in the world. So thanks again for all you do.

Adam, I wanted to also say you are a fantastic interviewer. I very much enjoyed your moderating.
Best, J.B.
I just wanted to take a minute (while having a cup of coffee at Quarks before the auction) to tell you how great of a time we are having!

I live way down in Orlando. I started coming to this con in 2006 every year. Then I decided to skip to every other year because the Hilton was getting disappointing. So I skipped 2011 and 2013. However, the extras this year like Quarks and all the photo opportunities and props around, Five Year Mission, and all the great guests has thrown me over the edge, and I'll now be back to every year! I'll be renewing my Captain's Chair and even adding some more, as I want to bring some more People because its been so impressive this year. All the little extra additions have really gone a long way in providing fun and enjoyment. Keep up the good work!
Thanks again,
SC
Good afternoon! I just wanted to send a quick note to say thank you all for your hard-work and dedication over the last weekend at the Vegas convention. This was my first convention experience of any kind and first time in Vegas, so it was a lot to navigate! I was warmed by the outpouring of support and positivity from everyone involved. The staff and volunteers at Creation were phenomenal in ensuring we had a good time. When I had a red eye flight to Toronto to catch last night, Valerie ensured I had the autographs I needed before I left. Thank you for helping to make this a fantastic experience for my first convention and I hope to see you all again soon.
Take care,
L.H.
The Vampire Diaries Official Convention: Parsippany, NJ
I am sending you this email to express my gratitude for the great time I had in Parsippany, New Jersey for The Vampire Diaries convention. This was my first time at The Vampire Diaries convention (my first convention ever was last year in Chicago for the Stargate convention, where I also had a great time). I had a Gold Weekend package and I was lucky enough to win the VIP pass in the online auction. All the celebrities were amazing. I love all my photo op pictures as well as getting all the autographs (I did all the photo ops and got all the autographs). The Friday night Karaoke party with Micah Parker, Paul Telfer and Chase Coleman with the surprise appearance of Todd Stashwick was an incredible and rocking night. The Masquerade Ball was fun too. I would like to also thank all the hard working volunteers who were there, like Connie and Rachael who took care of us in the VIP room, as well as all the others (I don't remember all the names). I expressed my gratitude to each of the volunteers but I also wanted to let you know as well. I will be coming back again next year for The Vampire Diaries convention (I got an even better seat for next year since I stuck around to do the upgrade). I have the Stargate convention in Chicago next month and the Supernatural convention in Whippany, New Jersey in September that I am looking forward to. Keep up the great work and looking forward to attending more conventions in the future.
Sincerely, C.D.
Hi,
My cousin and I attending this weekends nj convention and loved it! We just wanted to know how we can do meet and greets next year and when those go on sale, etc. please let me know as we want to plan well in advance this time and want to make sure we don't miss out on anything. Thanks so much! Great convention!
JD
No worries! I knew there would be a lot of emails, so thank you for getting back to me! We ended up not going to pre-register but did get to purchase a photo op with Ian Somerhalder when we got to the convention. I don't know how you all did this, but you did a fantastic job rescheduling the events, photos and autographs!! We had a wonderful time and will be back next year. Thanks for all your hard work! We really appreciate it!!
All the best,
T.A.
I just wanted to take a moment to let you know what a wonderful experience this past weekend was. This was the 3rd year I have attended TVD NJ and this was by far the best. I was very worried when Ian had to switch days. I thought it would be mobbed and crazy. I'm sure many people were very upset but it worked to my advantage and I was able to get all 3 photo ops with him. Thank you for offering the additional sandwich photo...worth every penny and Ian is always wonderful to his fans!

Karaoke was an unexpected great time! Micah, Paul & Chase were outstanding and made the night one that won't be easily forgotten! Having Todd show up in the middle was such an exciting surprise! Easily one of my favorite parts of the convention!

Thank you to Stephanie for putting together a great schedule last minute! I truly enjoyed every part of the weekend - except when it was time to leave! I have wonderful new memories & met a lot of great new people as well!

And a quick word about your volunteers.... There were so many helpful, great people that volunteered their time. They were all a pleasure to deal with! I didn't catch everyone's name but ladies like Ava and Nicole that were manning the lines for photo ops were amazing with all the guests!

So in short...thank you, thank you, thank you! I could not be any happier with this past weekend!
See you soon!
Sincerely,
N.M.
To whom it may concern:

I am not sure I am writing to the correct e-mail address - however, if at all possible I would like my e-mail to be posted for the people of CREATION ENTERTAINMENT.

My family, including myself, sister and niece attended this past weekend's VAMPIRE DIARIES CONVENTION in Parsippany, New Jersey. I want to give a sincere THANK YOU to all the hard working volunteers that devoted their time to help make the 2014 CONVENTION a pleasant experience for all attendees.

I would like to give a special call out to Erika of Maryland (and her mother, whom I found out later also is a volunteer). Erika helped with a situation with some unruly teenage girls that were seated directly behind us. She had the unfortunate task of telling these girls to act properly and to stop the use their offensive language that was being screamed out loud at the guest actors.

There is also, Connie of Arizona, another very helpful volunteer that my family actual met at the 2013 VAMPIRE DIARIES CONVENTION. Connie goes over and above to help the convention attendees.

On behalf of my family - once again, THANK YOU to all the volunteers for making the VAMPIRE DIARIES Convention 2014 a great experience for myself and especially my niece, who truly is a big fan of the all the actors that are part of both TV shows which now includes the ORIGINALS.
Sincerely,
C.
Star Trek Official Convention: Boston, MA
My wife and I would like to express our appreciation of the wonderful convention in Boston. Your hosting was informative, gracious, and respectful of the audience--and your knowledge of the "Trek" series was most impressive! We especially enjoyed Max Grodenschick and Aron Eisenberg's hilarious interaction, and Max was very gracious chatting with us on our way out, as well. We also liked the interaction of Connor Trinneer, John Billingsly, and Dominic Keating, and I had a very cordial chat with Mr. Keating. Terry Farrell was gracious and connected well with the audience, even fighting a bad cold! The overall atmosphere of the convention was friendly and welcoming--and getting Nana Visitor to come in at the last minute was most welcome, as much as I missed seeing Avery Brooks. So, thanks and good luck with your work!
Best regards,
Ron Pies and Nancy Butters
Lexington, MA
Salute to Supernatural: Washington, DC
I just wanted to take a moment to thank you again for the wonderful photo ops I got at last weekend's Supernatural DC Convention. I had 5 different photo ops and everyone of them just came out better than I could hope for. I really don't like myself in photos but your expertise made me actually happy to show them. I love that you caught the stupid way my mouth happened to be during my photo op with Mark Sheppard and you called me back right away for a retake. I think it is just amazing how you can pick up on something like that so quickly when you have so many people to move through in a very short amount of time. It is a testament to just what a talented and professional photographer you are.
S.L.
The Vampire Diaries Official Convention: Chicago, IL
Thank you Creation Entertainment's organizers, volunteers, and all staff. You put on an unbelievable convention and this fan is truly appreciative. Assigned seating, and organized lines to each autograph and/or photo op is a huge plus and we appreciate your hard work to put this all together for us.

I really enjoy personally meeting the actors from my favorite shows and can't wait to attend more of your conventions.

My only suggestion (aka wish) would be to have you put one together for the tv show Charmed.
with many thanks,
S.b.
Star Trek Official Convention: Cherry Hill, New Jersey(Philadelphia Area)
This year's convention was great! My compliments to the organizers, staff and volunteers. My husband and I really enjoyed all the guests and the events. You all really work to make it enjoyable for the fans. We look forward to the 2016 convention.

I was wondering if Alexander Sidig might attend a future convention? We would really like to see him.

Again, thank you for a great convention.
C.
Creation Entertainment
Once again I am so impressed with Creation Entertainment. I am treated as an actual person not just one of the masses. Thank you for the update on my order. Your attention to your customers is outstanding.
I.B.
Days of the Wolf: Burbank 2014
Not sure if this is the right place to send this… I just had to let you guys know how much I enjoyed Days of the Wolf in Burbank. I've always been too nervous to go to a con because of all the horror stories I've heard, but because it was Teen Wolf, I wanted to go so badly. Once I read about how you run things, with guaranteed seats for everyone and no cheap gimmicks or tricks, I finally decided to go. That gold package was worth every penny, and I had the greatest time there. If I knew what my life was going to be like next year I would have renewed my gold package in a heartbeat! Thank you guys so much for putting together an awesome program!
E.T.
Salute to Supernatural: Las Vegas 2014
Dear Gary:
I wanted to let you know that I had an awesome time at the Supernatural Convention in Las Vegas over the weekend.
I wanted to commend the following volunteers. They went above and beyond what was required of them. They always had a smile on their faces and were pleasant to every one even the ones that were rude and angry: Connie, Val, Chris and Rachael.
In Photo Op room: Kim, Gloria, Angel and Chris the photographer
Sincerely
D.T.
Salute to Supernatural: Burbank 2013
I would also like to say that this Convention was fabulous. The staff was extremely nice, and each guest was a pleasure to talk and listen to :)
Thank you so much,
F.G.
The Official Star Trek Convention: San Francisco 2013
RE: CREATION PHOTO OPS
Just wanted to thank you for all the great pictures you have taken over the years. You are the Best.
W.W. Live Long and Prosper.
Salute to Supernatural: Burbank 2013
But really, thank you again -- after years of going to San Diego Comic-Con and big multi-property events where literally nobody cares if you even make it to the convention once you've bought your pass, I was so impressed with the personal commitment and amazing energy coming from all the staff this weekend. It really was so much more than I expected!
-Jane K.
The Official Star Trek Convention: San Francisco 2013
I would like to start by saying that I had a blast this past weekend! Thank you!! My first convention was last year in SF and, without having anything to compare it to, I remember being very impressed with how well it was organized and how nice and helpful everyone was (volunteers, employees, celebrities... everything) - It was just an overall fantastic experience! And this year, same thing... so, again, THANK YOU!

I had a quick suggestion... I recently discovered an amazing band, Warp 11, a Star Trek themed band. They performed recently in Sacramento and they are so much fun! I talked with several attendees this weekend and when I mentioned the band, most of them knew who they were and love them as well :) Just thought I would throw it out there, I would love to see them at a future convention!

Keep up the fantastic work, and I am already looking forward to the next convention I can attend!
Thanks,
K
I am just writing to let you know much i enjoyed the Star trek convention in San Francisco at the Hyatt Regency this past weekend. It is always so well organized and everyone is so well accomodating to me. I am looking forward to next year when it returns to the Hyatt in December 2014. I admit that I forgot to submit my request for the same seat next December but am hoping the seat is still available. i always go "GOLD" as it is money well spent. Thanks again for the always enjoyable time.
J.N.
Salute to Supernatural
I wanted to take a moment to comment on the quality of your photo ops. I attended a convention this month, where a company (who shall remain nameless) offered photo ops in the same manner as Creation does for their conventions. Having been to my first Supernatural convention earlier this year, and now a 2nd, non-Supernatural convention, I was truly disappointed with the results of the other company in terms of focus, color quality, etc.

Further, because I'm trying to get into photography myself, I asked you a handful of questions regarding camera specifics, tips, tricks, etc., which you answered patiently and as someone who truly wanted to share the information. When I asked the other company similar questions, their responses were...not as nice.

So thank you for all the work you do at these events. Your photos (and attitude) are leaps and bounds above the competition!
Regards,
E
Salute to Supernatural: Dallas 2013
Hi my name is Renee. I was the fan at Dallas con that you helped out to get the Rachael minor autograph. It meant the world to me! And it made my weekend too. Thank you so much for it! See you in Vegas!!
R.K.
Salute to Supernatural: Chicago 2013
I would just like to thank you for making my first con the best experience it could have possibly been. Everything was perfect, everything. All the actors were incredible and so fun to talk to. Even your workers were great, especially Val and someone with the initials of S.W i think her first name was Shannon but i don't remember. Well thank you so much for planning the greatest weekend of my life and hopefully i will be able to come to more:D have a great night!!
BDM
Salute to Supernatural: Toronto 2013
I attended the Supernatural Convention in Toronto this past weekend. It was my very first convention and I would just like to thank you. Wow you guys are truly amazing. I had the best time of my life and truly could not believe the experiences I had. I want to thank you for all the hard work you put into these conventions to make them possible. Truly can't thank you enough for making my first convention an unforgettable experience. Your staff and volunteers are fantastic. Hoping I am able to make it next year.
E.M.
I attended the Supernatural Toronto this last weekend, it has been my 3rd Toronto Supernatural convention. I wanted to say how much I enjoyed it!
It keeps getting better and better! While I really have liked the other 2, the new venue was great! And the fact that there were so many new people there was also great. It got the energy up. The guests were all wonderful and myself and friends were all laughing so hard at the panels.
We really enjoyed Richard Speight Jr. hosting the entire weekend.
Also, we really liked the way you all did the photos for both Jensen and Jared on Sunday, by ticket number. That worked really well. I would suggest also doing that for Misha on Saturday since his line was very long as well.
I wanted to say just how great all the staff was, they were helpful and nice. And even though they were not there I wanted to say just how grateful I was to both Sharon and Jane. They were both very helpful to me personally. Sharon was super sweet in sending me my tickets when I couldn't find 2 of them and Jane was very patient in explaining to me how the meet and greets works and what the process was in bidding. I was able to go to my first one with Jensen on Sunday.
I am looking forward to next year!
Lastly I would like to recommend doing a Vampire Dairies convention in Toronto. I know most of my friends would love that and would be there with bells on!
Thanks again,
M.C.
Salute to Supernatural: Dallas 2013
Good morning, Chris.
My daughter and I had a blast at the Supernatural Dallas Convention. Great mother daughter trip!
Thanks. Hope to visit another Supernatural Convention next year!!
Cheers,
L.G. A.
Salute to Supernatural: Toronto 2013
I just wanted to thank you again for the amazing convention this past weekend in Toronto. I've attended every Supernatural con in 2013 other than Dallas, and this is by far the best one to date. I appreciate all the hard work that went into making it a special experience for the fans. The volunteers were all especially friendly and helpful, the Misha M&G was great as always, I loved the organization for the J2 photo ops, and Gary, a special thanks for allowing me to use one of my Misha ops on Saturday. That meant more than you know. I was worried about the change in venues from past Toronto cons, but the hotel was great too!

I was wondering if you guys know yet if Misha's travel schedule will allow for additional photo ops in Chicago? In any case, I am definitely looking forward to Chicago & Burbank, as well as 2014. I can't wait to experience the new cabaret. That was a terrific idea and sounds like it'll be a great addition to the cons.

Again, thank you for everything & see you soon!
D.M.
Dear Creation Staff,
I just arrived home from the Supernatural Toronto Convention. It was my first convention and I have to say, I was very impressed. On Saturday, I missed one of my photo ops. I spoke with Val and she was amazing. After looking at the schedule, we figured out a way for things to work out. On Sunday, Gloria helped me get my photo op without any fuss. Everyone was so nice and accommodating all weekend. Thank you again for all you're hard work. It shows!
S.P.
The Official Star Trek Convention: Las Vegas 2013
Dear human,
I know I'm a bit late with this and I'm sorry, but I just want to say how very much I loved my four days at your star trek convention in las vegas. I especially loved the show you put on to end it this time, I cried and smiled and clapped and cried some more. I do hope we will have that same show in 2014. I am hooked. went once in 2011 and can't stop! I have to make it every year now, they are the best four days of my year.
THANK-YOU.
LLAPY.
Salute to Supernatural: Dallas 2013
I just wanted to write to you and tell you how amazing Dallas con was for me! You guys made this the best con ever! After having a disaster trip to the con it was amazing how nice everyone was. I was lucky to get VIP with my friend which just made the experience more enjoyable! I went big this con since it was my 50th and I got to admit how glad I am. Everyone was amazing! Your volunteers are the best and so are Stephanie and Valerie. We had lost our luggage for 24 hours and it was amazing how everyone kept asking about it. Thank you again for a wonderful con! Wish I could do Dallas next year but doing NJ instead. Thanks again for the best weekend of my life!
J.L.
Since my first Creation convention in Nashville 2012, I've been to 5 others and have a gold ticket for DC next year. I was amazed when I discovered Creation and how it worked. As a teen I had a fetish with "movie stars" and there was no way of interacting, but with your company, you have made so many dreams come true that I have to say thank you from anyone and everyone that has ever attended a Creation convention.
You've made many people very happy.
Sincerely,
S.H.
I just wanted to thank you for the awesome time this weekend. Judy and I had a blast and her 50th birthday celebration was even better spending it with creation and spn family. Even though we had a crazy first day with lost luggage, it didn't hold us back from having a great time.

I wanted to also tell you that the volunteers were absolutely amazing. Gina made our vip experience awesome she is just amazing. She was always very helpful when we needed anything she there was for us. Making us feel like very important people lol. This years vip experience was even more exciting than the one other time we did it in jersey and I really think that Gina being our to go person made it especially even better!!!

Shauna who was assigned near the photo op room was always smiling and very helpful. Gloria who I know from the new jersey con is just awesome so friendly again and just very helpful. I believe Pamela was the young lady at our meet and greets she always made sure we got to our other events on time and that we didn't miss out on anything. Tracie, Jen and Amanda were always so helpful and very nice. I am sure there are people I am missing but I just wanted to name a few lol!!!

I have to mention Valerie and Stephanie cause they are just amazing and awesome!!! They are very helpful and really get the job done.

Well I can not forget you: you guys are awesome, you make these events amazing and I know you both go out of your way to help us out when we need it. Even if it is just to say hello and ask if we are enjoying ourselves. That truly means alot!!! All the actors were also amazing very friendly, funny and just plain sweet!

I can't believe the weekend is over already and now we won't be able to attend until the New Jersey Con, I am sooo happy to have all these awesome memories!
Thanks again,
T.
I just want to say thanks to you and your team for another amazing Supernatural convention. I think this year's Dallas convention was one of the best I've done. It was nicely paced, beautifully organised and the guests were all having a blast, as were we!

I come from Aussie to do these things and they're always a treat, but I particularly enjoyed this one.

Each event seems to get better and better.

I can't wait for the 4 day Vegas marathon con! I'm going to have to go into some kind of training! And by training I mean practice drinking 2 foot frozen cocktails!

Anyway, thanks again. I feel blessed to have the kind of interactions that I have with the cast of this show via the Creation conventions and I appreciate the hell out of the effort you and the team put into them.
All the best.
A
The Official Star Trek Convention: Las Vegas 2013
Star Trek Convention: Las Vegas 2013, was Amazing. I just wanted to thank you and all your team for an Amazing Vegas show. I so look forward to the Vegas Convention 2014. I just wanted thank you for all your hard work, and your attention to detail.
Thanks Again,
AJ from Chicago
I just wanted to thank you and all your team for a great!!! Vegas show. I so look forward to the Vegas Conv. . I don't know how you do it. But it get's better every year. I just wanted to say that all your effort and hard work is paying off, thank you. Looking forward to the Boston and of course the Vegas Conv. for next year. Have a safe and happy year.
Live long and Prosper.
D. .
Great dinner last night with fantastic food & fab chocolate.
J. A
The Vampire Diaires Official Convention: New Jersey 2013
Over the past weekend, I have the opportunity to attend the Vampire Diaries Convention in Parsippany New Jersey. I just wanted to take a minute to express my deepest gratitude for all of the volunteers and creation entertainment personnel. Their awesome efforts ensured that a good time was had. Most importantly, I had the mind blowing experience of being a part of the backstage VIP's and would like to note that Dana was outstanding! She not only managed to cater to the celebrities needs, but made went above and beyond making sure the VIP's had the most amazing experience possible. She was kind, organized, and willing to do whatever it took to satisfy any of our requests. She brought a calming presence to what I am sure could have been a very chaotic situation. Honestly I could not imagine anyone else in that position! I hope that this email finds you well and thank you again for running such an fun event!
Sincerely,
A.C.
Star Trek Official Convention: Boston 2013
As a life long Star Trek fan (since 1974) I attended my first Creation convention in Boston this weekend. It will definitely not be my last! I had a great time and the weekend flew by. The guests were absolutely awesome, as was the staff and volunteers. Here I sit kind of depressed that it is over. I went with the preferred package this time but will be upgrading to the gold package for next year.

Thanks for the first class experience and the great sense of nostalgia!
Sincerely,
S.M.
Just wanted to say thanks for a great weekend! What a blast! This was my first convention and I am absolutely going to be back next year! You all did a wonderful job. All the volunteers were great, the panels were amazing, and I left with such great memories. Thanks so much for putting together such a wonderful event.
JG
Star Trek Official Convention: Chicago 2013
WOW!!!!! thats the one word that would describe my weekend. you guys rock. even though i had to pay extra for my TNG autographs it was well worth it. all the volunteers were great too. all the guests were awesome too chris is an awesome photographer, all my photos came back brillant. the best part about conventions is meeting up with old friends and making new ones. i will be back for sure next year. this fan is very pleased. the bad thing about conventions is that it has to end, back to reality, ugh. hope you guys have a great week, this fan is very pleased, LLAP. :) cant wait for star trek chicago 2014 to meet jeri ryan.
J.W.
I just wanted to tell you how much I enjoyed the convention this weekend. This was my first Star Trek Convention and my son and I drove from Newton, Iowa to attend. We were both thoroughly impressed with the way that it was organized and the level of professionalism demonstrated by you and your staff. Thank you so much!
K.B.
Salute to Supernatural: New Jersey 2013
Hi, I just wanted to thank you for the best weekend of our lives! My daughter and I are huge Supernatural fans and Whippany was our first convention that we have ever been to. I was a little skeptical buying the tickets because I didn't even know if it was for real, I've never known anyone to attend anything similar to this. After I purchased the tickets my bank even called me to make sure it wasn't fraud. We drove 11 hours from South Carolina and didn't know what to expect, but it was better than we could have dreamed it could be! We had such a great time. The karaoke night was my absolute favorite. The actors were so approachable too. My daughter, Tabitha, won the music video contest, that was an extremely nice surprise and it was awesome that she got the $100 to spend on whatever she wanted there. All the workers/volunteers were extremely nice and helpful. I hope we can attend another one in the future. Thank you so much the such a great weekend!
T>Y>
Just wanted to say thanks for everything. I can't wait for the convention this weekend! Your cons are always awesome!
J.V.
Star Trek Official Convention: New Jersey 2013
I spoke with a long time volunteer at the convention who suggested I should email you.

This was my first convention I have ever attended and it was so well run and organized. Your company provides such a great product. I work in television and deal with logistics all day long... and I had to comment on how your convention was so well done.

Thanks for such a great experience!
M.B.
The Vampire Diaries Official Convention: Chicago 2013
Yes, you'll be seeing me next year in Chicago for sure. ;-) I meant every word of my letter. I've been to PLENTY of conventions, NONE this organized and fan friendly. None. I love how you have made your events to where almost anyone can go to one AND be able to afford it!! For people on a budget, (who isn't?) the fact that your tickets for events go on sale nearly a year before said event makes it SO much easier. That way each month or however often a person can buy one photo op or autograph or whatever, without it being so painful all at once, AND still be able to see/meet everyone at convention. It's perfect!! Thank you guys for that!!

I also like how for your meet and greets the seating is a lottery. Everyone pays the same amount for the ticket, they should get an equal chance to sit close to or be able to have banter with whichever celebrity they purchased ticket for. Your system guarantees that. Unfortunately it didnt work out for me at this event, BUT, I still loved the fact that is was equal and FAIR. I've been to others where seating for that type of thing may be dictated by a group of fans themselves, which isn't fair.

You don't oversell I don't think at all. Which is also GREAT. That can be awful, especially with photo ops. Again everyone pays the same amount for their photo op, they do that mostly specifically to have that "moment" with them. It's awful when a photographer or other staff are there to grab you & push you along the second the camera goes off. Especially when you pay so much for that opportunity. I didn't see your photographer or any staff "rush" anyone so to speak. They kept a nice even flow allowing everyone to at least be able to say hello and introduce themselves and have their "moment" while at the same time keeping things moving.

I could go on and on about how you guys rocked this convention, but I have a good feeling you already know you are aces. ;-)

Thanks so much for such an awesome experience!!
Best Regards,
B.
We had a BLAST this weekend in Chicago!! So much fun!! You guys really know how to put together an event. I've been to several, but NONE of them as organized and fan friendly as yours was!! *high five*

Again, kudos to you guys!! The event was great!! We only had preferred tickets this year so didnt get all the "perks" but it was still absolutely phenomenal! We both had such a great time and all of the staff was exceptional and helpful/friendly. You guys are running a well oiled machine!! ;-)
B.E.
The Vampire Diaries Official Convention: Las Vegas 2013
I want to say that me and the four girls who went to Vegas over the weekend for the TVD convention had SO MUCH FUN! So thank you, thank you to any and all who made that experience happen! Everyone was so nice and helpful and accommodating. And getting a photo taken with Ian was THE BEST! He really knows how to make 11.3 seconds feel like heaven, and your photographer was really good at his job. As we scanned through all the photos to find ours, they all looks so good!

Again, great job on a fun convention for our favorite show. We had a blast!
Thanks so much,
T.
The Vampire Diaries Official Convention: Chicago 2013
Hi,
Just wanted to thank you for the great pics from TVD Con Chicago. I loved my pics! Can't wait for next years event
Thanks, JA VD
Supernatural: Las Vegas 2013
I just wanted to say thank you for putting on such an amazing weekend. Salute to Supernatural Las Vegas was my 4th Creation con, and it was definitely the biggest!

I absolutely loved having the Elastic Waste Band as a house band - it tied all the panels together really well and gave it a big scale production feeling. And Richard Speight Jr makes an incredibly charismatic host. You could tell he was in his element!

And I can never say enough wonderful things about Chris. Just an amazing person and a talented photographer.

Thank you again for your last minute addition of Misha Collins to your line ups this year - he is absolutely one of my favourite people and it wouldn't be the same without him!

I loved every minute of it, and look forward to Vancouver in a few months!

Thank you again from this avid con-goer and photographer from Australia!
M.