Opportunities to reach a loyal genre audience.

Keep up to date with our convention events and merchandise news!

See Creation's great items now up for auction!

Comments about our events and service.

Some of the charitable causes we support.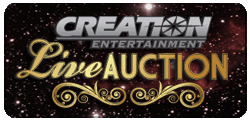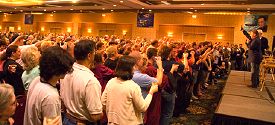 A VERY special moment in Creation History
BILL SHATNER & LEONARD NIMOY toasting the 40th Anniversary of Star Trek on the exact day, 4 decades later, that the original series began its TV run! Taken in Chicago at Creation's Salute to Star Trek's 40th! Thanks, Bill and Leonard for being such a big part of Creation Entertainment! Who would have thought that as kids that watched classic Trek, that one day we'd be working with these show biz legends!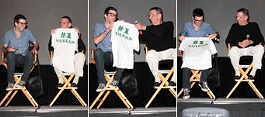 History is made again at Creation when LEONARD NIMOY passes the ceremonial "#1 Vulcan" tee-shirt to the new Mr. Spock ZACHARY QUINTO. It all happened in front of the audience at Grand Slam XVI. Creation Conventions: it is ALL about making wonderful memories like this!
Links to Past Photo Ops Pages

Use these links to claim your photo ops from past events.

2019 Conventions
Supernatural Jacksonville, FL
Stranger Things Atlanta, GA
Stranger Things Dallas, TX
Vampire Diaries Burbank, CA
Supernatural Washington, DC
Supernatural Burbank, CA
Supernatural Toronto
Supernatural New Jersey
The Vampire Diaries Whippany, NJ
Supernatural Vancouver, BC
Star Trek Las Vegas, NV
Supernatural Plano, TX
Riverdale New Jersey
Vampire Diaries Chicago, IL
Stargate Chicago, IL
General Hospital Burbank, CA
Riverdale Dallas, TX
Stranger Things, New Jersey
Supernatural Seattle, WA
Supernatural Nashville, TN
Supernatural Las Vegas, NV
Supernatural Chicago, IL
Vampire Diaries Nashville, TN
2018 Conventions
Once Upon A Time Burbank, CA
Supernatural Vancouver, BC
Supernatural Minneapolis, MN
Once Upon A Time Whippany, NJ
Stranger Things Nashville, TN
Supernatural Cleveland, OH
Supernatural Indianapolis, IN
Supernatural Whippany, NJ
Vampire Diaries Whippany, NJ
Supernatural Denver, CO
Supernatural Charoltte, NC
Vampire Diaries/Originals Seattle, WA
Outlander New Jersey
Star Trek Las Vegas, NV
Supernatural Chicago, IL
Once Upon A Time Orlando, FL
Stranger Things Chicago, IL
Stranger Things New Jersey