Convention Tickets
WANNA SIT WITH YOUR FRIENDS?!?
FOR ALL RESERVED SEATING TICKETS (everything other than general admission single day or general admission weekend packages) IF YOU WANT TO SIT NEAR FRIENDS YOU MUST ORDER ALL THE TICKETS TOGETHER UNDER ONE ORDER.
Pre-registration (not a necessity, just a convenience) is generally offered for weekend patrons on the night prior to the convention. This will be confirmed and noted on this site as we get closer to the event.
Customer Support E-Mail: ANY problem you have please write to us at:
and we'll look into it and get right back to you. Thanks!
ADMISSION TICKET PACKAGES FOR THE NEW EVENT WILL BE ANNOUNCED AT A LATER DATE.
HOTEL RESERVATIONS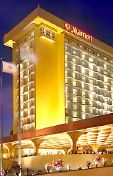 Stay overnight at the beautiful Marriott Los Angeles Airport and party with us! Call 1 800 228 9290 to get special lower than normal room rates of $112 for singles or doubles, mentioning Serenity/Star Trek Convention to get these rates.
Marriott Los Angeles Airport
5855 West Century Blvd.
Los Angeles, Ca 90045
The LAX Marriott provides a free shuttle service that runs about every 15-20 minutes from LAX to the Marriott. 1 800 228 9290
Creation Entertainment holds a "block" of rooms for our attendees. These blocks of rooms have a lower rate than standard rates at the hotel, but they also have a "cut-off" point after which hotels may choose to revert back to their own higher rates for our customers. Usually this cut off date is one month prior to the event, but this does vary. Therefore it is always wise to book your rooms for our conventions as early as possible.
DEALERS: Click here for vendor table information.
In order to sell at any California convention you must have a sales tax license. Here is a link for getting a temporary license on-line if you don't have a regular one. http://www.boe.ca.gov/pdf/boe400spa.pdf