---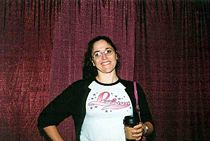 Josie Ryan backstage basking in the reception her one-woman show received in its American debut at the convention.
---
Victoria Pratt went from Xena and Cleopatra 2525 to starring in the hit Mutant X series.
Her smile and laugh are infectious!
---
Hudson never ceases to amaze: her generousity and connection with her audience makes her a one of a kind personality, and an all-time favorite of ours!
---
Tsianina Joelson had a great time.
---
Renee and Michael joined forces to give a powerful performance of AR Gurney's LOVE LETTERS. Great work: filled with laughs and tears. It was incredible to see these two talents working their craft live for all of us!
---
The costume contest is one of the highlights of attending
conventions for the contestants and the audience.
---
We at Creation have always been proud of our charity work which stretches back over the full 30 plus years of our events. But, we've really kicked into high gear in the past several years with the presentation of our charity breakfasts. Creation's charity coordinator Anita Ellis always goes the distance and this time was the most memorable of all. Check out the fun and know that your support helps in making dreams come true!
---
A big THANK YOU to all the fans who attended. See you next year!