Schedule Now Posted!
(Click for details...)



Online tickets have been taken off sale.
Now tickets listed as available on this website can be purchased at the door.
Because of the difficulty of finding suitable venues in the beloved Bay Area for our Star Trek Conventions, this particular event is the only one we have on the books in the foreseeable future. We hope to be back some day, but nothing is planned; this is why we very much cordially invite you to attend this convention: let's bring down the house one last time (for the near future!).

THANKS to BAY AREA fans for their decades-long support of our Star Trek events -- we'll do all in our power to return to a place we truly love!
Updated: December 7, 2016
Creation Entertainment's
50 YEAR MISSION TOUR
Celebrating Gene Roddenberry's legacy to us all, starring WILLIAM SHATNER and celebrating the 50th Anniversary of STAR TREK with an amazing roster of other celebrities!

SAN FRANCISCO, CA
Friday, Saturday and Sunday
December 9-11, 2016*
*
Note: Traditionally we do a preregistration
for full three day weekend patrons as well as a vendors room preview the night prior to the convention so fans can get set with their credentials on a non-convention night. Preregistration is not a necessity, just a convenience, and remains tentative until we get closer to the event. Generally convention days run from about 10 am to 7pm (times are tentative until we have guest flight info and the final schedule is posted by the Wednesday prior to the convention) with an evening show on FRIDAY (this time The Star Trek Rat Pack Nightclub Act which is fantastic) and a Karaoke Party which is free to all on SATURDAY Night.
Hyatt Regency San Francisco Airport
1333 Bayshore Hwy
Burlingame, Ca 94010
(650) 347-1234
PRE-REGISTRATION NOTE:
Pre-registration is provided as a convenience (not a necessity) for full convention attendees only with Gold, Silver, Copper or General Admission Weekend packages. Get your credentials, wristband, and program early so you won't have to wait again during convention days! The vendors room is generally open as well.
VENDORS ROOM
3:00 pm to 8:30 pm Vendors Room set-up
8:30 pm to 11:15 pm Vendors Room open

PRE-REGISTRATION HOURS
8:30 pm to 9:15 pm Gold Weekend
9:15 pm to 9:45 pm Silver Weekend
9:45 pm to 10:30 pm Copper Weekend
10:30 pm to 11:15 pm General Weekend plus Gold, Silver & Copper who missed earlier time.
---
It's hard to believe that 50 years ago Gene Roddenberry's incredible legacy of STAR TREK was born on American television and made show business history while also having a long-standing cultural impact and influencing countless people to pursue careers in science, technology and medicine. Creation Entertainment, which has proudly produced Star Trek Conventions for well over about 4 decades, is immensely happy to be able to present a once-in-a-lifetime event for fellow fans saluting the legacy of one of our true mentors, Gene Roddenberry, in a gathering we've aptly named "The 50 Year Mission Tour." Seating is limited for this event as we do not sell ONE ticket more than we have seats for in our main theatre. That means that EVERYONE in attendance is guaranteed a seat to see all the stars without extra waiting or worry, but it also means that these 50th Anniversary events will be early sell-outs. Make your plans NOW to join the stars for this very special occasion! We're honored to welcome headliner William Shatner joined by an incredible roster of other Star Trek celebrities, making this an excellently fun weekend for all attendees.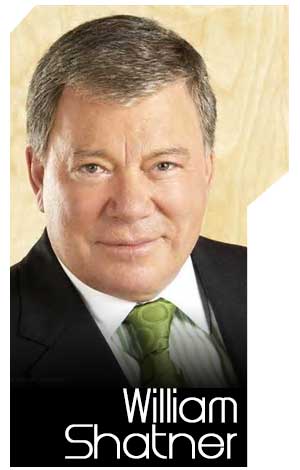 Creation Entertainment's 50 Year Mission Tour starring William Shatner: The iconic legend who has been an amazing mentor to us for decades, we just love Bill and it is an honor for us to present him at any time on our stages, especially in this incredible 50th year. If you don't go home from seeing him energized, and inspired, there's something up! He is truly "the man" in so many ways, both in Star Trek and other projects (appearing on SUNDAY and doing autographs and photo ops that day as well) and other celebrities including: