LUCY CONCERT TICKETS (STANDING ROOM ONLY) WILL BE AVAILABLE AT THE ROXY BOX OFFICE THE NIGHTS OF THE CONCERTS AND ALSO AT THE OFFICIAL XENA CONVENTION REGISTRATION. Thanks!
Lucy like you've never seen her, starring in an all-new concert...
The PLEASUREDOME:
Where All Bad Grrrlz Go To Heaven
Lucy Lawless at The PLEASUREDOME featuring Laura Sperrazza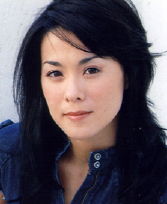 Laura Sperrazza
Lucy will be performing songs by David Bowie, Queen, Nina Simone, Eurhythmics, Jeff Buckley, Cindi Lauper, REM, Patti Smith, Frankie Goes to Hollywood, Jet, Grandmaster Flash, Duran Duran, Marilyn Manson, Garbage, and Hoobastank
The incredible LUCY LAWLESS is taking the stage in a live musical concert in the heart of Hollywood! Come feel the heat of this dynamic performer: two nights you'll never forget! Lucy live with a super-hot band at the world famous Roxy Theatre: it is a combination that can't be beat!
The advance buzz is intense as Lucy reveals an all-new show you won't believe!
This show is recommended for mature audiences.
Any questions write to
LUCY LAWLESS IN CONCERT: THE NEW PRESS RELEASE
We wanted to share with Lucy's many fans this new release that goes into more detail about the show Lucy has planned for The Roxy in Hollywood on the evenings of January 30 and 31st.
Thanks,
Your friends at Creation Entertainment
For Immediate Release
Buckle Up, as Lucy Lawless, Television's Xena: Warrior Princess, Returns to Los Angeles with Concert Filled with Sex, Drugs, Temptation and Redemption!
(Los Angeles, CA …January 19, 2009) Following sold out performances in Los Angeles, New York, Chicago, and London, actress Lucy Lawless will return to Los Angeles to bring down the house with her latest show "The Pleasuredome." The concert is scheduled for two performances, Friday and Saturday, January 30 and 31, at the Roxy Theatre in Hollywood.
This show is based on a screenplay set in the time when the music group Frankie Goes to Hollywood ruled the airwaves as well as everyone's T-shirts. "This post-disco period was epitomized by high times in low places," says Lawless. "Where disco was a sparkly diversion from the humdrum. The era I grew up in fully acknowledged, even celebrated, its own dark side."
To tell the story, Lawless has chosen an eclectic mix of songs from top artists from the great Patty Smith, harbinger of it all, Eurythmics, Soft Cell and Cyndi Lauper to Garbage, Marilyn Manson and Jet.
"The Pleasuredome" brings the audience into a world of sex, drugs, temptation and redemption, about which, Lawless says,"I don't know why, but I do 'Bad-Girl' really well." She further states, "My fans always enjoy a tale of redemption...with a heapin' helpin' of Wickedness along the way."
Joe LoDuca, Emmy Award winning composer of Xena: Warrior Princess, has helped the New Zealand born star put together a remarkable band. The show will also feature actor/singer Laura Sperrazza.
Lucy Lawless is best known for her role as Xena in the hit series Xena: Warrior Princess. Recently she appeared in the Disney blockbuster comedy Bedtime Stories, has a recurring role on SCI FI Channel's Battlestar Galatica, and has done a guest appearance on Showtime's The L Word. Lawless also took second place on the Fox competition series Celebrity Duets where she performed with musical icons Smokey Robinson and Dionne Warwick.
Tickets for the Los Angles show are $59, mature audience recommended. The Roxy Theatre is located at 9009 West Sunset Blvd. Doors will open at 7:00 PM, concert starts at 8:00 PM. For complete information go to www.lucyconcert.com
CONCERT TICKETS
GENERAL ADMISSION
The Roxy is a standing room facility. The theatre is small to provide an intimate show: a bonding of performer and audience. For the last two years, The Roxy shows were sold out, so please place your reservation early. Tickets are only $59.00 each per night. (Anyone under the age of 21 must purchase a $3 Food and Beverage waiver at the door.)
Available at the event.
This show is recommended for mature audiences.
Any questions write to
VIP RESERVED SEATING - SOLD OUT!
VIP RESERVED SEATING tickets are $150 each.
SOLD OUT BOTH NIGHTS: THANKS TO ALL!
ROUND TRIP BUS TICKETS - SOLD OUT!
As a courtesy to those attending The Official XENA CONVENTION at The Los Angeles Marriott LAX, we have arranged for buses that will leave from the hotel (tentatively at the main lobby entrance) at 5:45 pm and return to the hotel after the show. The Roxy has food and beverage on sale for early arrivals such as our group.
FRIDAY NIGHT ROUND TRIP TICKET: $19 SOLD OUT!
SATURDAY NIGHT ROUND TRIP TICKET: $19 SOLD OUT!
CLICK HERE TO GET INFORMATION ON THE OFFICIAL XENA CONVENTION TAKING PLACE THE SAME WEEKEND WITH LUCY AND A STELLAR LINE-UP OF OTHER GREAT GUESTS!
Customer Support E-Mail: ANY problem you have please write to us at:
and we'll look into it and get right back to you. Thanks!
Here are some awesome shots of Lucy at her recent concert appearances!
Click to enlarge.

Here's some cool atmospheric shots by Creation photographer
Christopher Schmelke of Lucy's Chicago Concert. Click to enlarge.