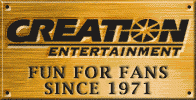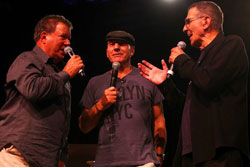 Our Vegas Star Trek Convention is ALWAYS full of surprises! Sir Patrick Stewart joins William Shatner and Leonard Nimoy in this once in a lifetime moment! We're glad we were there!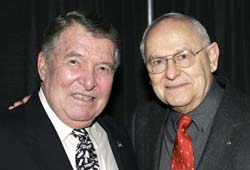 In 2006, space pioneers, astronauts Wally Schirra and Alan Bean, guested at Grand Slam: it was an honor!
Photo Credit: David Livingston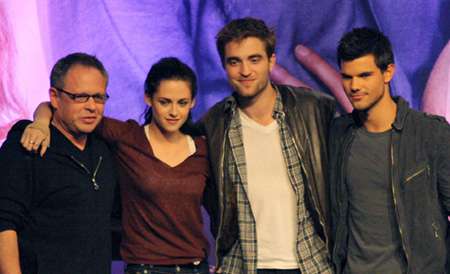 Three of the most popular actors on the planet graced our stages along with their The Twilight Saga: Breaking Dawn director: Bill Condon, Kristen Stewart, Robert Pattinson and Taylor Lautner helped us make history at an official gan gathering done in conjunction with the press junket and in association with Summit Entertainment.

We even had time to publish 6 issues of a popular comic art fanzine called Infinity when we were teenagers. Back in the days before the internet, printed fanzines and conventions helped keep fandom connected.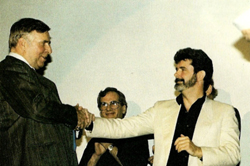 When we ran The Official STAR WARS Convention we brought in Gene Roddenberry as a surprise and this moment in time was a true highlight. Gene was a great mentor of ours and he is always in our thoughts, especially when we gather for our Official STAR TREK Conventions.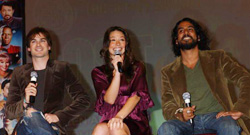 LOST was one of the great TV series of all-time and we were proud to be an official licensee for the show. Here three of the stars, Ian Somerhalder, Evangeline Lilly and Naveen Andrews, grace our stages in a Creation Convention appearance.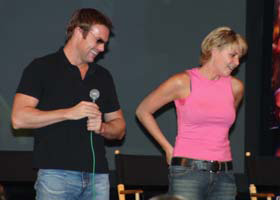 Two of our most popular celebrity guests from the Stargate franchise making their only Creation appearance together on stage: Michael Shanks and Amanda Tapping! We love following their careers post Stargate and look forward to enjoying their work for years to come!

How's this for cool? Arnold as THE Terminator at our Official T-2 Convention, an awesome occasion!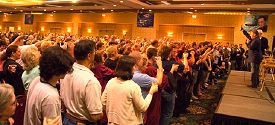 A VERY special moment in Creation History
BILL SHATNER & LEONARD NIMOY toasting the 40th Anniversary of Star Trek on the exact day, 4 decades later, that the original series began its TV run! Taken in Chicago at Creation's Salute to Star Trek's 40th! Thanks, Bill and Leonard for being such a big part of Creation Entertainment! Who would have thought that as kids that watched classic Trek, that one day we'd be working with these show biz legends!

History is made again at Creation when LEONARD NIMOY passes the ceremonial "#1 Vulcan" tee-shirt to the new Mr. Spock ZACHARY QUINTO. It all happened in front of the audience at Grand Slam XVI. Creation Conventions: it is ALL about making wonderful memories like this!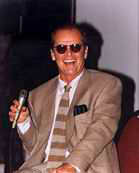 Superstar Legend Jack Nicholson made the "Creation" scene, a definite ultra-cool moment in our 40 plus year history!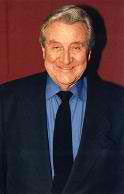 Growing up watching THE AVENGERS was a particular joy so when Patrick Macnee joined the Creation line-up of stars it was a joyous occasion for us and his many fans!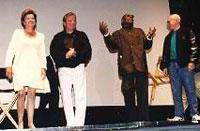 It's never happened before or after but it was another of our proudest moments: having four STAR TREK Captains share the stage. Let's hope we can pull it off again some day and add a few more?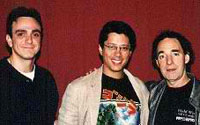 Long-time Creation friend (and early fan attendee turned superstar producer) DEAN DEVLIN brought along friends Hank Azaria and Harry Shearer to one of our shows. Dean is currently behind one of TV's greatest shows LEVERAGE!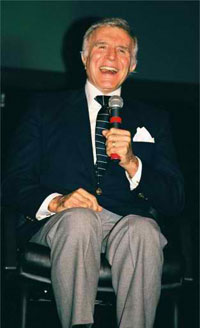 The impeccable Ricardo Montalban created Star Trek's most popular villian as Khan but in person he truly was one of a kind and his two appearances for us were definitely amongst the most memorable! He is sorely missed by all Trekkers and was indeed a Hollywood classic himself!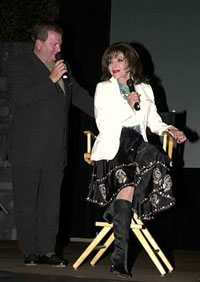 Gracious and supportive to us as ever William Shatner made sure first time Creation guest star Joan Collins (in her only convention appearance) was comfortable on stage, reunited decades after their ultra-popular classic Trek appearance together!

As promised, a seat for all! Here's a scene of the amazing theatre we used for years for our Las Vegas Star Trek Convention. At Creation shows: no waiting and worrying about seeing the stars!

Pretty Cool we'd say to have welcomed the ultra talented Elijah Wood as Creation promoted several Official LORD OF THE RINGS events.
Here's some shots of Leonard Nimoy's last convention appearance (courtesy of Paul Harvath), taken at our Chicago 2011 Official STAR TREK Convention. Thank You Leonard for your three decade association with Creation: we've loved every minute of presenting you to your adoring fans (of which we number ourselves!):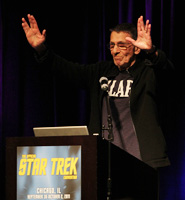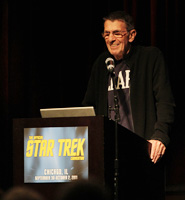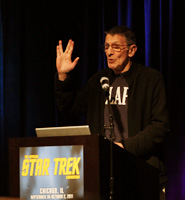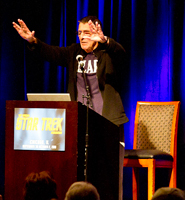 Leonard Nimoy's emotional farewell to Star Trek Conventions: 2011 Chicago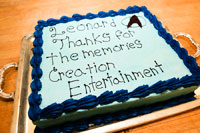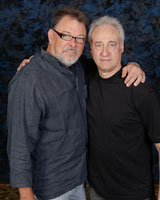 These guys are HILARIOUS on stage together and we love having them at our events: true superstars of the genre: Jonathan Frakes (now busy directing) and Brent Spiner!