SUPER ADVANCE NOTICE ON THE 2016 50TH ANNIVERSARY OFFICIAL LAS VEGAS STAR TREK CONVENTION: We know that a lot of our fellow fans from around the globe are already making their plans to be with us in 2016 for the 50th Anniversary of Star Trek. The dates for The Official Las Vegas STAR TREK 50th Anniversary Convention is August 3-7, 2016 at The Rio Suites Hotel and Casino. That's right: we are EXPANDING TO FIVE DAYS for the 50th Anniversary because we have so much great stuff planned it simply couldn't fit in four!
Updated: April 23, 2015

Check out some of the highlights of our Star Trek Las Vegas Convention
Creation Entertainment's 14th Annual Las Vegas
Official STAR TREK Convention 2015

LAS VEGAS, NV
Thursday, Friday, Saturday and Sunday
August 6-9, 2015

The Rio Suites Hotel
3700 W. Flamingo Rd.
Las Vegas, NV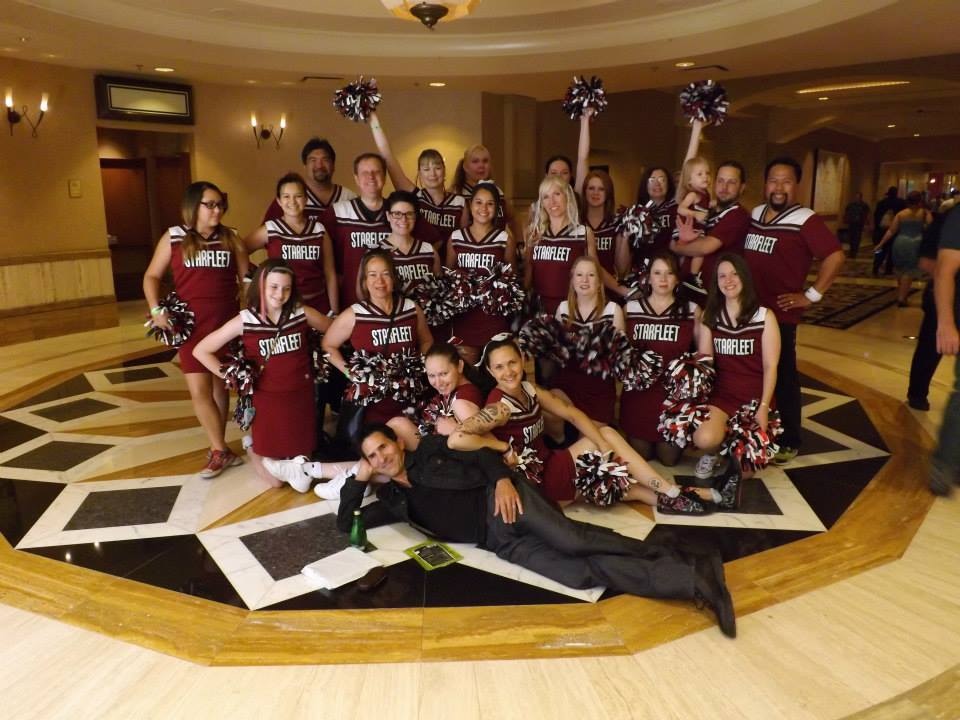 What can we say? The 2014 gathering was one in which our mandate was to "up our game" as we head into the incredible 50th Anniversary of Gene Roddenberry's legacy. And what a smash hit it turned out to be with fellow Trekkers from around the galaxy joined by well over 100 Star Trek celebrities, all on hand to honor a positive inclusive future for mankind. As you first stepped into the beautiful Rio Suites Convention Center it was immediately obvious that there was so much more new stuff to experience than at any other past Star Trek Convention and more importantly, you were surrounded by thousands of instant friends, joined together by the love of this amazingly enduring franchise. We were proud to welcome thousands of "newbies" to the convention as well as many new guest celebrities including the hilarious Simon Pegg, best known as the new "Scotty" of Star Trek feature film fame.

Simon Pegg at the Star Trek Las Vegas Con 2014
Warning: Video contains profanity.
Who knows what the 2015 convention will bring, but we can promise even more elaborate props and sets for photo taking, museum quality Star Trek items, MORE space than we've ever had before, gloriously technological advances in our main theatre, fandom's most elaborate evening parties, lots of freebies featured in an even more upgraded "Promenade", the famous free karaoke nights, a more upscale Quark's bar, and of course the surprises and other elements that separate this particular convention from all others. At this very early time we just wanted to make sure folks had the dates to reserve and of course we wanted to share some of our favorite photos of the weekend. If you have a great photo you love that you took at the show please send it onto asponsor@creationent.com so we can possibly include it. THANKS to everyone, including our friends at CBS Licensing, the home of Star Trek for inspiring us to provide the absolute very best vacation to Trekkers in attendance.

Karl Urban at the Star Trek Las Vegas Con 2014

Heres's some moments with a few of our all time favorites from TNG at the Star Trek Las Vegas Con 2014.
ALWAYS, make sure you are on our FREE Star Trek email bulletin service so you know about new guests and developments, new ticket launches, and all the latest news: don't be left out in the cold: join us as The Human Adventure Continues...