Updated: April 14, 2014

#STLV
DON'T FORGET TO USE THE OFFICIAL HASHTAG WHEN TWEETING AND POSTING ON FACEBOOK ABOUT THIS EVENT!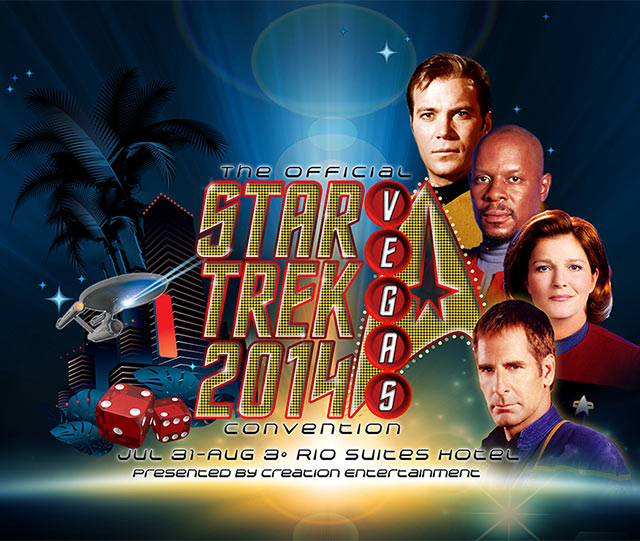 THANKS to all the amazing fans galaxy wide and the wonderful guests for making our 2013 Official STAR TREK Convention at The Rio Suites the undisputed, unprecedented very best Trek gathering ever. Throughout this 2014 site you will find photos and remembrances of the epic 2013 convention. If you weren't there make your plans to be in Vegas in 2014: it isn't the same without YOU!!! Dates are July 31-August 3, 2014 at the fabulous Rio Suites in Vegas with pre-registration (for full convention attendees) and vendors preview night on July 30, 2014.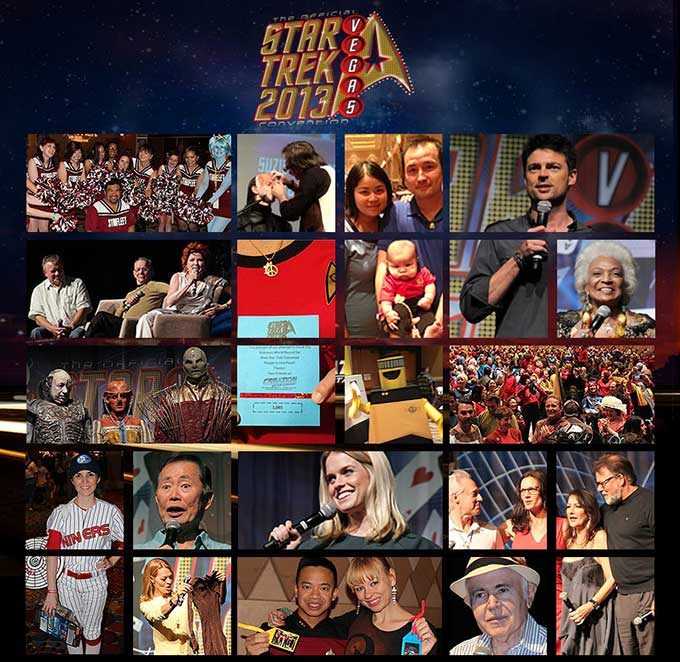 HELP SPREAD THE WORD:
PLEASE PUT THIS ON YOUR SITE AND LINK BACK TO US!


Either drag and drop the above banner to your desktop or Control+Click(Right+Click) and
select "Save Image As.." and link back to http://www.creationent.com/cal/st_lasvegas.html

KNOW THE CREATION DIFFERENCE, MAKE YOUR VACATION THE BEST EVER!

Unlike virtually every other genre fan convention, Creation Entertainment has a strict policy not to "oversell" our conventions. In other words, every patron, no matter what bracket of ticket they purchase, will have a guaranteed seat in the main auditorium where the major guests appear and events take place. There's no worrying, extra waiting, or additional charges to see the celebrities and events you want to see during all four daytime schedules.

We think that all genre conventions are great fun but after 40 plus years of running events for our fellow fans we prefer our method of live entertainment. We love to run this, our biggest genre convention, in a gorgeous large hotel, with carpeted state of the art theaters and exhibit halls, scores of on site restaurant choices (from inexpensive to major fine dining), award winning nightclub shows, fabulous bars and places to hang out in, and suites for everyone, to say nothing of the non-stop action of a very cool casino! Staying in a major hotel instead of a cold giant expo hall makes the convention that much more fun to enjoy and it is cool to be able to go up to your hotel room to relax, take a break if you wish, or change into different clothes for nighttime parties and events. The Rio is just a short free shuttle ride to the world famous Las Vegas Strip so you can check it all out, so make sure to leave some time to explore this exciting city! VEGAS, the entertainment, shopping and restaurant capital of the world, coupled with thousands of fellow Star Trek fans, we're out to make your vacation the very best ever! Join us in celebration of the almost 50 year legacy of Gene Roddenberry and be with us in 2014!


BE A VENDOR!
THE GALAXY'S GREATEST STAR TREK VENDORS ROOM.