Updated: December 10, 2013

THANKS to all the amazing fans galaxy wide and the wonderful guests for making our 2013 Official STAR TREK Convention at The Rio Suites the undisputed, unprecedented very best Trek gathering ever. A complete site, coverage and news for 2014 will be added soon but for now we wanted to share some of the great photos that are appearing all over. If you weren't there make your plans to be in Vegas in 2014: it isn't the same without YOU!!! Dates are July 31-August 3, 2014 at the fabulous Rio Suites in Vegas with pre-registration (for full convention attendees) and vendors preview night on July 30, 2014.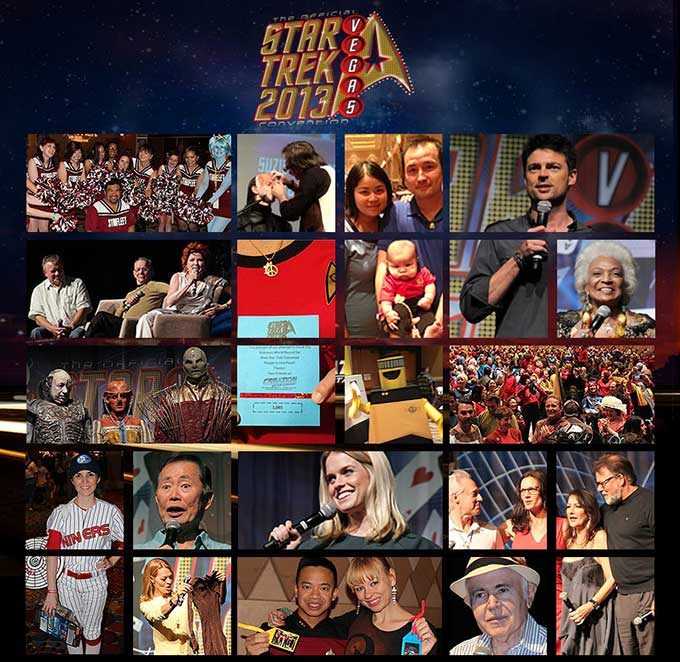 Unlike so many other genre conventions, Creation Entertainment has a strict company policy not to "oversell" our conventions. In other words, every patron, no matter what bracket of ticket they purchase, will have a seat in the main auditorium where the major guests appear and events take place. Nothing upsets us more than hearing about other conventions that sell tickets to patrons and then those very same patrons have to wait on additional lines inside the facility to get into (or sometimes not!) the main theatre. An important Creation Entertainment difference we want you to know about!
The Creation difference extends to our 40 years experience in running fan conventions. In the last few years we've seen promoter after promoter fail taking hard earned ticket money down with them. Inexperienced promoters, often first-timers, use celebrity images and names to get ticket money which they use to hopefully pay their expenses. When that fails they've already gone through "your" ticket money and they collapse leaving no recourse for ticket holders. They say "buyer beware" but this has happened in Twilight, Star Trek, Battlestar Galactica, and Firefly fandom (to name just a few) and we really feel for those great fans who have lost their ticket money and upset travel plans.