Updated: August 1, 2016
Online tickets have been taken off sale.
Now tickets listed as available on this website can be purchased at the door.
Due to the sold out nature of this event we will not be able to allow those without admission tickets to enter into the convention center area that we have rented and take part in the various elements of the convention that are in any part of the convention center.

Are you prepared for the Star Trek 50th Anniversary?


Star Trek Las Vegas Celebrity Guests
Creation Entertainment's 15th Annual Las Vegas
Official STAR TREK Convention 2016

LAS VEGAS, NV
Wednesday, Thursday, Friday, Saturday and Sunday
August 3-7, 2016

TUESDAY NIGHT PRE-REGISTRATION & VENDORS PREVIEW FOR ALL FIVE-DAY ATTENDEES ONLY ANNOUNCED! (Click for details...)


The Rio Suites Hotel
3700 W. Flamingo Rd.
Las Vegas, NV
Thank you to all for making the 2015 Creation Entertainment STAR TREK VEGAS Convention unforgettable!

We had so much fun seeing all our Star Trek family of friends and celebrities and it was a joyous week of celebration that ended way too soon, but we left knowing we had attended the very finest, most fun Star Trek gathering yet. As we gear up to the incredible 50th Anniversary Celebration, Creation Entertainment's Official STAR TREK Convention returns to The Rio Suites Hotel for an even more expansive, more glorious time of immersion into the Star Trek franchise. This once in a lifetime event awaits your participation!
ALWAYS, make sure you are on our FREE Star Trek email bulletin service so you know about new guests and developments, new ticket launches, and all the latest news: don't be left out in the cold: join us as The Human Adventure Continues...

#STLV50 SOCIAL MEDIA STREAM

Creationent.stlv-50.com

The Star Trek Las Vegas Convention, celebrating 50 years of Gene Roddenberry's legacy, is going to be an unprecedented 5 day event!!!

It is sure to be the biggest Trek celebration in all the galaxy.

We are completely sold out but we wanted all Trekkers to be able to follow along with this milestone event.

Here is your one stop shop for all of the #STLV50 social media posts.

Follow along with updates and photos from Twitter, Facebook, Instagram, and Pinterest all in one convenient streaming location!





#STLV50
DON'T FORGET TO USE THE OFFICIAL HASHTAG ON TWITTER, FACEBOOK, AND INSTAGRAM!


STAR TREK™ 50th ANNIVERSARY CONVENTION TO BE HELD
AUGUST 3-7, 2016 IN LAS VEGAS
Creation Entertainment and CBS Consumer Products Stage Once-In-A-Lifetime Fan Event With More Than 100 Star Trek Celebrities In Attendance

NEW YORK – August 22, 2015 –Creation Entertainment and CBS Consumer Products today announced that the Official Star Trek 50th Anniversary Convention will take place next summer on August 3-7, 2016 at The Rio Suites Hotel in Las Vegas. The non-stop five-day convention will host more than 100 Star Trek celebrities from TV and film and thousands of avid fans.

"This event has always been uniquely innovative and in tune with what the Star Trek fan wants and expects. Every attendee, no matter what their ticket price, has a chance to see all the stars when they want to without fear of waiting or not getting in," said Adam Malin, Co-CEO of Creation Entertainment. "It's the ultimate space where like-minded folks can meet the franchise stars, argue trivia, look at the scientific and philosophical pop culture impact of the brand and of course make friendships that have lasted generations."

The multi-day event will explore everything from Star Trek's set designs to its game-changing foreshadowing of some of today's top technological advancements. Along with numerous costumes, prop displays, and convention-only freebies, the gathering will be a full-scale immersion for the ultimate Star Trek fan.
We are proud to have this major event at our convention, featuring amazing original 2D and 3D artwork by artists from around the world. For full details visit our events page link.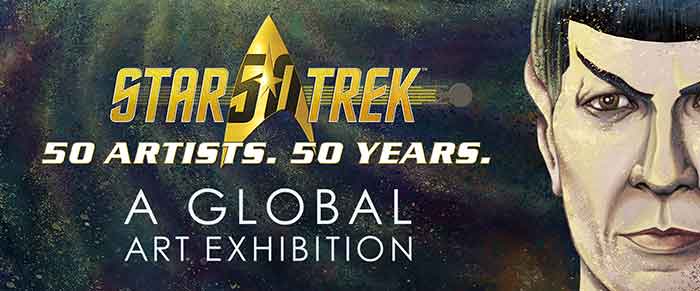 We know a lot of folks are already asking when the 2017 Creation Entertainment Official LAS VEGAS STAR TREK CONVENTION will be since this one sold out so early and the date is August 2-6, 2017. Please wait to book your hotel rooms as we'll be getting lower than normal room rates and will announce those around the time of the 2016 show! That's right, thanks to you we are staying at
FIVE FULL DAYS AND NIGHTS OF LIVE STAR TREK ENTERTAINMENT!!