Star Trek Las Vegas 2013 photos courtesy of attendee Craig Mercer

William Shatner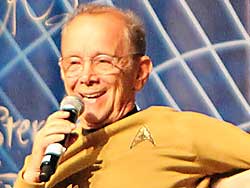 Joel Grey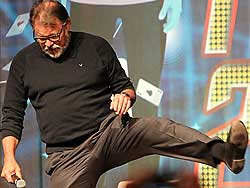 Jonathan Frakes
More great photos courtesy of attendee Al Ortega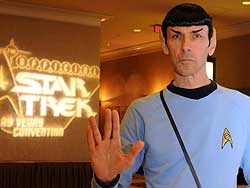 Cosplay Spock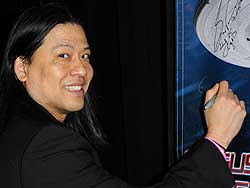 Voyager's Garrett Wang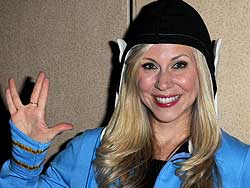 "Live Long and Prosper"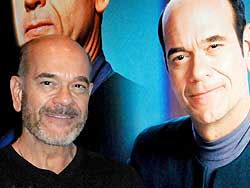 Voyager's Robert Picardo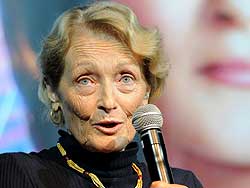 Classic Original Series Guest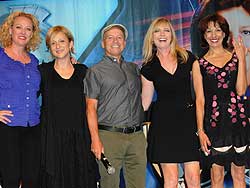 Star Trek "Special Guests" Panel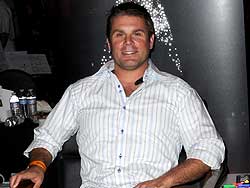 Eugene Roddenberry
2013 offered up an amazing 20th Anniversary Salute to the cast and crew of Star Trek: Deep Space taking a well deserved bow on Sunday. Only Alexander Siddig (who had to leave early for filming) and Colm Meaney were unable to attend. Quite an experience to be remembered!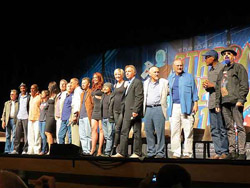 Star Trek Las Vegas 2013 photos courtesy of attendee Craig Mercer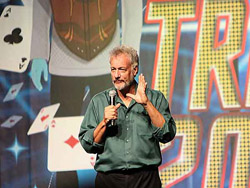 Here is the incredibly talented John de Lancie: what an amazing career he continues to have, we love him best when he is scary but in real life just the nicest guy (as long as you don't bring up his villainous roles in your head!)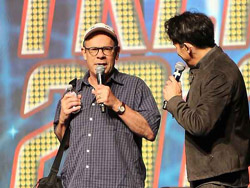 Creation's Co-CEO Adam Malin coercing (as if that was necessary) Ethan Phillips into telling some of his hilarious jokes!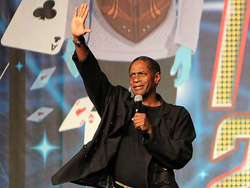 Wow! Tim Russ knocked it out of the park with his incredible band that took our late night Saturday Dessert Party by storm. What a talented guy!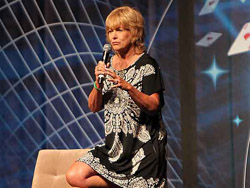 Looking as lovely and vivacious as ever Catherine Hicks of Star Trek IV took the stage but we also enjoyed her ten year stint as star of the family show 7th Heaven as well as the horror classic Child's Play. Catherine is always extremely gracious backstage, a true pleasure to deal with.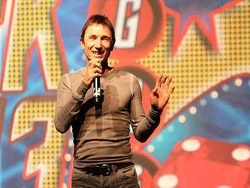 Dominic Keating has developed into a fine stage comedian and his legions of fans look forward to his yearly appearance, this time in a solo spot!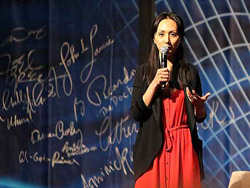 Linda Park has gone onto great fame after her work on Star Trek Enterprise, we love presenting her at our conventions.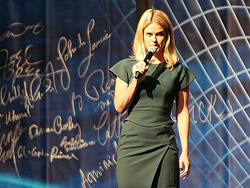 Yeah, we did it! The incredibly gorgeous and Oxford educated Alice Eve was a HUGE hit at the 2013 convention and showed she could handle the sold out crowd with ease and charm. We can't wait to see how the character of Dr. Carol Marcus evolves and she has definite ideas. FYI, the late Bibi Besch (the original Dr. Marcus) was one of our all time favorite guests so it is so nice to see this tradition continue.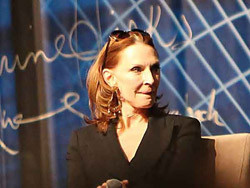 Gates McFadden, the one and only Dr. Beverly Crusher was an amazing on-stage performer and we were proud to help her local LA theatre by auctioning off some of her one of a kind collectibles.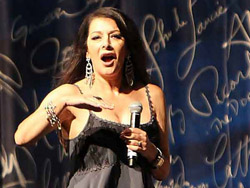 The always opinionated Marina Sirtis remains one of the genre's finest on-stage performers and she will always be remembered as the very first Next Gen star to grace our convention stages! Marina always delivers a first rate show for her legions of fans!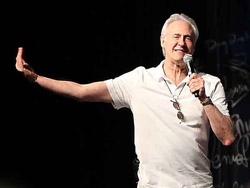 Brent Spiner has always been one of our favorites and he truly can do it all. We love having him as part of our Vegas gatherings and judging by the fact that every seat is always taken when he is on we aren't the only ones who adore his stage work!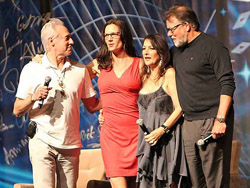 The sensational Terry Farrell surprises bestie Marina while joined by John Frakes and Brent Spiner. Quite a moment and what a joy it was to welcome Terry as she has come to embrace the legacy of Star Trek and her important part in it all. Definitely a fan favorite!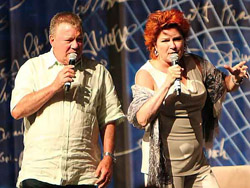 Two legendary Captains, two amazing talents: A conversation between William Shatner and Kate Mulgrew proved to be one of the highlights of the entire convention. We'll try to repeat these "conversations" as they really bring out great stories and avoid the common "favorite episode" questions!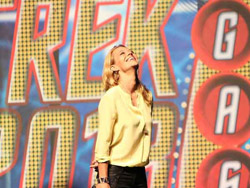 Gorgeous Jeri Ryan regularly graces our television screens in hit after hit and it was a delight to have her in Vegas in a very rare personal convention appearance.



Jeri has gone on to do some tremendous work but to Trekkers she could still play "7 of 9". She is awesome!
Updated: April 24, 2014

#STLV
DON'T FORGET TO USE THE OFFICIAL HASHTAG WHEN TWEETING AND POSTING ON FACEBOOK ABOUT THIS EVENT!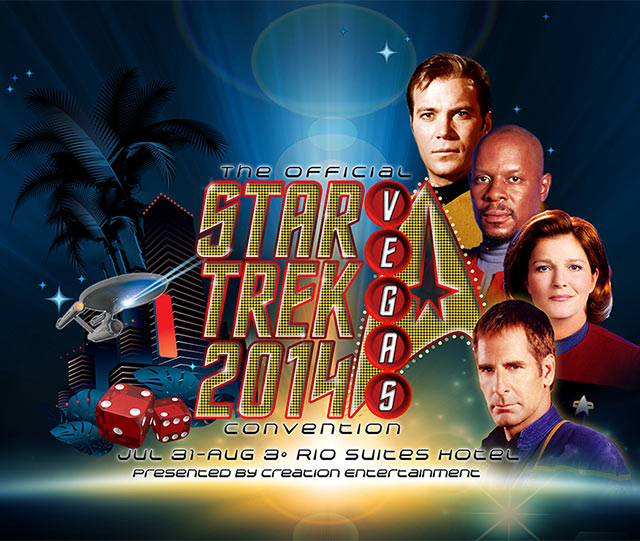 THANKS to all the amazing fans galaxy wide and the wonderful guests for making our 2013 Official STAR TREK Convention at The Rio Suites the undisputed, unprecedented very best Trek gathering ever. Throughout this 2014 site you will find photos and remembrances of the epic 2013 convention. If you weren't there make your plans to be in Vegas in 2014: it isn't the same without YOU!!! Dates are July 31-August 3, 2014 at the fabulous Rio Suites in Vegas with pre-registration (for full convention attendees) and vendors preview night on July 30, 2014.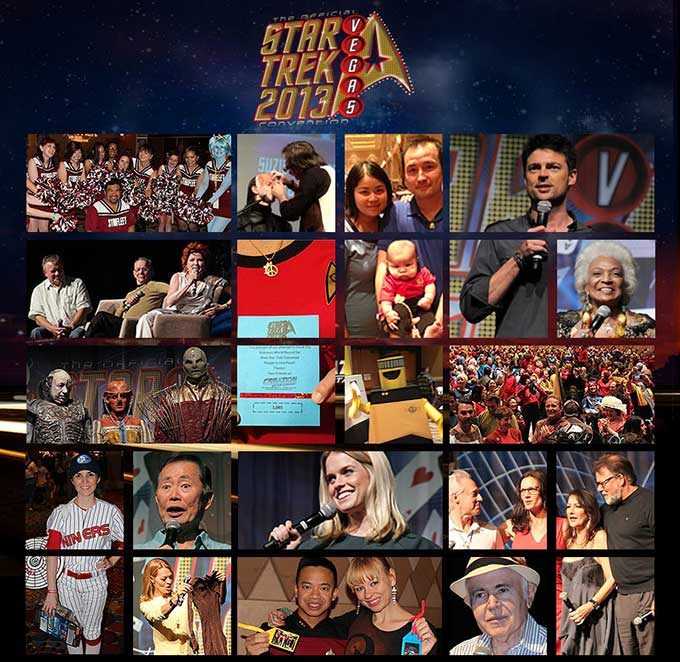 HELP SPREAD THE WORD:
PLEASE PUT THIS ON YOUR SITE AND LINK BACK TO US!


Either drag and drop the above banner to your desktop or Control+Click(Right+Click) and
select "Save Image As.." and link back to http://www.creationent.com/cal/st_lasvegas.html

KNOW THE CREATION DIFFERENCE, MAKE YOUR VACATION THE BEST EVER!

Unlike virtually every other genre fan convention, Creation Entertainment has a strict policy not to "oversell" our conventions. In other words, every patron, no matter what bracket of ticket they purchase, will have a guaranteed seat in the main auditorium where the major guests appear and events take place. There's no worrying, extra waiting, or additional charges to see the celebrities and events you want to see during all four daytime schedules.

We think that all genre conventions are great fun but after 40 plus years of running events for our fellow fans we prefer our method of live entertainment. We love to run this, our biggest genre convention, in a gorgeous large hotel, with carpeted state of the art theaters and exhibit halls, scores of on site restaurant choices (from inexpensive to major fine dining), award winning nightclub shows, fabulous bars and places to hang out in, and suites for everyone, to say nothing of the non-stop action of a very cool casino! Staying in a major hotel instead of a cold giant expo hall makes the convention that much more fun to enjoy and it is cool to be able to go up to your hotel room to relax, take a break if you wish, or change into different clothes for nighttime parties and events. The Rio is just a short free shuttle ride to the world famous Las Vegas Strip so you can check it all out, so make sure to leave some time to explore this exciting city! VEGAS, the entertainment, shopping and restaurant capital of the world, coupled with thousands of fellow Star Trek fans, we're out to make your vacation the very best ever! Join us in celebration of the almost 50 year legacy of Gene Roddenberry and be with us in 2014!


BE A VENDOR!
THE GALAXY'S GREATEST STAR TREK VENDORS ROOM.