CBS All Access Is Rolling Out 'Star Trek: Short Treks'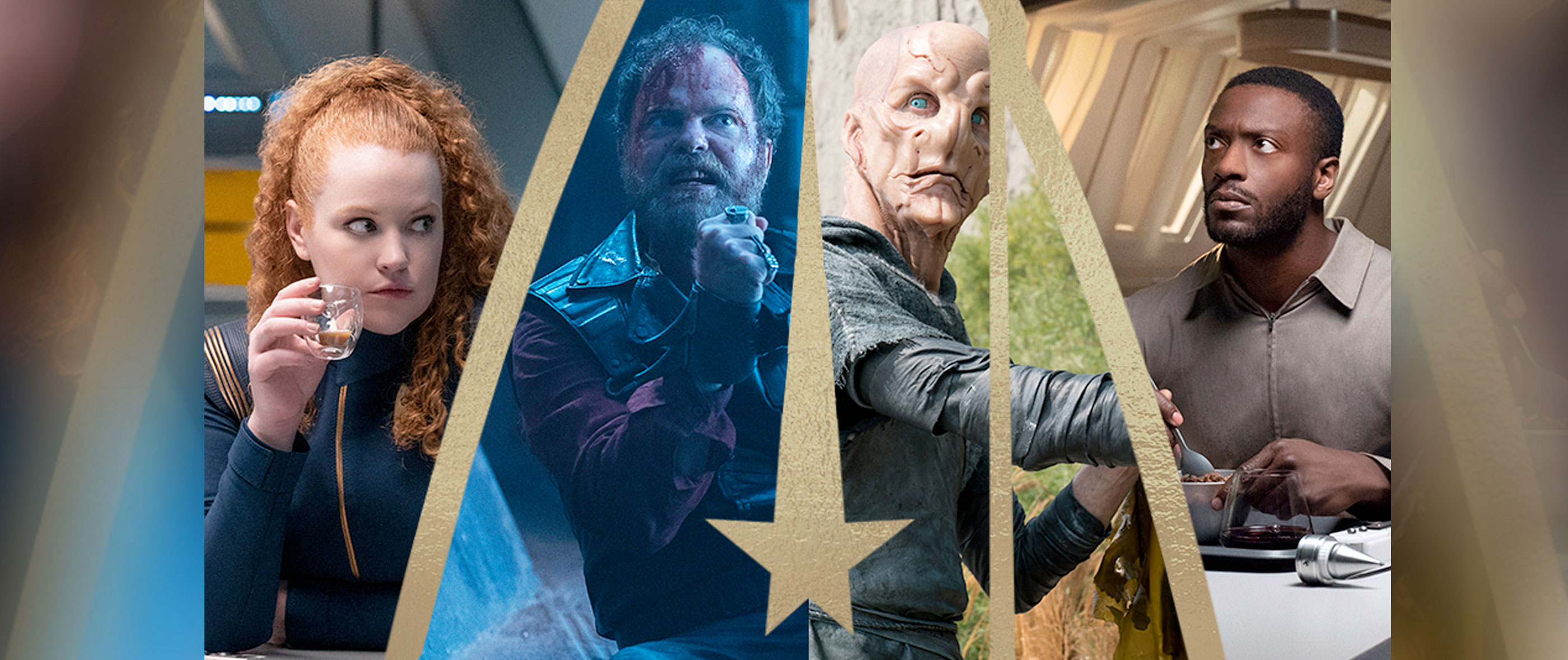 Get ready for some Star Trek: Discovery action when CBS All Access launches the first of its Star Trek: Short Treks series on October 4.

The four individual vignettes – featuring Tilly (Mary Wiseman), Saru (Doug Jones), Harry Mudd (Rainn Wilson, who directs his segment as well) and a new character, Craft (Aldis Hodge) – give fans more of an opportunity to get to know these characters and highlight some of the key themes explored in Star Trek: Discovery. Each short will air on the first Thursday of the month, starting with October and running through January -- all before the highly anticipated premiere of Discovery Season 2 in 2019.

The Star Trek: Short Treks will roll out as follows (courtesy of StarTrek.com ):

"Runaway" – Thursday, Oct. 4
Onboard the U.S.S. Discovery, Ensign Tilly (Mary Wiseman) encounters an unexpected visitor in need of help. However, this unlikely pair may have more in common than meets the eye. Written by Jenny Lumet and Alex Kurtzman. Directed by Maja Vrvilo.

"Calypso" – Thursday, Nov. 8
After waking up in an unfamiliar sickbay, Craft (Aldis Hodge) finds himself on board a deserted ship, and his only companion and hope for survival is an A.I. computer interface. Teleplay by Michael Chabon. Story by Sean Cochran and Michael Chabon. Directed by Olatunde Osunsanmi.

"The Brightest Star" – Thursday, Dec. 6
Before he was the first Kelpien to join Starfleet, Saru (Doug Jones) lived a simple life on his home planet of Kaminar with his father and sister. Young Saru, full of ingenuity and a level of curiosity uncommon among his people, yearns to find out what lies beyond his village, leading him on an unexpected path. Written by Bo Yeon Kim & Erika Lippoldt. Directed by Douglas Aarniokoski.

"The Escape Artist" – Thursday, Jan. 3
Harry Mudd (Rainn Wilson), back to his old tricks of stealing and double-dealing, finds himself in a precarious position aboard a hostile ship – just in time to try out his latest con. Written by Michael McMahan. Directed by Rainn Wilson.

Check out the teaser trailer!
Reflections from STLV 2018: A Fan Perspective
By Kit Bowen
While I've only been working with the fantastic team at Creation Entertainment a short time, I am amazed at what they accomplish on a regular basis. The events they put on are truly something special, giving fans of such shows as Supernatural a unique experience with their favorite stars.

The Official Star Trek Convention in Las Vegas, however, is the jewel in Creation's crown, and I was fortunate enough to attend this past August – as both an employee AND as a fan. And yeah, I was definitely blown away by it all.

I started watching the original Star Trek in syndication as a kid and was immediately hooked. Even at a young age, my tastes ran more towards the fantasy and sci-fi, with shows like The Twilight Zone and Lost in Space being some of my favs. Star Trek fit right into that, and I was ready for space exploration with Kirk, Spock, Bones, Chekov, Uhura, Scotty and Sulu. More than ready.

When they brought the Star Trek TV franchise back to life with Star Trek: The Next Generation in the late '80s, I was reticent to watch it because I was old school and felt loyalty for the original series and movies. Why? Who knows, and in retrospect, it was kind of silly because I started watching TNG a few years after the first season premiered – and was immediately a fan. Jean-Luc Picard, Riker, Data and the gang were equally as compelling as the original cast.

I did, however, stop watching Star Trek series after TNG, so I missed out on Deep Space Nine, Voyager and Enterprise. Again, no real reason why except I just didn't feel compelled as I once did. There were other shows that captured my attention like The X-Files and then later, Lost and Fringe. (After this convention, though, I may want to revisit some of those shows).

Then CBS announced in 2016 that they were kick-starting the franchise once again with Star Trek: Discovery. I sort of felt that same pang of loyalty but enough time had passed for my curiosity to be piqued. Discovery premiered late last year on CBS' streaming service, CBS All Access, and I gave it a shot. I was not disappointed. The series, which takes place sometime before Kirk and the gang take over, starts off a little dry but the characters draw you in. Then, when the whole thing twists around, introduces a Mirror Universe and kills off characters, I was, well, hooked. Again.

Going into this spectacular official Star Trek convention in Las Vegas, I knew it would mean a little more to me than just being a member of Creation Entertainment team. And boy, did it ever! It was five days filled with pure Star Trek joy and adulation. From the Promenade, which featured sets, props and all kinds of cool stuff, to the expansive vendors room, to the AMAZING panels, it was nothing short of fantastic. I was in Trek heaven.

Plus, there were all the celebrities in attendance, from the biggies like William Shatner, George Takei and Kate Mulgrew, to the whole cast from Discovery, to even Patrick Stewart making a surprise appearance to announce he was reprising his role as Picard! I'm getting all goosepimply again just thinking about it.

There were also many guests who had tables in the vendors room, signing autographs for their fans, which I thought was pretty awesome. This was where you could find the TNG cast, like Jonathan Frakes, LeVar Burton and Brent Spiner -- and even those actors who made a guest appearance on an episode that is now a cult classic (like the original Captain Christopher Pike was there!)

For me, though, here's a small moment I won't forget: There was a Star Trek original episode called "The Man Trap," in which Dr. McCoy visits a planet and reunites with an old flame, Nancy. Except it's not Nancy but actually a shape-shifting creature that sucks the salt out of its victims. Fans called it the "Salt Vampire," but I just called it the "Salt-Sucking Monster" because that thing gave me nightmares for years as a kid. So, as I'm walking around the vendors room, I see a lovely woman, Sandy Gimpel, sitting at her table -- with images of her AS THE SALT-SUCKING MONSTER. She was the stunt person inside that horrible costume, and I couldn't believe it. I went up to Ms. Gimpel, introduced myself and told her about my nightmares, seeing that creature in the corner of my room. I added she must get that a lot, and she laughed, replying, "From grown men."

Check out some of the other fan reactions from the convention!

That's just the kind of thing a huge fan of the franchise could experience when they came to this convention, and I was just thrilled to be a part of it. I can't wait for next year!