Updated: July 24, 2019

We are honored to have these esteemed professionals joining us at this year's Official Star Trek Vegas Convention!
Here's the guests info: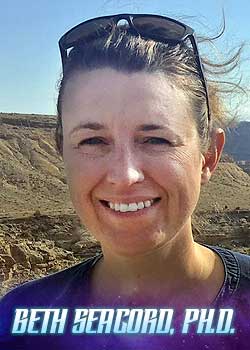 Beth Seacord, Ph.D.
Assistant Professor of Philosophy, College of Southern Nevada
Beth Seacord is currently an Assistant Professor of Philosophy at the College of Southern Nevada in Las Vegas where she teaches courses in Philosophy of Death and Dying, Philosophy and Film, and Environmental Ethics. She earned her Ph.D. in Philosophy from the University of Colorado, Boulder and did postdoctoral work at the Center for Philosophy of Religion at the University of Notre Dame. Her research centers on issues at the intersection of philosophy of religion and philosophy of science.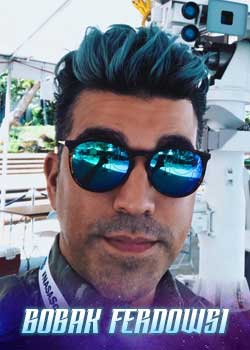 Bobak Ferdowsi
Systems Engineer, NASA/Jet Propulsion Laboratory
You may remember Science Officer Bobak Ferdowsi from Star Trek Ongoing, Issue 48, Deity as an anthropologist who has made first contact with more species than anyone in the fleet, but most of the time he is a fault protection engineer at NASA's Jet Propulsion Laboratory, which means any disastrous situation you can imagine for your spacecraft he's already imagined and found a solution to. Warp coil malfunctioning? Swap to the redundant unit. Probe ceases to communicate? On-board logic will exhaust all the communications paths possible. He previously has worked on the Mars Curiosity mission, Cassini, Europa Clipper, and now NISAR, all studying Sector.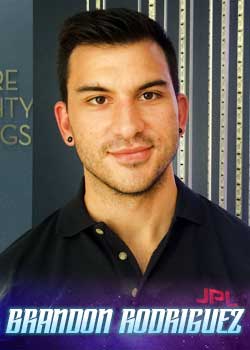 Brandon Rodriguez
Educator Professional Development, NASA / Jet Propulsion Laboratory
Brandon Rodriguez currently works alongside NASA Education through a partnership with UC-Riverside. He worked for several years as a research scientist in the private sector before deciding to share his passion for science with the next generation. Brandon became a high school science teacher, and currently teaches in Los Angeles. Additionally, his role focuses on outreach and educator professional development for NASA's Jet Propulsion Laboratory in schools across California. Wardrobe provided by Garek's Clothiers, 02-485, Promenade.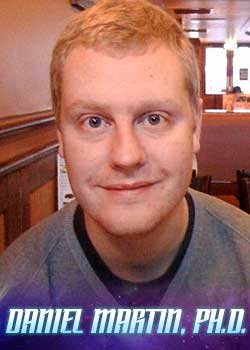 Daniel Martin, Ph.D.
Associate Professor of Film Studies in the School of Humanities and Social Sciences at the Korea Advanced Institute of Science and Technology (KAIST)
Daniel Martin's teaching focuses primarily on the science fiction and fantasy genres, and much of his published research concerns the international circulation of films from South Korea, Japan, and Hong Kong. His first book as sole author, Extreme Asia: The Rise of Cult Cinema from the Far East, was published by Edinburgh University Press in 2015. He is also co-editor of the books Korean Horror Cinema (2013) and Hong Kong Horror Cinema (2018), and has published articles in numerous academic journals, including Cinema Journal, The Journal of Film and Video, and The Journal of Popular Culture.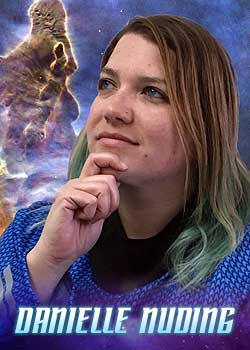 Danielle Nuding
Integration & Test Engineer, NASA/Jet Propulsion Laboratory
Danielle Nuding is an Integration & Test Engineer at NASA's Jet Propulsion Laboratory. She's a local Martian whose entire career has been focused around Mars science, exploration, and education. Danielle has worked on the InSight lander, Curiosity rover, and the Mars Exploration Rovers (Spirit and Opportunity). Her current project is an instrument slated for the Mars 2020 rover, SHERLOC (Scanning Habitable Environments with Raman & Luminescence for Organics and Chemicals). SHERLOC is designed to search for organics and minerals using a laser and a camera system. Hopefully the rover, and SHERLOC, won't run into Professor Moriarty. Danielle is active in international outreach and education; seeking to share the importance of science and engineering at all levels. In her spare time, she wanders around in the woods and prances around in ballet class as often as possible.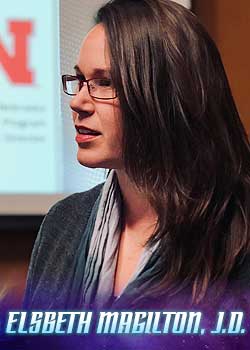 Elsbeth Magilton, J.D.
Executive Director of the Space, Cyber, and Telecommunications, University of Nebraska College of Law
Elsbeth Magilton oversees program development and strategic growth, government and commercial collaborations, and program research at the University of Nebraska College of Law. Her current focus areas include commercial space law and policy, cybersecurity and cybercrime, and national security. Elsbeth is admitted to practice law in the state of Nebraska and is member of the Nebraska Bar Association.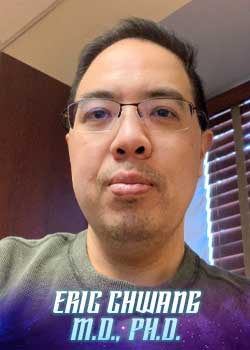 Eric Chwang, M.D., Ph.D.
Associate Professor of Philosophy and Henry Rutgers Term Chair in Ethics, Heath and Society, Rutgers University, Camden
Eric Chwang is Associate Professor of Philosophy and Henry Rutgers Term Chair in Ethics, Health, and Society at Rutgers University at Camden. He specializes in biomedical ethics and received a Ph.D. in Philosophy from Princeton University and an M.D. from Baylor College of Medicine.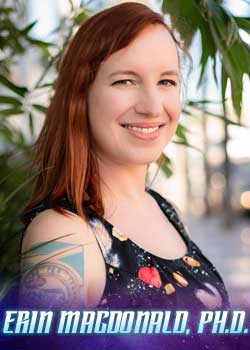 Erin Macdonald, Ph.D.
Astrophysicist, Science Fiction Consultant, Aerospace Engineer
Erin Macdonald (Ph.D., Astrophysics) currently works as a public speaker/educator and technical consultant, assisting others with explaining complex physics and astronomy ideas to varied audiences. Her undergraduate work was dual majored in Physics with Astrophysics and Mathematics from the University of Colorado at Boulder. She obtained a Ph.D. in Gravitational Astrophysics from the University of Glasgow, having done research with the LIGO Scientific Collaboration (resulting in the 2017 Nobel Prize in Physics) on gravitational waves from dead and colliding stars and black holes. Since leaving research in 2014, she worked as an adjunct professor and educator at the Denver Museum for Nature and Science where she grew her passion for speaking to varied crowds on a number of subjects.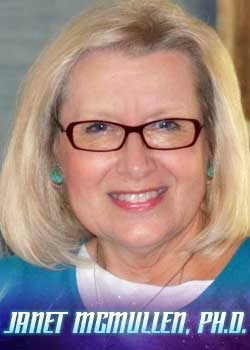 Janet McMullen, Ph.D.
Associate Professor of Mass Communication, University of North Alabama
Dr. Mc ("Mac") helped organize the first "Teaching with Trek" program at STLV in 2018 and writes "The Hero's Journey" blog on StarTrek.com. She teaches media writing, media criticism and media effects, and she's is particularly interested in media influence on our perceptions of the world and ethical behavior.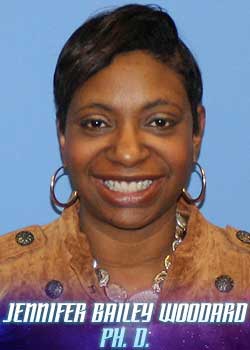 Jennifer Bailey Woodard, Ph. D.
School of Journalism and Strategic Media, Middle Tennessee State University
Dr. Woodard is an academic activist currently researching how we use digital technologies, virtual reality and podcasting in diverse and inclusive ways. Woodard works to help students and the community at large to understand how media impacts and informs our sense of others and ourselves. She is an Associate Professor at the School of Journalism and Strategic Media at Middle Tennessee State University.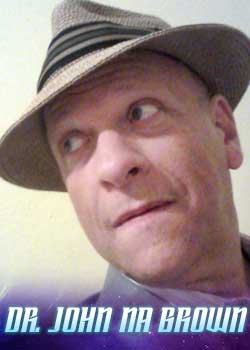 Dr. John NA Brown
UX and UED Researcher
Dr. John NA Brown is a UX and UED Researcher in Silicon Valley, who has solved problems for Google, Facebook, and LinkedIn. Dr. Brown has lectured on four continents, and written and taught university courses in Scientific Thinking, Research Methods, Computer Animation & Storytelling, and Applied Biomechanics. With articles in all three volumes of the Bloomsbury Encyclopedia of Design, and dozens of academic publications in a variety of fields, Dr. Brown has also published three books with Springer. An award-winning cartoonist, he provided original cartoons for each chapter of the original volume of SPTT, and hopes to do the same for the next volume. Mathematician, teacher, and poet, Dr. Brown is also the founder of Anthropology-Based Computing, and one of the co-founders of the fields of AI Psychology and AI Psychotherapy.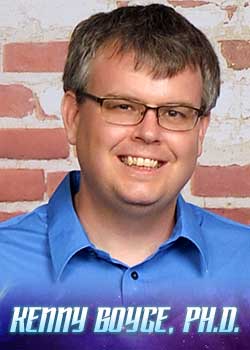 Kenny Boyce, Ph.D.
Assistant Professor of Philosophy, University of Missouri, Columbia
Kenny Boyce is currently an Assistant Professor of Philosophy at the University of Missouri and has published in the areas of epistemology, metaphysics, philosophy of religion, and philosophy of science. He earned his Ph.D. in philosophy from the University of Notre Dame.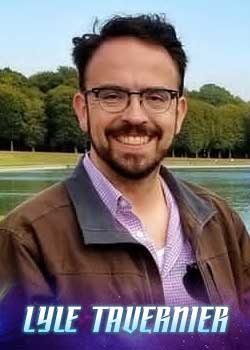 Lyle Tavernier
Educational Technology Specialist, NASA / Jet Propulsion Laboratory
Lyle Tavernier is an Educational Technology Specialist at NASA's Jet Propulsion Laboratory. He specializes in integrating technology into classroom instruction and providing STEM education through distance learning technologies. Prior to his work at NASA, he was a classroom teacher, instructional technology coach, and new teacher mentor. Lyle has a background in Educational Leadership and Geosciences. In the future, he plans to protect students in Classroom 7 from Ferengi hostiles.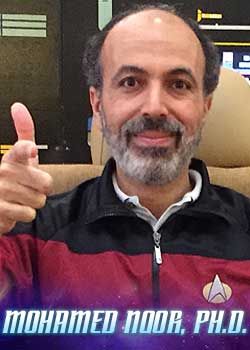 Mohamed Noor, Ph.D.
Professor of Biology and Dean of Natural Sciences, Duke University
Dr. Noor is a professor of Biology and Dean of Natural Sciences at Duke University (effective July, 2019). He teaches courses (both online in Coursera and in person) and conducts research in evolutionary genetics, and he is especially interested in the genetic changes that cause new species to form.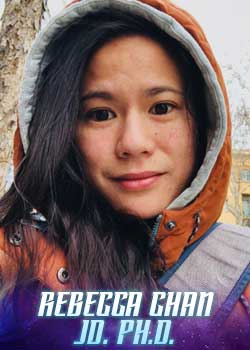 Rebecca Chan, JD. Ph.D.
Assistant Professor of Philosophy , California State University, San Jose
Rebecca is Assistant Professor of Philosophy at San José State University. She received her J.D. from the University of Colorado Law School and her Ph.D. in Philosophy from the University of Notre Dame. Her research centers in the intersection of metaphysics and normativity and she argues for a 'normativity-driven metaphysics.' She also applies what she does in metaphysis to other areas of philosophy such as philosophy of law, philosophy of religion, and applied ethics.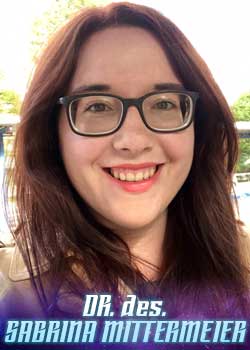 Dr. des. Sabrina Mittermeier
Research Assistant at the Chair of American Studies, University of Augsburg
Dr. des. Sabrina Mittermeier completed her dissertation, a cultural history of all the Disneyland theme parks around the world, at LMU Munich in 2018 and is currently a research assistant at the chair of American studies at the University of Augsburg. She has published and taught on a variety of popular culture media, and is the co-editor of Time and Temporality in Theme Parks (Wehrhahn 2017), as well as the forthcoming Context is for Kings – An Edited Collection on Star Trek: Discovery (Liverpool UP, 2020).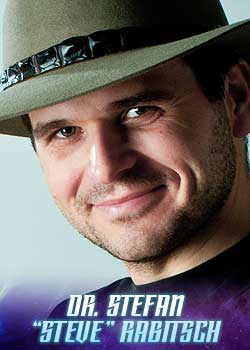 Dr. Stefan "Steve" Rabitsch
Assistant Professor in American Studies, Karl-Franzens-Universität Graz
Dr. Stefan "Steve" Rabitsch is a fixed-term assistant professor in American Studies at the University of Graz. A self-declared "Academic Trek Fan", he is the author of Star Trek and the British Age of Sail: The Maritime Influence throughout the Series and Films (McFarland 2019) and co-editor of Set Phasers to Teach! Star Trek in Research and Teaching (Springer 2018). In 2015, Rabitsch initiated and co-organized a semester-long interdisciplinary lecture series on Star Trek at the University of Klagenfurt. He is co-editor of Fantastic Cities: American Urban Spaces in Science Fiction, Fantasy, and Horror (UP Mississippi 2020).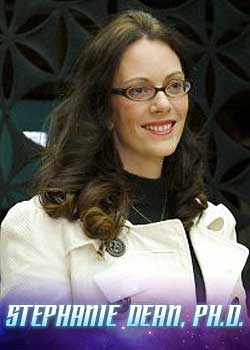 STEPHANIE DEAN, Ph.D.
Media Arts, Middle Tennessee State University
Dr. Dean is co-director of the Immersive Storytelling Lab at MTSU and Assistant Professor of Interactive Media in the Department of Media Arts. Combining an academic's zeal for research and a visual storyteller's desire to explore expanding narrative forms, Dean has immersed herself into the worlds of virtual reality and augmented reality. Dean teaches courses in 360 video and digital sociology, among others as a researcher, storyteller, and academic activist, Stephanie is interested in how people use digital technologies and immersive media to align with or against the discourses that form our identities, policies, and understandings of culture(s).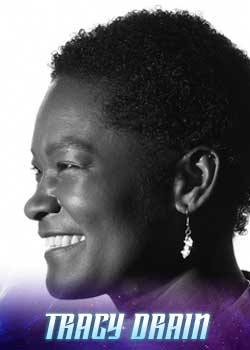 TRACY DRAIN
Flight Systems Engineer, NASA/Jet Propulsion Laboratory
Tracy Drain is a Systems Engineer at NASA's Jet Propulsion Laboratory. In her 19 years at the lab, she has participated in the development and/or operation of 4 space missions - including the Kepler mission which has found thousands of planets in our galaxy. She is currently the Deputy Project System Engineer for the Psyche mission, slated to launch in 2022 to explore our solar system's only known mostly-metal asteroid.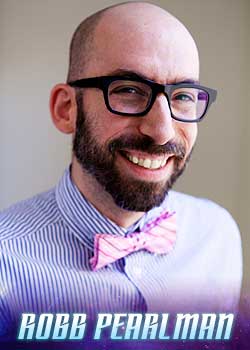 ROBB PEARLMAN
Author
Robb Pearlman is the author of more than 30 books for adults and children, including Star Trek: Search for Spock, Redshirt's Little Book of Doom, The Wit and Wisdom of Star Trek, and Fun with Kirk and Spock and the upcoming Star Trek: Body by Starfleet. He is an associate publisher of pop culture and entertainment books and calendars based on such properties as Stuck on Star Trek, Bob Ross: The Joy of Painting, and Bob's Burgers. Robb was featured as an on-air commentator talking about Star Trek and pop culture on National Geographic Channel's "Generation X" series, contributed to HuffingtonPost.com, performed at the Nerdnite Nerdtacular, and has been featured on StarTrek.com as well as several pop culture blogs and SiriusXM radio shows. Robb received his Masters in Publishing from Pace University and now serves on the program's Advisory Board. He was also a member of the Board of Directors of Teachers & Writers Collaborative.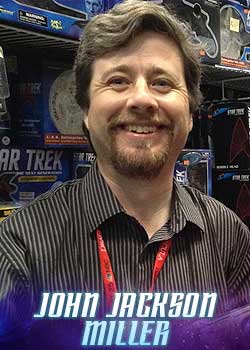 JOHN JACKSON MILLER
Author
New York Times bestselling author John Jackson Miller has spent a lifetime immersed in science fiction. His latest Star Trek novel, releasing this week and available at Star Trek Las Vegas, is Star Trek: Discovery - The Enterprise War, detailing what happened to Captain Christopher Pike, Spock, Number One, and the Enterprise crew during Season One of Star Trek: Discovery. His other Star Trek works include the acclaimed Prey novel trilogy, released monthly during the 50thanniversary celebration; Star Trek: The Next Generation: Takedown; and the novella Star Trek: Titan: Absent Enemies. His Star Wars novels include the Scribe Award-winning Star Wars: Kenobi; Star Wars: A New Dawn, the first novel released as part of the Disney canon; as well as Knight Errant and Lost Tribe of the Sith. He also wrote the long-running Knights of the Old Republic comics series, available from Marvel as Legends: The Old Republic. He's written comics and prose for Halo, Iron Man, The Simpsons, Conan, Planet of the Apes, and Mass Effect, with new graphic novels in 2019 for Battlestar Galactica, Dumbo, and The Lion King. He covers comics history on his Comichron website. His fiction website is Farawaypress.com. This is his first Star Trek Las Vegas event.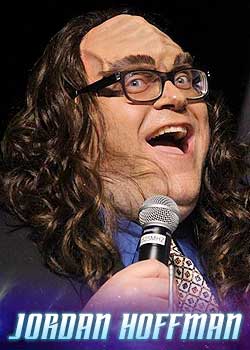 JORDAN HOFFMAN
Film Critic
Jordan Hoffman is a film critic and writer whose work is read in Vanity Fair, The Guardian, amNewYork, Thrillist and Times of Israel. He has also written for the L.A. Times, New York Times, New York Daily News, Slate, BBC Culture and New York Magazine, and has written 100 "One Trek Mind" columns for StarTrek.com. His favorite character is Bones, or maybe it's Worf, or actually it's probably Kira. Jordan is on Twitter at @JHoffman.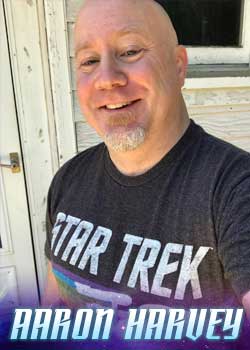 AARON HARVEY
Graphic Designer/Co-Author of Star Trek: The Official Guide to the Animated Series
Aaron Harvey is a graphic designer and podcaster. He's the host of the "Saturday Morning Trek" podcast on Trek.FM and has created cover art for Star Trek comics as well as other posters, T-shirts, and other fantastic Trek-related imagery. He is the co-author of the upcoming Star Trek: The Official Guide to the Animated Series book from Weldon Owen.