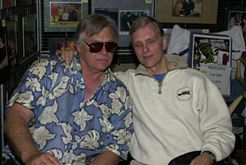 GARY LOCKWOOD and KEIR DULLEA
reunite and reminisce about their 2001 film that made film history!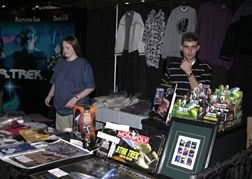 A shot from the famous dealers room!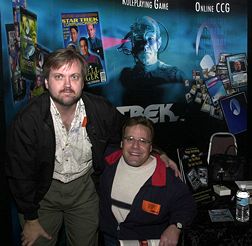 LARRY NEMECEK and DAN MADSEN
do a fantastic job with the Communicator, the publication of the Official Star Trek Fan Club. Dan founded the club years ago and we're always happy to have him as part of any convention we do!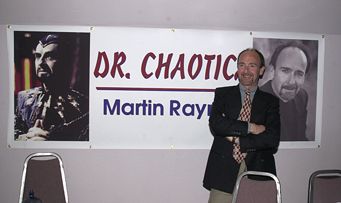 MARTIN RAYNER
Dr. Chaotica of VOYAGER was one of the 50 plus stars
featured as part of our autograph rooms.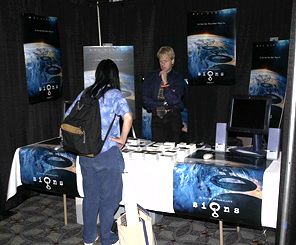 One of the best things about Grand Slam is the fact that we get to preview many upcoming genre flicks with footage, guests and displays. Here's a booth highlighting SIGNS, the Mel Gibson flick. Mel actually filmed some footage welcoming fans to the event!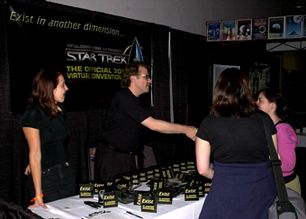 VIR-CON was announced at the convention: the first event on-line takes place in conjunction with our huge Las Vegas Star Trek Convention.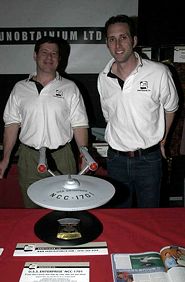 One of the most innovative licensees of Star Trek was repped at the show. Unobtanium does incredible prop replicas and they launched their Trek line with an unbelievable replica of the original classic Enterprise!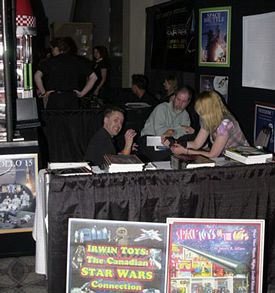 A scene from the wheelin-dealin' dealers room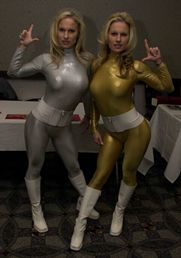 ELAINE and DIANE KLIMASZEWSKI
were the Butterfly Girls in the Enterprise pilot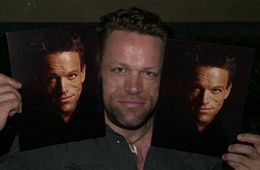 BRIAN THOMPSON
usually plays a villian in genre productions but he's
really a nice guy when he appears at a Creation event.